Il fantasy, un genere davvero ostico da trasporre al cinema e in televisione. Difficile è infatti trovare il giusto modo di approfondire con cura e dovizia di particolari la mitologia e le regole che stanno dietro ai loro incredibili mondi così come è altrettanto complesso riuscire a rendere credibili e godibili dal punto di vista estetico magie, creature e fantasiose ambientazioni. Non è dunque un caso che la maggior parte delle serie tv a tema fantasy mai prodotte si siano rivelate dei veri e propri flop e non siano riuscite sin da subito a catturare l'attenzione del pubblico. Ma per ogni Cursed e ogni Luna Nera, ci sono serie come Game of Thrones e The Witcher che sono riuscite non solo a risollevare un genere che in televisione non era mai realmente riuscito a sbancare ma addirittura a creare un trend che non accenna a fermarsi.
Il 2022, con l'arrivo della tanto attesa serie su Il Signore degli Anelli, House of The Dragon, Blood Origin e ancora molte altre sembra infatti essere l'anno in cui il fantasy tenterà di imporsi una volta per tutte come genere di riferimento nel panorama seriale. Vogliamo quindi prepararci a questa nuova ondata parlandovi di quelle che sono le dieci migliori serie tv a tema fantasy di sempre, così da darvi la possibilità, qualora non lo abbiate ancora fatto, di immergervi in questi mondi tutti da scoprire.
Per questa classifica abbiamo scelto di considerare prodotti fantasy nel senso più stretto e tradizionale del termine, tralasciando prodotti legati ai supereroi e ai moderni urban fantasy. Buona lettura!
10) A Discovery of Witches
Pe incominciare la nostra classifica partiamo con A Discovery of Witches – Il manoscritto delle streghe, serie televisiva britannica del 2018 ispirata alla saga della Trilogia delle Anime ad opera di Deborah Harkness. La serie, prodotta da Bad Wolf e Sky Productions, vede come protagonisti Diana Bishop, storica e suo malgrado strega interpretata da Teresa Palmer, e Matthew Clairmont, genetista vampiro interpretato da Matthew Goode, che decidono di mettere da parte l'innata diffidenza tra le loro specie per proteggere e interpretare i segreti di un misterioso manoscritto magico.
Acclamata da pubblico e critica per la sua capacità di amalgamare l'elemento fantasy a elementi più realistici e per l'innegabile chimica tra i suoi due protagonisti, A Discovery of Witches sta venendo attualmente trasmesso in Italia con la sua terza e ultima stagione su Sky Max.
9) La Ruota del Tempo
La nuova serie tv di Prime Video dedicata alla famosissima saga cartacea La Ruota del Tempo di Robert Jordan ha riscosso un buon successo tra i suoi spettatori. Nonostante alcune criticità nella narrazione degli eventi, la serie promette infatti, almeno secondo i piani di Amazon, di accompagnare il pubblico per molto anni a venire. Le storie da raccontare infatti sono ancora tante, così come i misteri da svelare. Ma di cosa parla esattamente La Ruota del Tempo?
Il tutto si ambienta in una realtà intrisa di una magia che può essere controllata solo dalle Aes Sedai, organizzazione composta da sole donne che si occupa di proteggere e sorvegliare il mondo e i suoi abitanti dal male. La nostra storia ha inizio quando la Aes Sedai Moiraine arriva in un villaggio sperduto nel quale pensa si possa trovare il cosiddetto Drago Rinato, reincarnazione di un antico potere che un tempo distrusse il mondo. La donna quindi, accompagnata da un taciturno guerriero e da quattro ragazzi (papabili prescelti) parte per un viaggio che cambierà le sorti del mondo intero e le vite dei suoi protagonisti.
8) Shadow and Bone
Grande sorpresa da parte della cara e vecchia Netflix, Shadow and Bone, interessantissima nuova proposta che con la sua prima stagione è riuscita molto bene a farci appassionare alle vicende di tutti i fantastici personaggi dello show. Basata sulle opere cartacee di Leigh Bardugo e del suo Grishaverse, la serie si incentra su un mondo fantastico dalle forti ambientazioni simil-russe, abitate da vari popoli umani e dai cosiddetti grisha, persone in grado di dominare e manipolare la magia. La nostra storia racconta le vicende del Regno di Ravkia, diviso in due dalla Faglia, una terribile muraglia di oscurità generata secoli addietro dal terribile Eretico Nero, un potente grisha dotato dei poteri dell'ombra.
In questo scenario seguiremo le vicende di Alina e Mal, due amici che si ritroveranno coinvolti in qualcosa molto più grande di loro, del potente e affascinante generale Kirigan (interpretato da Ben Barnes) e dal carismatico gruppo dei Corvi, adorabili e scaltri reietti che tenteranno la sorte per migliorare le proprie vite.
La seconda stagione della serie è già stata annunciata e sinceramente noi non vediamo l'era di poterla vedere presto!
7) Carnival Row
Stavolta lasciamo le saghe letterarie e ci soffermiamo su una serie del tutto originale di Amazon Prime Video: si parla di Carnival Row, serie tv di ambientazione fantasy-pseudo vittoriana che vede tra gli attori principale nientepopodimeno che Orlando Bloom e Cara Delevigne. La narrazione si concentra sulle tensioni e sulle problematiche della metropoli umana di Burgue, dove è confluito un gran numero di immigrati di origine fatata, in fuga dalle guerre che hanno devastato i loro territori. Protagonisti assoluti della storia sono Philo e Vignette, un umano e una fata che dopo aver condiviso insieme e il passato si ritrovano inaspettatamente nel presente, mentre sconvolgenti delitti e minacce crescenti sconvolgono la città di Burgue.
Ambientazioni affascinanti, tanti misteri e riflessioni su tematiche attuali come la discriminazione, la guerra e l'immigrazione per una serie dal potenziale sconfinato che non vediamo l'ora di scoprire ulteriormente!
6) Dark Cristal
Dark Crystal – La resistenza è una serie tv Netflix prequel del famoso film del 1992 Dark Crystal. Pur non avendo ottenuto tutto il successo meritato a causa dello scarso numero di visualizzazioni ed essendo stata per questo cancellata dopo solo una stagione, questa serie, realizzata quasi interamente grazie a pupazzi animatronici e burattini, è in realtà una piccola perla che deve essere recuperata.
Nel fantastico Regno di Thra, alimentato dal grande Cristallo della Verità, tutto cambia quando i malvagi Skeksis danneggiano la fonte del potere del mondo scatenando un'epidemia: spetterà a un gruppo di tre giovani Gelfings tentare di risollevare la situazione in un pericoloso viaggio che li metterà a dura prova.
5) Queste Oscure Materie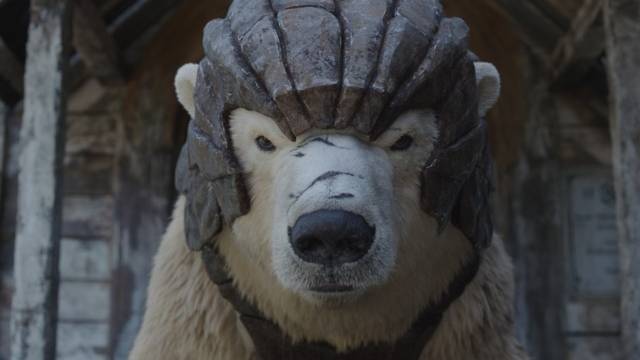 Passiamo ora alla trasposizione di una delle saghe fantasy più conosciute e amate di sempre: ci riferiamo a His Dark Materials, produzione HBO basata sull'omonima trilogia ad opera di Philip Pullman. Questa volta ci spostiamo in un universo parallelo al nostro dove la principale differenza sta nell'esistenza dei Daimon, animali parlanti che incarnano l'anima delle loro controparti umane. A controllare la società mondiale vi è il Magisterium, dittatura teocratica che rinnega tutto ciò che non è in grado di conoscere. Protagonista della nostra storia è la giovane Lyra che mettendosi sulle tracce di un proprio amico scomparso farà scoperte che rivoluzioneranno non solo la sua vita, ma anche il mondo intero in cui risiede.
Grande fedeltà al materiale d'origine, grandi personaggi e ambientazioni mozzafiato sono la chiave vincente che permette a His Dark Materials di emergere tra i tanti prodotti televisivi del momento, dimostrando che non serve per forza richiamare i toni tipici di Game of Thrones per creare una serie fantasy di successo.
4) The Witcher
Quello di The Witcher è un mondo di cui sentiremo parlare ancora per molto: dato il successo delle sue prime due stagioni Netflix ha infatti deciso di puntare il tutto e per tutto sulla serie ispirata alle opere di Andrej Sapkowski e di espanderne ulteriormente la mitologia con molti prodotti ad essa legati. Dopotutto, come resistere al fascino del Continente e di Geralt di Rivia?
Una serie tv ancora giovane e che ha ancora tanto da raccontare, tra mostri da cacciare, misteri da risolvere e intrighi che minacciano la sorte del mondo intero. Dopo una prima stagione generalmente apprezzata ma con alcune criticità dovute alla scelta di raccontare davvero tanto materiale in un arco di tempo ridotto, la seconda stagione, pur discostandosi parecchio dalla saga cartacea, ha saputo infatti calamitare ulteriormente l'attenzione del pubblico, ormai completamente preso dalla storia di Geralt, Ciri e Yennefer.
Con un effettistica in grado ora di raggiungere ottimi livelli e una storia capace di emozionare e di esaltare il pubblico con tanta azione, The Witcher si conferma già da ora uno dei migliori prodotti a tema fantasy nella storia delle serie tv.
3) Arcane
E arriviamo ora ad Arcane, prodotto recentissimo eppure così ben fatto da meritare un posto sul podio. Alla serie animata ispirata alla lore di League of Legends sono infatti bastati solo nove episodi per farci irrimediabilmente appassionare al suo mondo, alle sue trame e soprattutto ai suoi carismatici personaggi. Non solo la miglior trasposizione seriale di un videogioco, ma in generale uno dei migliori prodotti di Netflix degli ultimi anni.
Un ambientazione fantasy con vari elementi steampunk dove magia e tecnologia si intrecciano migliorandosi vicendevolmente, personaggi approfonditi e con una psicologia curata nel minimo dettaglio e tanta, tanta azione regalano un'esperienza visiva indimenticabile e che siamo sicuri non smetterà di stupirci nemmeno con le sue prossime stagioni.
2)Penny Dreadful
Questa classifica non sarebbe stata di certo completa senza questa serie: parliamo di Penny Dreadful, serie tv fantasy dalle forti connotazioni horror che per tre stagioni ha saputo far appassionare come non mai milioni di spettatori. Rifacendosi agli omonimi penny dreadful, pubblicazioni periodiche dell'Inghilterra del XIX secolo e su ispirazione della famosa saga fumettistica de La Lega degli Straordinari Gentlemen di Alan Moore, la serie sceglie di legare indissolubilmente le vicende dei personaggi fantastici che più hanno caratterizzato la storia della letteratura del periodo. Dr. Jekyll, Dorian Grey, Dracula e il Dr. Jekyll sono solo alcuni dei tanti personaggi dell'acclamata serie!
Scenografie pazzesche, interpretazioni magistrali e una trama che invoglia lo spettatore a continuare la visione con colpi di scena azzeccati e trame appassionanti: cosa volere di più?
1) Game of Thrones
Ed eccoci arrivati a Game of Thrones, serie che di certo non poteva che occupare il gradino più alto del podio.
Sì, perchè nonostante il grande calo finale e alcune discutibili scelte narrative, questa incredibile serie tv è stata – e per ora rimane – la serie tv fantasy più importante nella storia della serialità. Parliamoci con franchezza, Game of Thrones ha completamente rivoluzionato i canoni del genere fantastico in televisione e ha dimostrato come, con il giusto approccio alla materia e con la giusta serietà, qualsiasi ambientazione può diventare realistica e coerente.
Uno studio approfondito di politica, intrighi e strategia, ma anche di draghi, magie e profezie, capace di tratteggiare con cura personaggi carismatici e magnetici, facendoci immergere come mai prima d'ora in una storia. Popolarissima in tutto il mondo e capace di entrare così di prepotenza nella cultura pop da permeare, senza che quasi ce ne accorgessimo, la nostra vita.
Game of Thrones: serie a cui, nel bene e nel male, saremo per sempre debitori.