"Che fine ha fatto?" è la classica domanda che ci si ritrova a porsi in riferimento ad attori e attrici usciti fuori dai radar. Sarà che il peso di un'assenza è direttamente proporzionale a quello della presenza che è andata a rimpiazzare, ma sta di fatto che a suscitarla è spesso la sorte di interpreti resi famosi da ruoli ricoperti in cult come Friends, Scrubs o Lost, ruoli di cartello che si rivelano medaglie a due facce: da una parte sono portatori di una fama mondiale, ma dall'altra finiscono per diventare gabbie da cui è impossibile – o quasi – uscire. Alcuni di questi interpreti hanno realmente smesso di calcare le scene dopo essere esplosi con uno dei suddetti ruoli, altri si sono limitati ad apparizioni passate talmente inosservate da guadagnarsi la fama di "scomparsi" pur non essendo totalmente svaniti dalla circolazione.
Di chi parliamo esattamente? Andiamo a scoprirlo con la lista dei 10 attori che dopo un grande ruolo sono spariti nel nulla.
1) Jack Gleeson, il terribile Joffrey Baratheon di Game of Thrones
Se Joffrey Baratheon è riuscito a risultare tanto detestabile il merito non è soltanto della condotta meschina assegnatagli dalla sceneggiatura, ma anche e soprattutto della sua magistrale interpretazione. Parliamo di Jack Gleeson, attore irlandese classe '92 diventato celebre proprio con il ruolo ricoperto nelle prime quattro stagioni di Game of Thrones. Un ruolo che è stato il culmine di una carriera a cui Gleeson ha cominciato a lavorare sin da giovanissimo.
A soli sette anni è entrato a far parte dell'Independent Theatre Workshop di Dublino e a partire dal 2003 ha ottenuto le prime parti di rilievo in Il regno di fuoco, Batman Begins e Shrooms – Trip senza ritorno. Nel 2011, con Game of Thrones, arriva il successo internazionale. Dopo l'esperienza sul set della serie ispirata all'opera di George R.R. Martin Gleeson ha dichiarato di voler abbandonare le scene per dedicarsi interamente allo studio. Ha tenuto fede al proposito fino al 2020, anno in cui è entrato a far parte del cast della comedy della BBC Out of Her Mind.
2) Matthew Fox, l'indimenticato protagonista di Lost
È fuori di dubbio: il ruolo di Jack Shephard ha fatto la fortuna di Matthew Fox. Grazie alla parte da protagonista interpretata in Lost l'attore ha raggiunto la fama e conquistato un Saturn Award, una nomination agli Emmy Awards e una ai Golden Globe.
Dopo, però, c'è stato il nulla o poco più.
Fox ha collezionato esperienze cinematografiche decisamente sfortunate, come quelle in Alex Cross, thriller poco apprezzato dalla critica e ignorato dal pubblico, e in World War Z, dove la sua presenza si è ridotta a poco più di un cameo per via del taglia e cuci post riprese. Le sue ultime apparizioni su schermo risalgono al 2015 (Extinction, Bone Tomahawk) e, come dimostra il silenzio degli anni recenti, non sono servite a rilanciare una carriera che infelici vicende personali hanno contribuito ad affossare.
3) Matthew Perry, l'amatissimo Chandler di Friends
Si è impresso a fuoco nell'immaginario collettivo del pubblico televisivo grazie all'irriverente sarcasmo di Chandler Bing. Lui è Matthew Perry, uno dei grandi protagonisti della sitcom che ha segnato la generazione anni '90 e non solo: l'acclamatissima Friends. Ma cos'è successo alla sua carriera dopo quella fortunata esperienza? C'è da dirlo: non si è del tutto arenata.
Dopo Friends Perry è apparso come guest star di alcune famose serie televisive (Scrubs e The Good Wife), ne ha sceneggiate due per le quali è stato anche attore (Mr. Sunshine e The Odd Couple) e si è visto al cinema in FBI: Protezione testimoni, Tutta colpa di Sara e 17 again. L'apparizione più recente tra quelle riportate dal suo curriculum è quella in The Good Fight, risalente al 2017. Esclusa la reunion di Friends, chiaramente.
4) Simon Baker, il mentalista più famoso della televisione
Per anni lo abbiamo visto dare mirabolanti contributi alle indagini del California Bureau of Investigation. Parliamo di Patrick Jane, il protagonista di The Mentalist di cui Simon Baker ha vestito i panni dal 2008 al 2015. Con questo ruolo, l'attore australiano naturalizzato statunitense ha ottenuto una nomination agli Emmy Awards, ai Golden Globes e agli Screen Actors Guild. Dopo, soltanto qualche briciola da cui ha ricavato scarsa visibilità. Baker è stato regista e attore della pellicola Breath del 2017 e ha preso parte ai film Qui e ora di Fabien Constant (2018) e High Ground di Stephen Johnson (2020). Proprio grazie a Breath è stato premiato agli AACTA Award 2018 come migliore attore non protagonista.
5) Erik DaRe, uno dei volti di Twin Peaks
Del cast di Twin Peaks Erik DaRe è stato decisamente tra i meno fortunati. L'interprete di Leo Johnson, marito di Shelly nell'iconica serie di David Lynch e Mark Frost, non ha ricoperto altri ruoli televisivi ed è riapparso sulle scene solo per parti cinematografiche ormai lontanissime nel tempo: Critters 4 (1992), Starship Troopers – Fanteria dello spazio (1997), Playing God (1997), Guardo, ci penso e nasco (2001) e Ted Bundy (2002).
6) John C. McGinley, il mitico dottor Cox di Scrubs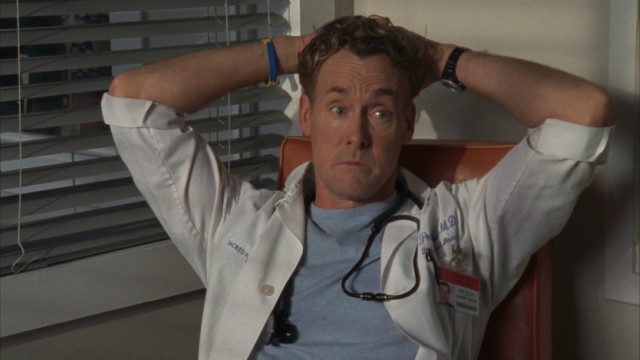 Non solo Friends: troviamo un'altra grande comedy ad arricchire la lista.
Parliamo di Scrubs e di uno dei suoi volti più noti: John C. McGinley, la cui carriera è indissolubilmente legata al ruolo di Perry Cox, il medico burbero e asociale che tanto ha insegnato a J.D. e a tutti coloro che ne hanno incrociato il cammino. Dopo Scrubs McGinley ha avuto il suo ruolo più importante e durevole in Stan Against Evil, serie horror-comedy di cui è stato protagonista nelle tre stagioni andate in onda prima della cancellazione. Successivamente è apparso in Chicago P.D., uno degli spin-off di Chicago Fire. Si tratta della sua esperienza più recente sul piccolo schermo. Per rintracciarlo in una pellicola cinematografica bisogna risalire al 2017, anno in cui ha preso parte a La battaglia dei sessi di Jonathan Deyton e Valerie Faris.
7) James Van Der Beek, l'eterno Dawson Leery di Dawson's Creek
Una cosa è certa: il volto di James Van Der Beek rimarrà per sempre quello di Dawson Leery, protagonista dello storico cult adolescenziale Dawson's Creek. Eppure lui ci ha provato a uscire fuori dal personaggio e lo ha fatto…letteralmente! Nel 2012 ha recitato in Non fidarti della str**** dell'interno 23 interpretando un attore che cerca disperatamente di staccarsi dal ruolo di Dawson Leery, ruolo che continua a inseguirlo come un fantasma persecutore anche una volta dismesso.
Le sorti della sitcom, cancellata dopo due stagioni, possono decisamente esser viste come una sorta di presagio.
Van Der Beek non è di certo sparito, ma nessuno dei ruoli che ha ricoperto può rivaleggiare con quello del giovane aspirante regista di Capeside. Dal 2003 è comparso in episodi di varie serie tv (Criminal Minds, Ugly Betty, Medium e How I Met Your Mother) e nel 2015 è stato tra i protagonisti di CSI – Cyber, spin-off di CSI – Scena del crimine chiuso anch'esso dopo due stagioni. Nel 2017 è il turno di Carters Get Rich, miniserie comica mandata su Sky 1. L'esperienza lavorativa più recente è quella che lo ha visto calcare il set di Pose, dramma musicale ideato da Ryan Murphy per FX.
8) Misha Barton, la celebre Marissa di The O.C.
Dopo il boom di successo arrivato con The O.C. Misha Barton si è barcamenata tra apparizioni fugaci, serie tv precocemente abortite e pellicole scarsamente note. Il ruolo di Marissa Cooper ricoperto nel teen drama di Josh Schwartz l'ha tenuta occupata dal 2003 al 2007. Al termine dello stesso anno Barton ha recitato la parte della protagonista nel film You and I e nel 2009 ha fatto parte del cast della serie targata The CW The Beautiful Life, le cui riprese hanno subito un'interruzione a causa del suo ricovero nel reparto psichiatrico del Cedars-Sinai Medical Center di West Hollywood.
9) Fran Drescher, la prorompente Francesca Cacace de La Tata
La tata e Friends hanno mancato l'appuntamento sul piccolo schermo per un unico anno. Uno è cominciato nel 1993, l'altro nel 1994.
Parlare de La tata equivale a parlare della sua dirompente protagonista: Francesca Cacace, che con il suo charme ha conquistato i membri della famiglia Sheffield e il cuore degli spettatori. A darle vita è stata Fran Drescher, attrice newyorkese che dello show è stata anche produttrice e sceneggiatrice. Dopo la fine della serie, Drescher è stata autrice di brevi apparizioni televisive (Law & Order, Entourage, Broad City) e protagonista di serie andate incontro a una cancellazione precoce. Tra queste A casa di Fran, in cui ha condiviso la scena con il partner storico Charles Shaughnessy, e la recente Indebted, rimossa dai palinsesti della NBC dopo il finale della prima stagione, divenuto il definitivo a seguito al mancato rinnovo.
10) Chris Colfer, una delle star di Glee
Il ruolo di Kurt Hummel gli è valso un Golden Globe vinto a soli vent'anni come miglior attore non protagonista e due nomination agli Emmy nella stessa categoria. L'esperienza fatta sul set di Glee aveva tutte le premesse per poter essere l'inizio di una carriera sfavillante, ma alla fine del comedy-drama musicale di Ryan Murphy Chris Colfer ha scelto di cambiare totalmente direzione alla sua vita. Dopo una breve parentesi cinematografica aperta e chiusa con Struck by Lightning, di cui è stato produttore e interprete, Colfer si è dedicato alla stesura di libri per bambini. Con La terra delle storie – L'incantesimo del desiderio è arrivato a piazzarsi al primo posto nella classifica dei titoli più venduti del New York Times.