La prima volta che guardammo (anche se sarebbe meglio dire vivemmo) la sigla di Hannibal abbiamo avuto l'onore di percepire inizio, sviluppo e fine di questa monumentale storia, descritta con attimi di apparente calma, intervallata da inaudita violenza, che episodio dopo episodio, stagione dopo stagione, diviene sempre più inenarrabile e spaventosa.
In quegli istanti di immobile concentrazione siamo stati avvertiti di quanta poesia e quanta meraviglia questa serie avrebbe inondato i nostri sensi. Eppure nulla era già scritto, abbiamo comunque dovuto concedere a noi stessi l'opportunità di percorrere quel sentiero distorto che ci ha portati qui, ad un anno dalla fine, a chiederci se questa strada percorsa ha effettivamente cambiato la nostra percezione della mente umana.
La risposta è evidente e non lascia neanche il più piccolo spiraglio per controbattere. Siamo stati risucchiati dalle atmosfere, dalle sfumature e dai personaggi, come loro siamo stati ammaliati dal fascino di Hannibal, siamo stati addirittura controllati da lui, da una figura fittizia, che in realtà non abbiamo mai saputo conoscere se non negli occhi di chi lo guardava, ma neanche così, siamo realmente riusciti a leggere la sua profondità. Le nostre intenzioni si annullavano al suo cospetto, non abbiamo potuto far altro che assecondare le sue volontà e sperare nella sua vittoria vivendo ogni volta nelle sue fantasie.
I tre finali di Hannibal sono ormai qualcosa di epico, che non dimenticheremo mai: li abbiamo consegnati alla storia e la storia li restituisce ogni qualvolta torniamo a pensare a questo capolavoro, senza spazio e senza tempo. Hannibal distorce la realtà trasformandola in una dimensione dinamica e mentale in cui non siamo in grado di controllare nulla, neanche noi stessi.
A guidare i finali delle tre stagioni è la progressione, a tratti lenta, del progetto originario di Hannibal, così come succede per la sigla. Questi tre episodi costituiscono una trama a se stante che viene scritta con un preciso schema che va a concludersi con un abbraccio e con un salto nel vuoto.
Ma prima del dessert abbiamo gustato primi piatti eccezionali, degni di un grande chef.
1×13 Savoureux
Il finale della prima stagione è di preparazione, rappresenta l'inizio di una climax ascendente che terminerà con l'ultimo episodio della terza stagione.
Will Graham c'è, ma è assente, non controlla le sue azioni, compito che invece spetta ad Hannibal che assecondato da un inconsapevole Jack dissemina indizi per far sì che Will venga accusato di essere un serial killer.
La differenza che sostanzialmente mette in risalto questo primo finale è la scelta di mantenere come contorno le figure di Jack Crawford e Alana Bloom, che fanno da accompagnamento alle portate principali, sono fondamentali per mettere in risalto le azioni e le reazioni di Will e Hannibal, un rapporto che elimina la tradizionale distinzione netta tra bene e male.
L'introduzione di Bedelia come psichiatra di Hannibal, inoltre, dà spazio ad un altro rapporto misterioso e decisamente lontano dall'innocenza, dicendoci implicitamente di fare attenzione a questo nuovo personaggio.
Will viene messo alle strette, ma solo da quella posizione riesce a comprendere veramente chi sia Hannibal e quanta paura faccia da vicino.
L'opera lenta e pacata di una fine che si preannuncia terrificante ma totale e assoluta.
2×13 Mizumono
Ognuno di noi ha bisogno di una persona con cui essere se stesso. Hannibal ha trovato Will e quello che nella prima stagione si era in apparenza compreso è nulla, solo una futile superficie su cui adagiarsi a pensare sbagliando che le cose sono effettivamente come sembrano. Ma bisogna essere consapevoli che non ci sono istinti, né passioni che si possano definire superficiali.
Abbiamo bisogno di toccare il fondo per riuscire a vederne il vero significato.
Hannibal ha bisogno di Will, ne è delicatamente affascinato e lo percepisce vicino, nello stesso modo in cui si percepisce vicino chi nasconde un'identità oscura che sia simile ma non uguale alla nostra.
La scena fondamentale avviene a casa di Hannibal. Una location interna che sottolinea la maestosità della sceneggiatura nel costruire una scena caratteristica utilizzando ogni luogo, anche quello più piccolo.
Questo locus amoenus fa da sfondo alla parziale vittoria del carnefice e alle vittime che sembrano annegare nel loro stesso sangue, come una situazione metaforica che vede i personaggi agonizzanti a causa delle loro stesse azioni.
Ambientazione differente per quanto riguarda invece l'ultimo finale che si svolge all'esterno, come a voler profetizzare il ridare alla natura ciò che è natura.
La carneficina è ciò a cui Hannibal deve ricorrere per poter sopravvivere, una decisione preparata grazie al tempestivo e inaspettato intervento di Will, che avverte lo psichiatra con una chiamata:
They know…
A Will è stata data la possibilità di vedere tutto ciò che Hannibal è realmente. Vedersi tradito dagli sguardi e dalla complicità del suo paziente con Jack sono motivazioni che lo vedono scoprirsi, ma sempre con gran classe e con meravigliosa maestria.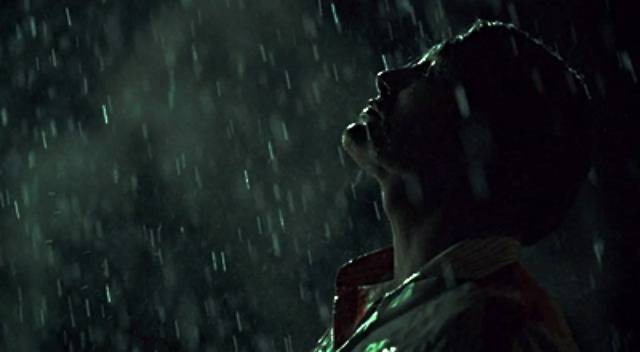 3×13 The Wrath of the Lamb
La sanità mentale è piacevole, è calma, ma non c'è grandiosità, né vera gioia, né il dolore terribile che dilania il cuore.
Hannibal è in sunto tutto questo, la sua insanità è un aspetto imprescindibile che ci disgusta, ci esalta e ci provoca. Nel corso del tempo diventa quello stesso tema da cui non possiamo allontanarci, è la cosa che ci fa amare il personaggio e che ci permette di non inorridire, bensì quasi di comprendere le sue azioni.
Siamo arrivati alla punta finale di una climax che durante le stagioni ha preparato le nostre menti a quello che vediamo in questo episodio. Will e Hannibal vincono contro il loro nemico comune, il Red Dragon, che ruba la scena e che ispira i titoli della seconda parte della terza stagione che non ha più la sua centralità nel nutrimento fisico, come lo è stato per gli episodi precedenti.
La poesia finalmente può vincere, quella di Blake, quella di Hannibal e persino quella biblica.
Nelle due stagioni precedenti viene citata, sfruttata ed esaltata in maniera sagace e potente, nella terza invece, trova spazio, si incunea e diviene ciò che muove ogni cosa. Nulla è banale e insensato, tutto regge sulle fondamenta di taciti versi, magnifici aforismi e bibliche citazioni che vengono private del loro significato più alto, e divengono alibi e moventi per l'evoluzione di ciascun personaggio, rivelando così, quanto oscena ed oscura può essere l'esistenza vissuta accanto ad una creatura maniacale e forte come Hannibal.
Alla fine siamo testimoni di qualcosa di reale, di una poesia tanto distruttiva da essere mortale. Si tratta di quella totale distruzione volta al lasciar libero il campo ad un'eventuale ricostruzione, una sorta di nichilismo Nietzscheiano che nei due precedenti finali prepara Will, Hannibal e noi fan alla completa mancanza, al vuoto totale, alla consapevolezza che oramai anche noi siamo senza di loro, anche noi, a questo punto siamo completamente vuoti, senza una reale parte di noi, negativa in ogni sua sfumatura, che consentiva a tutti noi di esistere nella nostra interezza; siamo senza Hannibal e sappiamo di doverlo essere per molto tempo.
Si arriva a quella che possiamo definire la pace dei sensi, quell'equilibrio che era soggetto nella prima stagione e che poi è stato pian piano soffocato, diventando così un semplice oggetto. Negli ultimi momenti di questo episodio riemerge, come se avesse trovato il giusto istante per venire a galla, per esprimersi e per dare un 'lieto fine' a due figure diverse, ma che adesso sanno di appartenersi e di essere simili e pronti per andare a fondo insieme, come Hannibal aveva progettato dall'inizio. Nella meta conclusiva è però Hannibal, abbracciando la sua controparte e se stesso, a pronunciare in maniera silente quella frase che ha contraddistinto Will Graham sin dall'inizio:
This is my design.
E' quello che Hannibal voleva per loro, quello che aveva sempre desiderato e che alla fine di tutto è riuscito ad ottenere, perché Bedelia aveva ragione:
Non puoi vivere con lui, non puoi vivere senza di lui.
E noi, dopo averli visti andar via, fare il loro salto nel vuoto, siamo in pace… ma non c'è grandiosità, né vera gioia, né il dolore terribile che dilania il cuore…