Il processo per diffamazione intentato da Johnny Depp ai danni dell'ex moglie Amber Heard è giunto, dopo 6 settimane, al suo epilogo. Il caso mediatico dell'anno, la cui sentenza non si è fatta attendere, ha creato vere e proprie fazioni nel mondo social, in particolare su TikTok, i cui attenti utenti hanno scovato i più minuziosi dettagli espressivi dei due attori, giudicandone l'innocenza o la colpevolezza. A non essere passata inosservata, però, è stata soprattutto Camille Vasquez, la magnetica avvocatessa di Johnny Depp, divenuta ormai il principale simbolo dell'intero processo, essendo riuscita con arguzia a smascherare, una per una, ogni falla nelle deposizioni dell'accusata (qui trovate il video del tranello teso da Camille Vasquez a Amber Heard). Non sono neppure mancati i video degli utenti che sostengono esista un flirt tra Johnny Depp e la sua avvocatessa, ipotesi suggerite dagli sguardi di intesa scambiati tra i due; c'è chi poi ha paragonato l'affascinante legale ad altri avvocati famosi del piccolo schermo, immaginando una battaglia all'ultima arringa tra Camille Vasquez e Annalise Keating.
Spinti da quest'onda mediatica e dalla recente ribalta dei legal drama, tornati in tendenza su Netflix con la serie Avvocato di difesa, abbiamo deciso di mostrarvi i 7 brillanti avvocati delle Serie Tv che (forse) terrebbero testa a Camille Vasquez, e che potete guardare in ogni momento, nel caso foste in astinenza da processi giudiziari
1) Saul Goodman (Breaking Bad/Better call Saul)
Se cercate un avvocato con cui vincere una causa senza avere particolarmente a cuore la sua legittimità, Saul Goodman (Bob Odenkirk) è l'uomo che fa per voi; avvocato senza scrupoli, pronto a tutto per raggiungere i propri scopi, lo abbiamo visto difendere l'indifendibile rappresentando Walter White e Jesse Pinkman nella celeberrima Breaking Bad, per poi diventare protagonista del suo show nello spin-off Better Call Saul, in cui ha dato prova al meglio del suo spirito di inventiva, talvolta anche a discapito della moralità (ma ha anche dei difetti). Non abbiamo dubbi sul fatto che Saul Goodman terrebbe senz'altro testa anche a Camille Vasquez.
2) Perry Mason (Perry Mason)
Perry Mason è L'Avvocato del piccolo schermo per eccellenza, protagonista degli omonimi libri di Erle Stanley Gardner, da cui è stato tratto un primo adattamento televisivo della CBS andato in onda dal 1957 al 1966, e a cui è seguita una versione recente (2020) con protagonista Matthew Rhys. Il suo nome è entrato a far parte del linguaggio comune indicando, per antonomasia, l'avvocato; è l'avvocato che tutti gli altri avvocati del piccolo schermo aspirano a essere, mantenendo il suo status anche a distanza di 50 anni. Camille Vasquez who?
3) Ally McBeal (Ally McBeal)
Simbolo delle donne in carriera degli anni '90, Ally McBeal (Calista Flockhart) è un ritratto generazionale, l'avvocato di cui abbiamo bisogno per ricordarci che la legge è uguale per tutti, quasi allo stesso modo in cui lo sono i fallimenti sentimentali. La longeva e omonima serie, andata in onda dal 1997 al 2002, vanta di ben 112 episodi suddivisi in 5 stagioni, di cui facciamo ancora fatica a stancarci.
4) Harvey Specter (Suits)
Collegandoci agli insuccessi amorosi, è d'obbligo citare Harvey Specter (Gabriel Macht), il brillante avvocato della serie Suits che però sa bene come eccellere in aula, tanto da rappresentare il volto del successo, nonché il vero protagonista della longeva serie corale (9 stagioni per 134 episodi, tutti disponibili su Netflix). A renderlo il personaggio più interessante è l'aver contrapposto ai successi lavorativi il suo lato fragile e umano, segnato da un complesso rapporto con i genitori e con le donne, di cui fa fatica a fidarsi (seppur non arrivando a citarne qualcuna in giudizio per diffamazione).
5) Annalise Keating (How To Get Away With A Murderer)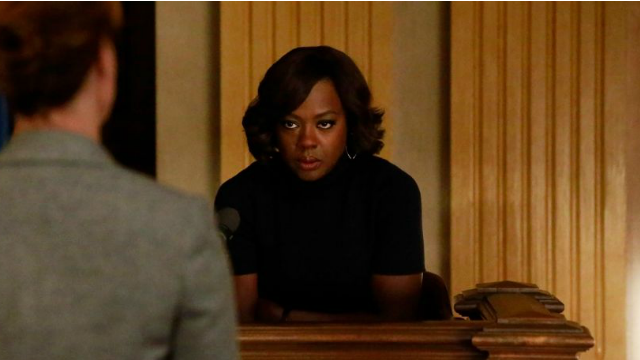 Brillante e spietata in aula (sia di tribunale che della facoltà di Legge in veste di Professoressa), Annalise Keating (Viola Davis) sbaraglia la concorrenza a mani basse regalandoci, nel corso delle sue deposizioni, monologhi entrati nella storia della televisione (probabilmente la stessa Camille Vasquez ha imparato qualcosa da lei). La protagonista di How To Get Away With A Murderer , tuttavia, non è mai riuscita a tenere lontana la sua vita privata da quella lavorativa, intrecciate al punto da fondersi, mettendosi molto spesso nei guai da cui, ça va sans dire, è sempre riuscita a tirarsi fuori da sola.
6) Jack McCoy (Law and Order)
Il legal drama dei legal drama Law and Order continua a insegnare al mondo come si acciuffano i cattivi, mettendoli faccia a faccia con l'avvocato Jack McCoy (Sam Waterston), partito dal suo studio privato per poi diventare assistente del procuratore distrettuale e procuratore distrettuale egli stesso. É probabilmente impossibile tenere il conto dei suoi successi in aula nel corso delle 21 stagioni da cui è formata la serie (ancora in corso), ma una cosa è chiara: Jack McCoy non smetterà mai di vincere.
7) Mickey Haller (Avvocato di difesa)
Tra le novità di Netflix e occupando da settimane la Top 10 delle serie più viste al momento, il brillante avvocato Mickey Haller (Manuel Garcia-Rulfo) protagonista della serie Avvocato di difesa dimostra non solo che con la giusta dose di fascino e furbizia è possibile vincere qualunque caso in tribunale, ma anche (e soprattutto) che si possono superare i propri limiti e i pregiudizi esterni legati a questi. Il suo torbido passato da tossicodipendente non ferma il suo talento in aula, insegnandoci una lezione fondamentale: non siamo il nostro passato.