Cosa sarebbe una serie tv senza musica? Le serie tv sono piene di momenti indimenticabili che entrano nell'immaginario collettivo e che vengono citati ancora e ancora. Pensiamo all'intramontabile "I am the one who knocks" in Breaking Bad, o al "By order of the Peaky Blinders" della serie incentrata sugli Shelby, tanto per fare degli esempi. Eppure, nessuna serie sarebbe la stessa se alcune scene non fossero accompagnate dalla musica giusta.
Ci sono scene in cui le note di una canzone assumono un ruolo fondamentale. La musica le accompagna scandendo il ritmo di ciò che accade, esprimendo ciò che i personaggi provano in quegli attimi, o anticipando ciò che stiamo per vedere. Pensate a quanto maggiore può essere l'effetto quando la canzone che viene scelta è la più azzeccata che si possa trovare sulla faccia della terra. In questo articolo abbiamo voluto raccogliere alcune scene di questo tipo. Preparatevi ai brividi!
Attenzione: ovviamente è d'obbligo un'allerta spoiler!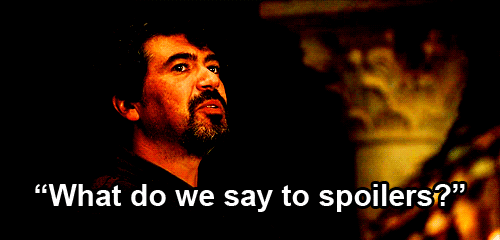 01) Breaking Bad 5×16 – Baby Blue (Bad Finger)
La prima scena a entrare in questa classifica non poteva che essere che il finale di Breaking Bad. Ad accompagnarla è Baby Blue, brano dei Bad Finger del 1971. Walter, rimasto solo dopo essersi liberato di tutti i neonazisti e dopo la fuga di Jesse, è nel laboratorio di metanfetamina. Osserva l'attrezzatura, l'accarezza, come un amante che ritrova finalmente la sua amata dopo una lontananza troppo prolungata. Ed è questo che sottolinea la canzone.
Breaking Bad è la storia di un uomo che giunge alla dannazione per la sua sete di potere e grandezza, mascherati dietro al dovere morale verso la propria famiglia. È anche, però, la storia dell'amore di Walter White per la chimica, l'amante, e la blue sky, frutto di quell'amore, da cui è stato costretto ad allontanarsi nel periodo di latitanza forzata. E la tenerezza e malinconia nei gesti di Walter in quel laboratorio, quando finalmente si ricongiunge con la sua vera passione, non vengono espressi a parole, ma dalla musica e dal testo.
Guess I got what I deserved
Kept you waiting there too long, my love
All that time without a word
Didn't know you'd think that I'd forget
Or I'd regret
The special love I had for you
My baby blue
Immagino che sia quel che mi merito
Ti ho fatta aspettare troppo a lungo, amore mio
Tutto questo tempo senza mai farmi sentire
Non credevo avresti pensato che mi fossi dimenticato
O che mi fossi pentito
Del grande amore che provo per te
Mia baby blue
02) Westworld 2×04 – Play with Fire (Rolling Stones)
Scenario decisamente diverso da quello di Breaking Bad è quello che troviamo in Westworld, nell'episodio The Riddle of the Sfynx. Più volte nel corso dell'episodio vediamo James Delos – più precisamente, come scopriremo poi, una sua riproduzione nel parco – ripetere la sua routine mattutina sulle note di Play with Fire dei Rolling Stones. La canzone tratta di una relazione con una ragazza altolocata. Da una parte elenca tutte le ricchezze di lei e della sua famiglia, dall'altra la avverte con fare minaccioso di non giocare coi sentimenti di lui.
Similmente, nelle scene accompagnate da questa canzone, vediamo James Delos circondato da tante cose belle e costose, ma l'avvertimento non è certo rivolto a lui. So don't play with me, 'cause you're playing with fire. Non giocare con me, perché è come giocare col fuoco. L'avvertimento è rivolto a William e alla Delos Inc.. Il loro tentativo di ricreare non solo robot che rispecchino perfettamente esseri umani, ma addirittura di riprodurne alcuni in ogni loro aspetto fisico e mentale, li condurrà alla catastrofe.
03) Sons of Anarchy 7×13 – Come Join the Murder (The White Buffalo & The Forest Rangers)
Come per Breaking Bad, anche per Sons of Anarchy troviamo il finale della serie. La canzone è Come Join the Murder, e trovarne una più azzeccata di questa sarebbe stato davvero impossibile. Il motivo è semplice: è stata scritta appositamente per questa scena. Kurt Sutter, creatore dello show, si è occupato del testo, mentre Bob Thiele Jr., supervisore musicale di Sons of Anarchy nonché leader dei Forest Ranger, ha curato la musica.
La canzone funge da canto del cigno per il leader dei SAMCRO, rispecchiando nelle strofe la malinconia che permea il sacrificio a cui stiamo assistendo. Il ritornello invece è stato pensato in chiave maggiore, così da evidenziare quella sorta di trionfo e di liberazione per l'altra faccia della medaglia. Con il suo gesto estremo Jax Teller sta andando incontro a un triste destino, ma parte del peso che graverebbe su questa scena viene sollevato perché è un destino che ha scelto da sé.
04) The Handmaid's Tale 1×10 – I'm Feeling Good (Nina Simone)
Passiamo a tutt'altro genere con una scena della prima stagione di The Handmaid's Tale. Nella 1×10, sul sottofondo di I'm Feeling Good di Nina Simone, le ancelle marciano in formazione per la strada. Hanno appena abbandonato lo stadio nel quale hanno compiuto un atto di estremo coraggio. Si sono rifiutate di compiere un loro dovere, ovvero quello di lapidare una loro compagna.
It's a new dawn, it's a new day, it's a new life for me… and I'm feeling good. Le ancelle, June per prima, si sentono incredibilmente bene. Hanno preso una posizione,si sono prese una piccola vittoria contro zia Lydia, contro Gilead. È davvero l'alba di un nuovo giorno, di una nuova vita, perché per la prima volta si rendono conto che, pur nel loro piccolo, possono opporsi e scatenare una rivoluzione. La canzone coglie in pieno questa duplicità, quella di un quieto ma profondo senso di vittoria provato in un mare di tristezza, malinconia e orrore.
05) Scrubs 5×20 – How to Save a Life (The Fray)
In questa puntata di Scrubs, dal titolo Il mio pranzo, troviamo una delle scene più strazianti della serie. Protagonista è il dottor Cox. In questo episodio, in seguito a dei trapianti per cui ha insistito, tre suoi pazienti vengono infettati e muoiono uno dopo l'altro. Alla fine, dopo aver futilmente combattuto contro un destino inevitabile, lo vediamo soccombere sotto il peso lancinante della disperazione, ma soprattutto del senso di colpa per la responsabilità che sente sulle proprie spalle.
How to Save a Life racconta ciò che sta succedendo tanto quanto le immagini. La musica e la voce trasmettono, amplificandole, tutta l'angoscia e la frustrazione, mentre il testo esprime l'impotenza e il senso di rabbia provati da Cox e da JD. Il primo perché non riesce a salvare i suoi pazienti, il secondo perché non riesce a impedire al suo mentore di crollare sotto il peso di ciò che sta vivendo.
06) Sherlock 4×03 – I Want to Break Free (Queen)
Prendiamoci un attimo di pausa dalle scene ad alto carico emotivo e passiamo a una che non ha nulla a che fare con quelle viste per Breaking Bad né le altre serie di questa lista. A chi di noi non è venuto un colpo quando, nella 4×03 di Sherlock, abbiamo visto apparire James Moriarty?
La scena, seppur brevissima, rasenta l'epicità. Moriarty torna incredibilmente dal regno dei morti, con un'entrata in scena drammatica e in grande stile, proprio come piace a lui. A fare da colonna sonora al suo ingresso trionfale non poteva che essere l'iconica voce di Freddie Mercury, del quale imita le mosse in un momento di gloria. E anche se scopriamo che questa scena è un evento del passato, per noi rimarrà quella prima impressione, quella di un folle che neanche la morte è riuscito a tenere prigioniero. Quella di un genio che si libera anche dall'oltretomba pur di distruggere la sua nemesi.
07) Peaky Blinders 2×06 – All My Tears (Ane Brun)
Quando me ne sarò andato, non piangete per me. Sarò tra le braccia di mio padre. […] Non importa dove mi seppellirete, sarò a casa e sarò libero. Non importa dove riposerò, tutte le mie lacrime saranno lavate via.
Queste sono le parole di All My Tears, le parole di qualcuno che sta per morire e affronta il proprio destino con pacifica rassegnazione. Rassegnazione che si trova a vivere, non senza incredulità, Thomas Shelby nel finale della seconda stagione di Peaky Blinders. È lì, sul ciglio di quella che sarà la sua fossa, in attesa di un colpo di pistola che metterà la parola fine alla sua vita. E nel momento in cui sembra accettare il suo destino, la pistola tuona, ma non per lui.
E qui la situazione si ribalta, ma la canzone resta perfetta per la scena. Perché se prima era in sintonia con la condizione di Tommy, ora non possiamo che ammirare l'armonia perfetta di questo totale contrasto. Da una parte la serenità di fronte alla morte della voce di Ane Brun. Dall'altra l'assoluto sconcerto di Tommy nel trovarsi ancora vivo, capace solo di urla e versi sconnessi mentre le lacrime gli inondano il viso sporco di sangue e fango.