Siamo consapevoli del fatto che per decenni la produzione americana di serie tv ha dominato il settore, ma oggi possiamo affermare che – al di là di qualche prodotto trash – alcuni telefilm di casa nostra, come Boris, hanno conquistato il cuore di molti spettatori italiani per poi riscuotere successo anche a livello internazionale. Le motivazioni che spiegherebbero questo salto di qualità sono varie, ma tra le più importanti possiamo sicuramente considerare l'approdo in Italia di piattaforme di streaming grazie alle quali sono stati finanziati progetti che altre reti e produttori avrebbero probabilmente bocciato. Inoltre a suo modo questo mutamento è stato determinato anche da collaborazioni internazionali e dall'interesse che molti registi del grande schermo hanno iniziato a mostrare nei confronti dei telefilm, decidendo di idearne di nuovi o di partecipare a progetti già collaudati. Vediamo quindi 5 serie italiane che hanno conquistato il pubblico del Belpaese.
1) Gomorra – La Serie
Gomorra, serie tv italiana tratta dall'omonimo romanzo di Roberto Saviano, ha rapidamente riscosso un notevole successo di pubblico in Italia. Gli spettatori, infatti, sono stati catturati dalla storia che intende narrare di una realtà, quella della camorra, tangibile e spietata. I motivi per cui Gomorra ha ricevuto il timbro di approvazione da un pubblico giustamente esigente sono molti e uno tra i principali riguarda il fatto che la vicenda narrata da Saviano nel romanzo e nella serie si inserisce perfettamente in quella che oggi molti critici chiamano ipermodernità, ovvero un periodo storico in cui, tra i tanti mutamenti, è ritornata in auge l'esigenza di conoscere la verità e dunque di adoperare al meglio mezzi come le serie, i film o i romanzi per consegnarla a un pubblico. Un altro esempio di serie tv d'inchiesta è proprio Diavoli.
Certo, in Gomorra le fonti giornalistiche e giuridiche scompaiono dietro la parola di un narratore fittizio che, come dichiara Luperini, 'chiede al suo lettore di fidarsi' ciecamente delle sue parole. Questa costruzione e dialogo costante tra realtà e finzione nella serie tv è decisamente riuscita sotto ogni punto di vista, portando alla luce una storia che anche dopo essere giunta al traguardo non ti lascia.
2) The Young Pope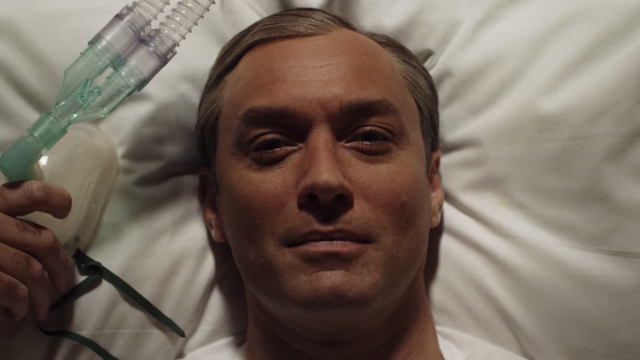 The Young Pope è la prova di come negli ultimi anni anche i grandi registi abbiano iniziato a vedere nelle serie tv del vero potenziale per consegnare una storia, un ideale, una filosofia che non si fermasse a 120 minuti, ma che si snodasse lungo diverse puntate. Paolo Sorrentino, uno dei più grandi registi e sceneggiatori nel panorama del cinema italiano, ha quindi ideato una serie tv intrigante, ipnotica, profonda e travagliata, capace di catturare l'attenzione di un pubblico internazionale, permettendo anche all'Italia di sentirsi un po' più orgogliosa e consapevole di star facendo strada nel mondo dei telefilm.
L'aspetto interessante e anche un po' divertente è che Sorrentino ha sempre apprezzato le serie tv e, da attore, ha persino partecipato alla 3×10 di Boris.
Una storia dai toni totalmente diversi da quelli di The Young Pope, ma che dimostra come, al di là del genere, se una serie tv sa toccare i punti giusti verrà quasi sicuramente riconosciuta dagli spettatori.
3) Skam Italia
Nata come webserie, oggi è invece disponibile su Netflix grazie al grande successo che ha riscosso e all'amore che i fan, gli attori e l'intero team hanno dimostrato nei confronti della storia di questo giovane gruppo di ragazzi. Se fossimo in cerca di una serie tv capace di consegnare una corretta e realistica immagine della gioventù di oggi, allora Skam Italia sarebbe perfetta. La serie di Ludovico Bessegato si fa amare dal pubblico italiano perché abbandona gli stereotipi e decide coraggiosamente di affrontare e di mostrare temi e vicende che molti ancora oggi considerano scomodi.
La quarta stagione (qui la recensione), che ha per protagonista Sana, è l'esempio più chiaro ed evidente di uno dei tanti scopi che la serie si propone: abbattere i muri per costruire una società migliore. Come dichiara anche Bessegato, la storia non vuole consegnare dei protagonisti perfetti perché Sana, Eva, Martino, Eleonora e tutti gli altri hanno moltissimi difetti e prendono delle decisioni per cui facilmente verrebbero giudicati. Tuttavia la scommessa sta proprio nell'approfondire queste personalità che potremmo imparare ad amare e capire nonostante tutto.
4) Romanzo Criminale
Romanzo Criminale, adattamento televisivo dell'omonimo libro del giudice Giancarlo De Cataldo, potremmo considerarlo uno dei primi prodotti televisivi che dal 2008 partecipa alla creazione di un'idea di serie tv italiana più autorevole. La perla televisiva, ideata da Stefano Sollima, precede persino Gomorra, libro e serie tv, dimostrando la necessità e la volontà da parte degli scrittori e degli sceneggiatori di riconquistare un ruolo da tempo perduto: quello di portavoce della verità. Così, tra realtà e finzione, Romanzo Criminale sfrutta le vicende della Banda della Magliana per raccontare con due stagioni la criminalità, la corruzione e la degradazione nella Capitale. Inoltre, la struttura delle puntate concorre alla realizzazione di una trama serrata ma minuziosamente sviscerata.
Diventiamo dunque testimoni della scalata al successo nella malavita del Libanese, di Dandi, di Patrizia, di Freddo, di Scialoja, di Roberta, di Zeta e Pigreco, del Nero, del Terribile e del Pm Borgia. Tuttavia la bellezza della serie sta anche nella capacità di entrare nella mente dei personaggi e, specialmente nella seconda stagione in seguito a un evento sconvolgente, di permettere allo spettatore di porre la lente di ingrandimento sul loro dramma psicologico.
5) Boris
Boris è una sitcom tutta all'italiana che sa far ridere con atteggiamenti e battute apparentemente semplici. La storia è costruita e pensata nel dettaglio dai creatori che tuttavia volutamente la fanno apparire come un prodotto creato su due piedi alla bell'e meglio. Proprio per questa sua caratteristica, una delle tante in realtà, la possiamo definire una serie originale specialmente per il 2005, periodo in cui molto di moda erano quelli che un tempo venivano chiamati sceneggiati.
In Boris la comicità è tagliente e i personaggi creano situazioni stranianti.
Ognuno è infatti caratterizzato da un un vizio o da un atteggiamento o da una stranezza che lo contraddistingue imprimendolo nella mente dello spettatore. Tutti i protagonisti hanno rappresentato la novità, partecipando a una storia che ha spianato la strada ai successivi prodotti televisivi.