Sono tanti i motivi che si possono celare dietro alla scomparsa improvvisa di un personaggio: divergenze creative, problemi legali, necessità di salvaguardare la reputazione di un network o comportamenti da diva. Che sia per un motivo o l'altro, nel corso degli anni alcuni degli attori più amati di serie come Grey's Anatomy, Streghe e The O.C. hanno detto addio ai loro show, lasciando un vuoto enorme nel cuore degli spettatori.
C'è chi ha lasciato una serie perché sentiva il bisogno di intraprendere un nuovo percorso, e chi invece è stato obbligato a farlo per via della sua cattiva condotta. Infatti, come in ogni posto di lavoro, anche sui set televisivi possono venirsi a creare situazioni spiacevoli che necessitano di provvedimenti immediati. I cambiamenti drastici nella sceneggiatura hanno risolto le incomprensioni interne, ma hanno anche suscitato lo stupore del pubblico, che non ha potuto far altro che chiedere spiegazioni.
Vediamo dunque insieme quali sono i 5 attori che hanno lasciato improvvisamente una serie tv, e i motivi per cui l'hanno fatto:
1) Ruby Rose (Batwoman)
Dopo aver partecipato a una sola stagione, Ruby Rose ha deciso di abbandonare il ruolo di Katherine "Kate" Kane in Batwoman. La notizia è stata comunicata da Warner Bros e Berlanti Production, che hanno poi iniziato il casting per la ricerca di una nuova interprete. Con la sua dichiarazione ufficiale, la Rose ha ammesso quanto sia stato difficile prendere questa decisione. Ma, pur esprimendo la sua gratitudine per l'opportunità che le è stata data, l'attrice non ha specificato il motivo della sua scelta.
Secondo quanto riportato da Screenrant, la decisione di lasciare lo show potrebbe essere legata alle numerose critiche ricevute prima e durante la messa in onda. Infatti, molti fan avevano espresso il loro malcontento per la scelta di Ruby Rose già nell'agosto del 2018: mentre alcuni avrebbero preferito un'attrice che fosse ebrea come la protagonista, altri hanno criticato il fatto che "non fosse abbastanza gay" per interpretare l'eroina. Inoltre, l'infortunio subito durante i primi mesi di produzione potrebbe essere stato un altro fattore determinante nella decisione di lasciare lo show.
Anche se il collegamento fra le due cose è stato smentito, non avremmo di certo biasimato l'attrice se avesse voluto allontanarsi dalla serie per dedicarsi alla sua salute. Che sia andata in un modo o nell'altro, non possiamo che augurarle buona fortuna per il futuro.
2) Charlie Sheen (Due Uomini e Mezzo)
Negli ultimi anni Charlie Sheen si è fatto notare più per i suoi problemi con la legge che per il suo talento. Dopo aver raggiunto il successo grazie alla sitcom Due Uomini e Mezzo, l'attore ha attraversato un periodo oscuro che ha compromesso la sua carriera. Come riportato da BBC News, per molti anni la vita di Sheen è stata contraddistinta da numerosi eccessi: abusi di droga, episodi di violenza domestica, la distruzione della camera di un hotel e denunce varie. Nel corso degli anni si è ritrovato spesso in riabilitazione, creando non pochi disagi alla CBS.
In seguito all'ennesima ricaduta nel gennaio 2011, la Warner Bros ha deciso di interrompere temporaneamente la produzione di Due Uomini e Mezzo, per permettere all'attore di rimettersi in sesto. Ma dopo essere stato criticato pesantemente da Sheen durante un'intervista radiofonica, Chuck Lorre ha deciso di chiudere la produzione e porre fine al contratto dell'attore. Mentre Ashton Kutcher prendeva il suo posto nella sitcom, Sheen ha affrontato un esaurimento nervoso dal quale è riuscito a riprendersi solo nel 2012. Una volta rimessa la testa sulle spalle, l'attore è riuscito a riavviare la sua carriera, partecipando ad Anger Management e a due episodi speciali di Due Uomini e Mezzo.
3) Kevin Spacey (House of Cards)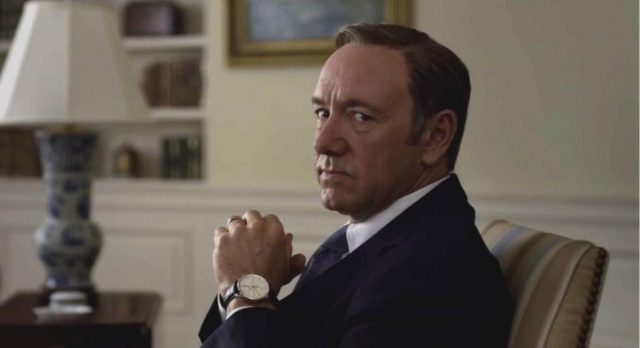 È solo grazie all'interpretazione di Kevin Spacey se Frank Underwood è diventato un personaggio così iconico. Orfana del talento di uno degli attori migliori degli ultimi anni, House of Cards non aveva mai avuto lo stesso successo. Ma con lo scandalo di Harvey Weinstein e il movimento #metoo, la carriera di Spacey ha iniziato a crollare. Come riportato da ABC News, a partire dell'autunno del 2017 Spacey si è ritrovato ad affrontare numerose accuse di molestie e aggressione sessuale. In seguito alle dichiarazioni di Anthony Rapp e Roberto Cavazos, l'attore ha deciso di ritirarsi dalla scena.
Alla luce delle nuove scoperte, Netflix ha deciso di sospendere la produzione della sesta stagione di House of Cards. Secondo Variety, Media Rights Capital e Netflix hanno ritenuto opportuno interrompere la collaborazione con Spacey per salvaguardare la loro reputazione. Le due case produttrici hanno dichiarato di essere profondamente scosse dalle notizie riguardanti l'attore, ma di voler comunque continuare a lavorare sull'ultima stagione dello show. Anche se fra il 2019 e il 2020 alcune delle accuse di molestia sono cadute, la carriera dell'attore ha subito un'irrimediabile battuta d'arresto, che potrebbe protrarsi per ancora molto tempo.
4) Shannen Doherty (Beverly Hills 90210 e Streghe)
Nel corso degli anni, Shannen Doherty si è fatta riconoscere più volte a causa del suo caratterino. L'attrice è arrivata al successo grazie alla partecipazione in Beverly Hills 90210 e Streghe. Nella prima serie, la Doherty ha ricoperto il ruolo di Brenda Walsh per solo quattro stagioni, durante le quali ha creato numerosi disagi. La Doherty era infatti nota per essere una festaiola, per arrivare sempre in ritardo sul set e per i litigi con i colleghi. La stessa Jennie Garth, interprete di Kelly Taylor, ha affermato quanto fosse difficile lavorare con Shannen.
Ma nonostante i suoi trascorsi, nel 1998 l'attrice è stata ingaggiata da Aaron Spelling per interpretare Prue Halliwell in Streghe. Come era successo in Beverly Hills 90210, il suo personaggio ha abbandonato la serie dopo solo tre stagioni. Il rapporto conflittuale con Alyssa Milano è stato il motivo principale. Secondo quanto riportato da Screenrant, la Doherty smise di parlare alla collega, che di conseguenza pretese il suo licenziamento. Avendo capito le intenzioni della Milano, Shannen decise di abbandonare lo show prima ancora che i produttori potessero dirle qualcosa.
5) Misha Barton (The O.C.)
La morte di Marissa è stato uno dei momenti più strazianti di The O.C.. Un risvolto scioccante che è stato svelato dalla stessa Misha Barton poche ore prima della messa in onda dell'episodio. I motivi che hanno portato all'eliminazione di questo personaggio sono molteplici: come riportato da Screenrant, la Fox chiese a Josh Schwartz di introdurre nuovi personaggi e storyline che potessero aumentare il dramma dello show. Dopo aver capito che la strada intrapresa fino a quel momento non era quella giusta, il creatore e i produttori hanno realizzato che solo con la morte della protagonista avrebbero dato una scossa alla serie.
Una scelta che, per quanto drastica, è stata condivisa anche dalla sua interprete: infatti, secondo ABC News, Misha Barton era pronta a dire addio al suo personaggio. La Barton non era più sicura di voler partecipare allo show, poiché si sentiva intrappolata in un treno dal quale non poteva scendere. In un'intervista per il New York Times, la donna ha spiegato che Marissa aveva già dato tutto ciò che poteva dare e di voler lasciare la serie per poter esplorare nuove possibilità lavorative. Dopo aver ricoperto alcuni ruoli minori in televisione, l'attrice è tornata in Inghilterra per concentrarsi sulla sua salute e prendersi del tempo per sé stessa.