2) New Girl – Jessica Day
Who's that girl? It's Jess, la nostra romantica maestra innamorata dell'amore! Occhioni dolci e stile vintage – dandy, dell'atteggiamento civettuolo tipico delle ochette ha ben poco. E per fortuna! Genuina, pasticciona, stravagante, si butta a capofitto nelle situazioni più disparate, che siano riconquistare il suo Nick o conservare il posto di lavoro.
Forse all'inizio potevamo associare più il personaggio di Cece – mega top model, strafiga, sicura di sé – a quello della vamp, ma anche lei si è dimostrata una ragazza acqua e sapone imbranata per altri aspetti. Le donnine di New Girl sono splendide nella loro quotidianità e nei loro differenti stili, ma entrambe si salvano dall'etichetta di oca giuliva!
3) Games of Thrones – Daenerys Targaryen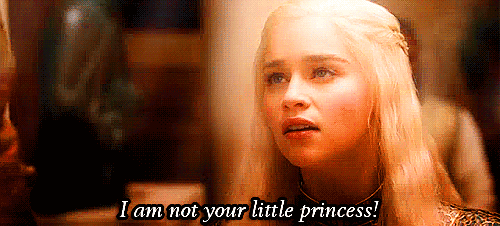 Nata dalla Tempesta, Khaleesi del Grande Mare d'Erba, La non Bruciata, Madre dei Draghi, Mhysa, Distruttrice di catene… potrei continuare all'infinito, perché di Daenerys Targaryen si può dire tutto, tranne che sia facile da chiamare! Bionda, gracile, eterea… un'oca perfetta vero? Se non fosse che svolazza per i cieli a cavallo di famelici draghi, o esce illesa da una pira funeraria ardente.
Niente male! GoT è pieno di donne dall'aspetto docile e lo sguardo iniettato di sangue (Cercei, Melisandre, Margaery, ma ormai ci metterei pure Sansa e Arya che hanno perso l'innocenza già nel pilot, quasi!), e per certi versi una rilettura in chiave femminista della Serie Tv non mi dispiace: le donne hanno in mano il destino dei Sette Regni… Si salvi chi può!