Una volta l'amore si sognava tra le pagine di un libro, ora tra i fotogrammi delle serie televisive. A prescindere dai gusti, il concetto base non cambia: abbiamo bisogno di vedere l'amore, di leggerlo, di viverlo, perchè è qualcosa di talmente tanto complicato che sentiamo la necessità che qualcuno ce lo spieghi sotto tutte le sue mille sfaccettature, così come a volte ci consola vedere che non siamo gli unici a vivere certi drammi e certi problemi… L'amore ci muove, ci motiva e sì, a volte ci consuma, ma proprio per questo, per quanto possiamo essere sfiduciati e delusi, ne abbiamo bisogno, che vogliamo ammetterlo o meno.
Le serie televisive che in un qualche modo danno consigli e insegnamenti sull'amore sono innumerevoli, e farne una cernita è decisamente frustrante, quindi chiedendo perdono per le gravi esclusioni, ecco qui 20 piccole lezioni che non dovremmo mai dimenticare.
#1 Non esistono favole, ma la realtà è meravigliosa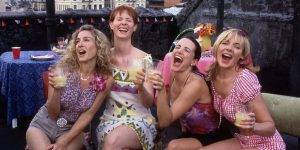 Sex and the City ci ha propinato consigli sull'amore (e sul sesso) per sei anni e, non contenti, i protagonisti hanno fatto lo stesso anche con un paio di film. La particolarità di questa serie? Non esiste il lieto fine, solo la semplice e meravigliosa realtà. La favola lasciatela nei libri dei Grimm e alla Disney, queste 4 donne hanno vissuto storie d'amore di ogni tipo e genere, disastrose, malate, sfortunate e chi più ne ha più ne metta, ma ciò che tra tutte le loro vicissitudini ci hanno insegnato è che la vita è un casino, i problemi ci saranno sempre e saranno innumerevoli, e la persona che sceglieremo di avere al nostro fianco non sarà mai esattamente come la vogliamo, ma che se riusciamo ad accettarla semplicemente per quella che è, allora avremo trovato un compagno di squadra degno di accompagnarci nella grande partita della vita.