Attenzione: evitate la lettura se non volete imbattervi in spoiler su Game of Thrones, Dexter, House of Cards, Grey's Anatomy, How I Met Your Mother, Breaking Bad, The Walking Dead, Romanzo Criminale, Gomorra, Scrubs e Sons of Anarchy 
Il ciclo della vita, tutto sommato, è abbastanza semplice. Nasci, cresci, fai l'abbonamento a Netflix, piangi per le morti nelle Serie Tv.
Tutto il resto è noia come direbbe il Califfo, una sequela sconfinata di piattume intervallata saltuariamente da qualche microcolpo di fulmine estemporaneo in metropolitana.
Ma una Serie Tv non è la vita. Di norma è più corta (questo credo l'abbia detto Fabio De Luigi/Carlo Lucarelli, e in ogni caso andate a dirlo agli sceneggiatori di Beautiful se avete il coraggio), e condensa tutte le sue emozioni nell'arco di qualche stagione.
I sobbalzi emotivi più importanti, in ogni caso, sono più o meno sempre legati al decesso di qualche protagonista. Morti inaspettate, sperate, a volte quasi invocate (qualcuno ha detto Joffrey?). C'è chi lasciandoci è passato a miglior vita, e chi sparendo per sempre una vita migliore l'ha garantita alla propria serie.
Comunque sia, alcune delle morti nelle Serie Tv sono rimaste come pietre miliari nella storia della serialità. Una storia sempre e comunque soggettiva, quindi non stracciatevi le vesti se quel caro estinto che ancora piangete sotto le coperte un attimo prima di dormire non è in questa carrellata.
Anzi, suggeritemelo su Facebook, non è detto che un Volume II non sia dietro l'angolo…
Ecco le 10 morti nelle Serie Tv che non riusciremo a toglierci dalla testa
RITA BENNETT – DEXTER
All'inizio non mi piaceva, ma onestamente era innegabile quanto fosse perfetta per il caro vecchio Dexter Morgan. Asociale psicopatico lui, traumatizzata da un marito violento lei. Uno che non poteva provare empatia per gli altri, l'altra che negli uomini non aveva più motivo di credere.
L'evoluzione della loro coppia è stata una delle trame più convincenti delle prime quattro stagioni di Dexter. Non credo sia un caso la deriva (ma chiamiamola pure picchiata Kamikaze) della Serie dalla quinta in poi.
Già, perché la nostra Rita ci ha salutato nel Season Finale della quarta, per mano del Trinity Killer.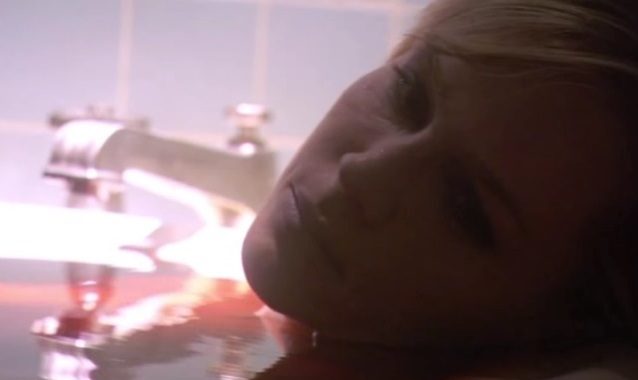 La sequenza degli ultimi minuti di quella puntata ha popolato i miei incubi per un bel pezzo. Dexter torna a  casa dopo aver eliminato il killer e trova sua moglie immersa nella vasca da bagno, uccisa da Trinity prima di tentare la fuga, mentre il nostro sociopatico preferito lo braccava, pronto ad eliminarlo.
Per terra, in un lago di sangue troviamo Harrison, il figlio della coppia, in un loop con la vita del padre da brividi. Anche per noi.