"Scrubs – medici ai primi ferri" è una serie televisiva statunitense, ideata dal genio di Bill Lawrence ed andata in onda dal 2001 al 2010. La prima pubblicità della serie la presentava come «Più clinico di E.R., più cinico di Ally McBeal, più piccante di Sex and the City, più frizzante di Friends»; paragoni non da sottovalutare! Ma Scrubs ha davvero soddisfatto tutte le aspettative dei telespettatori? Assolutamente sì!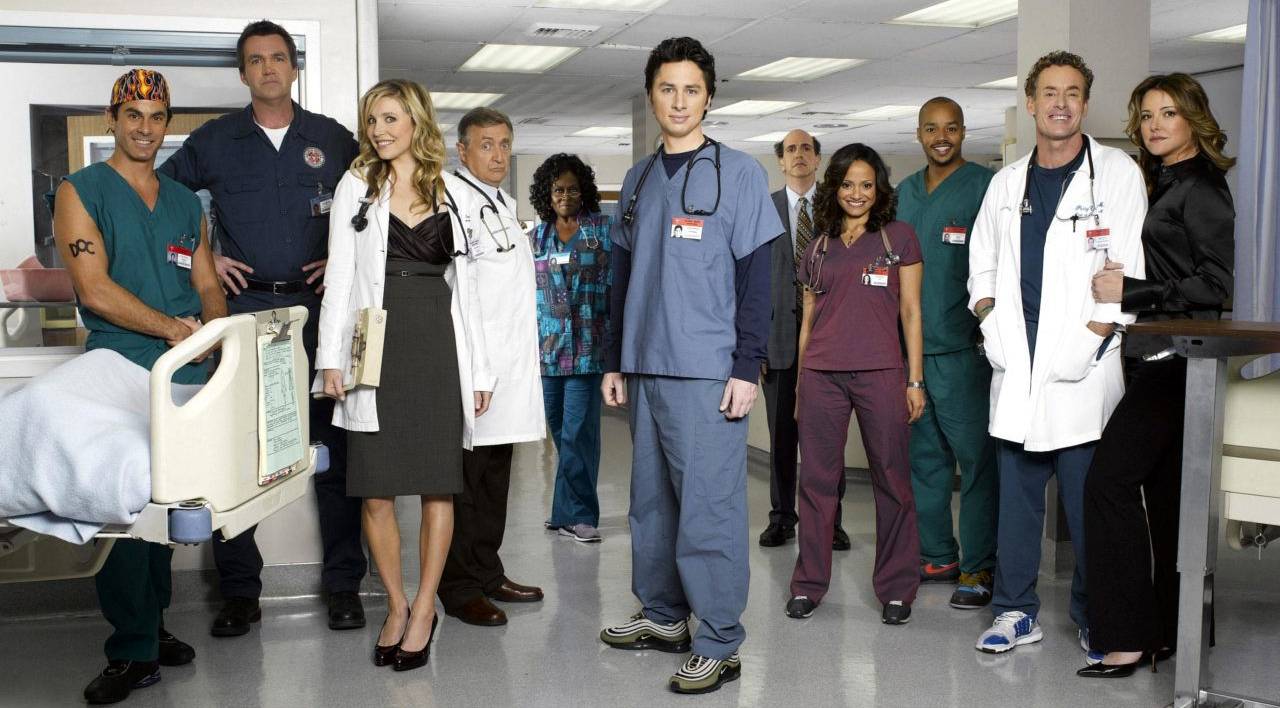 Ci troviamo, per la maggior parte del tempo, nell'Ospedale Sacro Cuore, in compagnia di alcuni dei personaggi più strampalati che esistano nel mondo delle serie televisive, anche se il protagonista indiscusso è John Michael Dorian (J.D.) un sognatore con la testa perennemente tra le nuvole. Incontriamo inoltre il migliore amico di J.D., Christopher Turk, e conosciamo con loro altri nuovi personaggi tra cui la svampita Elliot, la protettiva Carla, il cinico dottor Cox, l'avido dottor Kelso e l'inserviente senza nome che si divertirà a perseguitare gli specializzandi (soprattutto J.D.) per tutta la durata della serie.
Ma, insomma, come possiamo definire Scrubs un'esperienza unica? "È una soltanto una serie televisiva" potrebbe dire qualcuno. E invece no. Scrubs è una di quelle serie TV che ti insegna davvero qualcosa: aspetti della vita come l'ironia, l'amicizia, l'amore, le vittorie ed i fallimenti, ma anche la malattia e la morte. Sì, perché ogni personaggio è diverso dagli altri ed ha qualcosa di particolare. Qualcosa che ci rispecchia e che impariamo ad amare.
J.D. ci insegna che sognare è bello, a volte necessario. Lui ed il suo Orso Bruno, Turk, ci dimostrano che anche se si è adulti, affermati nel mondo del lavoro, magari anche sposati e con dei figli, non bisogna mai smettere di giocare. J.D. e Turk sono, apparentemente, degli uomini mai realmente cresciuti. Con i loro scherzi, le loro battute, i loro comportamenti a volte infantili vogliono dirci che non dovremmo mai prenderci troppo sul serio. Ma, in fondo, non è forse così?
Nonostante si comportino da "ragazzini", però, i due sanno rimboccarsi le maniche e darsi da fare per realizzare i propri obbiettivi e aiutare la gente in difficoltà, curandola nel migliore dei modi e strappando sorrisi quando possibile. Ma J.D. e Turk non sono soltanto medici: sono soprattutto amici! Come tutti i rapporti umani, anche l'amicizia è difficile da mantenere, ma loro ci riescono. Sempre. In realtà, più che amici ci sembrano una coppia, dato che non possono letteralmente fare a meno l'uno dell'altro: basti pensare al momento in cui si sono rivisti dopo il viaggio di nozze di Turk e Carla. Quanto abbiamo riso quando li abbiamo visti corrersi incontro come se fossero stati separati per mesi? Per non parlare del dottor Cox, come al solito pungente e pronto a sbeffeggiare i due con commenti ironici:
«Oh i neosposini… e c'è anche Carla!» (4×01)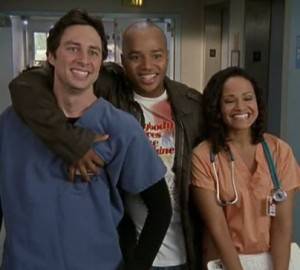 Parlando delle amicizie create all'interno del Sacro Cuore non potremmo non citare il rapporto creatosi tra J.D. e il dottor Cox. Nonostante quest'ultimo si sia dimostrato sempre riluttante all'idea di passare del tempo con il suo "allievo", sappiamo benissimo che in realtà gli vuole davvero molto bene. Uno dei suoi obbiettivi primari è, infatti, far di J.D. un grande medico. E ci riesce.  Come dimenticare il toccante discorso che Cox fa ad una specializzanda, credendo che J.D. non l'avrebbe mai saputo?
«Tanto per la cronaca, era il migliore che avevamo in questa fogna. John Dorian era il primo ed unico dottore che abbia mai incontrato che si preoccupasse come me. E non è importante il fatto che lui fosse un medico eccezionale. La cosa importante è che era… che è una persona eccezionale. Per questo la gente lo adora. E anche io. Era mio amico.» (8×19)
Un altro elemento portante all'interno di Scrubs è l'amore. L'esempio eclatante sono Turk e Carla, che nonostante abbiano avuto alti e bassi all'interno della loro relazione sono felicemente sposati ed alla fine li vediamo con due bei bambini. Persino Cox e Jordan, anche se sembrano odiarsi, nelle loro stranezze si amano molto. Tuttavia anche J.D., non esattamente l'emblema della virilità, può vantare diverse relazioni avute nel corso degli anni (con bellissime donne, aggiungerei!). Il suo cuore è sempre stato, però, di Elliot. Nonostante si lascino per poi rincorrersi durante tutto l'arco della serie TV, in realtà abbiamo sempre saputo che sono fatti l'uno per l'altra. Anche se, ad essere sincera, non mi sarei mai aspettata da J.D. una dichiarazione come quella che rivolge alla sua amata:
«Senti, Elliot, io non so se è possibile riuscire ad esprimere a parole il mio forte sentimento per te, ma credo di doverci provare: io non avrei mai immaginato di poter trovare qualcuno da amare quanto amo te. Io ti amo più di qualsiasi altra cosa in tutto il mondo. Elliot, Io ti amo più di Turk! […] Sei la donna dei miei sogni!.» (8×15)
Insomma, chi di voi non ha subito uno shock sentendolo pronunciare quelle parole?!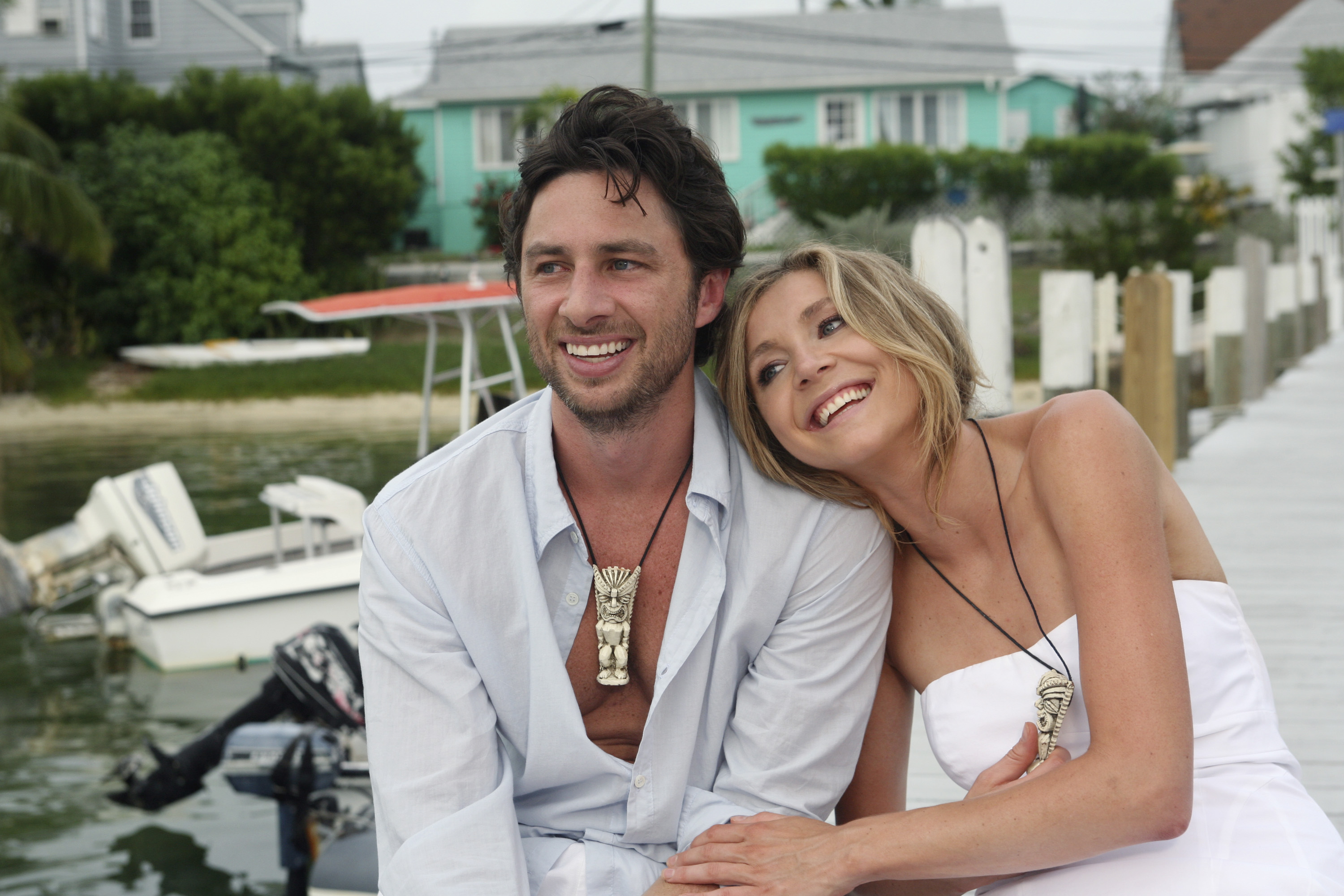 Nonostante Scrubs possa sembrare semplicemente una commedia, in realtà arriva a toccare tematiche serie presentandoci delle situazioni che ci hanno lasciato perplessi ed amareggiati. Vogliamo parlare, ad esempio, della morte di Laverne? Dopo l'incidente d'auto, tutti noi abbiamo sperato che in un modo o nell'altro si sarebbe ripresa, ma non è stato così. Abbiamo dunque visto tutti i personaggi darle l'ultimo addio, ma non Carla: la nostra infermiera non accettava il fatto che la sua amica se ne stesse andando, ed infatti ha continuato a "vederla" per tutto il resto dell'episodio. Laverne era un personaggio rispettato da tutti, e la sua morte è stata uno dei momenti più toccanti di tutta la serie.
Come non ricordare, inoltre, la morte di Ben? Qualche tempo dopo aver scoperto che la leucemia lo stava lentamente debilitando, Ben muore per arresto cardiaco. Il dottor Cox è così sconvolto dalla morte del suo amico che si convince di averlo accanto fino al momento del suo funerale, quando "comprende" realmente ciò che è accaduto grazie a J.D..
Cox (rivolto a "Ben"): «Dov'è la tua macchina? Non vuoi fare qualche foto?»
J.D.: «Foto di cosa?»
Cox: «Sai, bambini sporchi di cioccolato, gente mai vista prima che canta "Tanti auguri a te" a tuo figlio. Sai, le solite cose.»
J.D.: «Dove crede che siamo?» (3×14)  
Tornando dunque alla domanda iniziale: possiamo definire Scrubs un'esperienza unica ed inimitabile? Sì, mille volte sì.
Abbiamo visto questi personaggi crescere, e siamo cresciuti con loro. Abbiamo gioito quando hanno ottenuto ciò che speravano, ci siamo commossi quando li abbiamo visti perdere qualcuno, abbiamo riso alle loro battute. Un'esperienza unica ed inimitabile? Sì, una tra le più belle da vivere assieme ad una serie TV.
Un saluto agli amici di Serie Tv Vintage e Immagini di Scrubs!