Ricordate la Serie Tv Sabrina, vita da strega trasmessa dal 1996 al 2003?
Oltre al telefilm che aveva come protagonista Melissa Joan Hart furono prodotte ben quattro serie a cartoni animati: Archie e Sabrina, Sabrina, Sabrina: la mia vita segreta e Sabrina vita da strega.
Nonostante Serie Tv e serie animate fossero differenti tra di loro per ovvie ragioni, l'atmosfera che le caratterizzava era la stessa: leggera, magica ed abbastanza divertente.
Il revival di Sabrina, vita da strega, tuttavia, sarà un po' differente dalla "versione originale"; abbiamo innanzitutto appreso che sarà un prodotto Netflix e che dunque non approderà su The CW. La piattaforma di streaming, inoltre, ha ordinato 20 episodi della durata di un'ora per questa nuova serie tratta dal fumetto The Chilling Adventures of Sabrina.
Il produttore esecutivo Roberto Aguirre-Sacasa ha recentemente diffuso il primo artwork che ci anticipa il look non molto infantile del revival: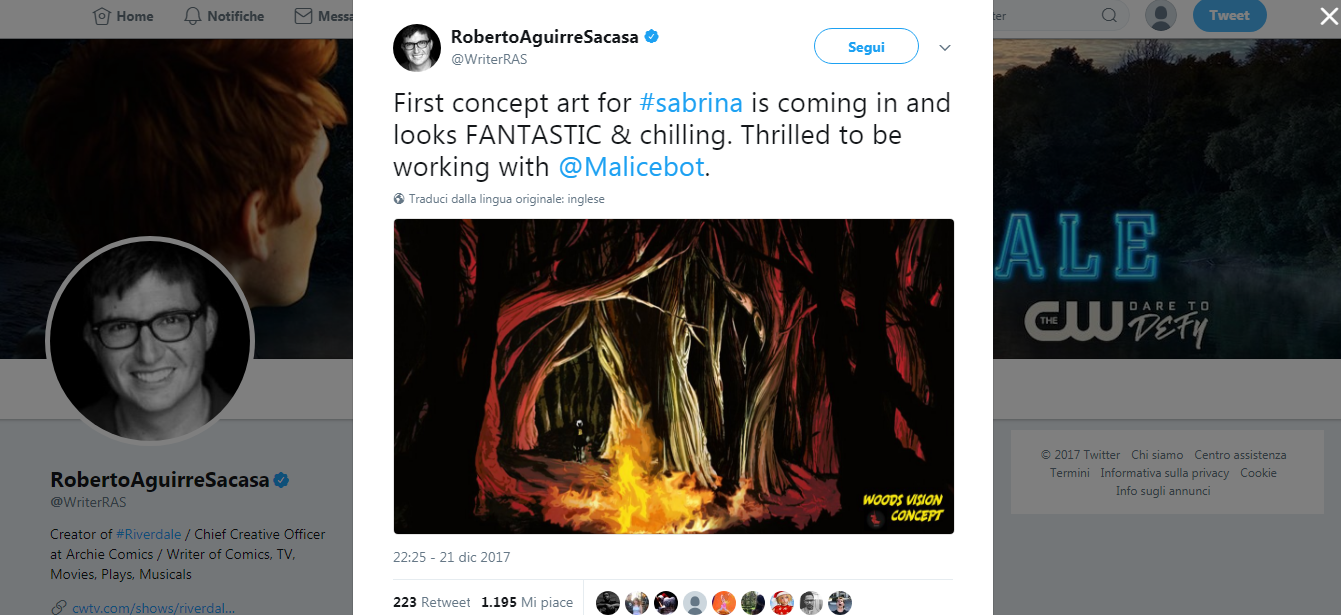 La strana immagine ci mostra degli imponenti alberi accanto ad una minuscola Sabrina, che sembra fissare il fuoco. C'è inoltre una strana luce rossa data dal fuoco che conferisce agli alberi un aspetto a dir poco infernale; ciò che rende più inquietante il tutto è che l'immagine è descritta come una visione.
Che in questo revival le forze oscure si infilino nella mente di Sabrina?
Lo show non ha ancora rivelato un titolo ufficiale, ma pare che le atmosfere che lo caratterizzeranno potranno ricondurci a quelle dei celebri Rosemary's Baby e L'esorcista; potremo dire addio, dunque, ai nostri ricordi infantili legati alla bella Sabrina Spellman!
Nel revival di Sabrina, vita da strega la protagonista dovrà lottare per tentare di conciliare la sua doppia natura; come ben sappiamo, infatti, la ragazza è per metà strega e per metà umana. Mentre tenterà di risalire alle proprie origini, dunque, Sabrina dovrà combattere contro il Male che minaccerà lei stessa ed i suoi cari.