Rick and Morty non è soltanto uno dei cartoni per adulti più famosi in Tv, ma è anche uno dei migliori prodotti che possiate trovare in circolazione, Irriverente, surreale e politicamente scorretto. La premessa di Rick and Morty si basa su una parodia di Doc e Marty McFly da Back to the Future, rispettivamente reinterpretati da un Rick Sanchez scienziato pazzo e alcolizzato e da suo nipote Morty, in piena esplosione ormonale. Insieme i due sono protagonisti delle avventure più folli in giro per l'universo, ognuna concentrata in 20 minuti o poco più di pura e colorata insensatezza.
Ma anche uno show come questo può avere degli scivoloni e ci sono stati degli episodi fin troppo complicati (questo quando la mente di Dan Harmon va a ruota libera senza controllo) o poco entusiasmanti. In questo articolo vogliamo guardare insieme ai 5 episodi peggiori della serie.
5 ) Claw and Hoarder: Special Ricktim's Morty – 4×04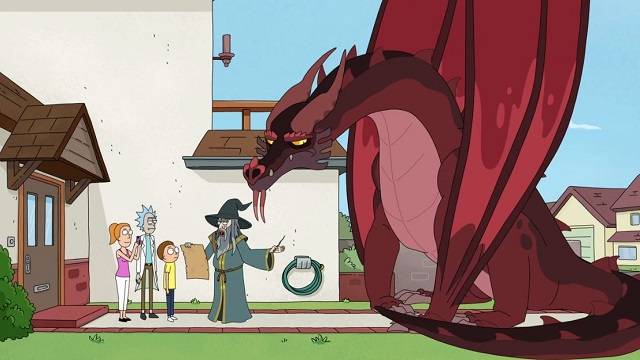 In questo episodio (qui potete trovare la recensione), Morty riceve un drago come ricompensa per seguire sempre Rick nelle sue missioni. I due firmano un contratto che li lega l'uno all'altro, con conseguenze severe per il drago se questo vincolo non verrà rispettato. Ecco quindi che Rick, Morty e Summer sono costretti a viaggiare in una dimensione fantastica, che non ricorda affatto una immaginabile Westeros (il doppiatore del drago in originale è Liam Cunningham tra l'altro), per salvare il drago da un destino di punizioni eterne. Descritto in questo modo l'episodio sembrerebbe anzi abbastanza accattivante, peccato che chiunque l'abbia visto sa perfettamente che la sensazione nel vederlo non è affatto delle più positive.
All'inizio è abbastanza divertente, perché la versione di un "episodio dragoncetrico" è tutto tranne che prevedibile. Ecco, forse fin troppo imprevedibile.
Quando Rick e il drago cominciano a farsi di droghe, ubriacarsi e copulare la puntata comincia a essere abbastanza creepy, per poi diventare davvero ingestibile quando tutti i protagonisti vengono coinvolti in un'orgia mentale con i draghi (!). Un episodio che ti fa sentire sporco dopo averlo visto, proprio come Morty.