Questa sarebbe potuta essere una normale e divertente puntata di Young Sheldon dedicata alla festa del Ringraziamento, ma gli autori hanno deciso di sorprenderci. Se la settimana scorsa abbiamo potuto vedere l'episodio più riuscito della sitcom, questa volta abbiamo riso meno e abbiamo provato un reale dispiacere per George Cooper. Il capofamiglia ha infatti dovuto prendere una decisione davvero difficile. Per evitare di ferire tutti, ha deciso di sacrificarsi per il bene degli altri. Non c'è che dire: in Young Sheldon stiamo veramente rivalutando questo personaggio, che potrebbe apparire anche in The Big Bang Theory (leggi qui  per scoprire i dettagli di questo crossover).
Gli autori di Young Sheldon hanno deciso di alzare ancora una volta l'asticella per regalarci una puntata indimenticabile!
Nell'episodio Family Dynamics and a Red Fiero, Young Sheldon ha oltrepassato i confini della comedy tradizionale con momenti molto drammatici. Nelle prime scene Sheldon ci ha spiegato le ragioni che lo avevano spinto ad accettare di frequentare il corso di Psicologia 1. Il ragazzino doveva difatti scegliere un corso facoltativo e questo era l'unico che non lo ripugnava e che non metteva in pericolo le sue dita. È entrato in classe con poche aspettative, ma si è ricreduto quando il professore ha assegnato dei compiti per il Ringraziamento. Il suo compito sembrava molto semplice: avrebbe dovuto scrutare le dinamiche della sua famiglia e da lì fare delle ipotesi e arrivare a una conclusione.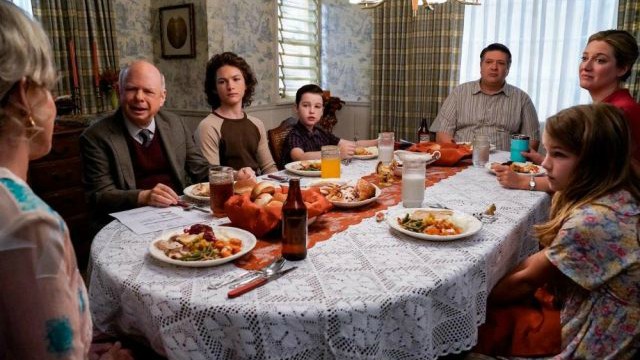 Sheldon ha quindi cominciato a osservare i suoi genitori e, origliando una loro conversazione privata, ha fatto una scoperta sorprendente: suo padre voleva trasferirsi in Oklahoma insieme a tutta la sua famiglia. All'uomo era stato infatti offerto un posto da allenatore di football all'università di Tulsa e desiderava accettare questa imperdibile occasione. Non solo avrebbe ricevuto uno stipendio più alto, ma avrebbe anche potuto lavorare con una squadra più importante e stimolante. Mary però non condivideva per nulla il suo entusiasmo ed era molto restia all'idea di lasciare Medford. Non voleva infatti separarsi da sua madre nè allontanare i suoi figli dalla loro nonna e dagli amici.
Entrambi allora hanno deciso di cercare degli alleati il giorno successivo per convincere l'altro coniuge.
Mary ha raccontato tutto a sua madre e le ha chiesto di sostenerla durante la cena del Ringraziamento, dicendo quanto amasse i suoi nipoti e a quanto non volesse vederli andar via. George invece ha chiesto ai suoi figli se fossero felici di trasferirsi in un altro stato. Così ha capito quanto poco importasse ai suoi ragazzi di restare nella loro piccola cittadina del Texas e si è convinto di avere qualche chance di realizzare il suo sogno.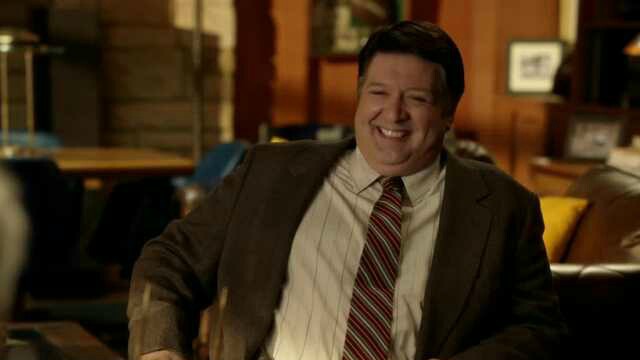 A cena, mentre tutta la famiglia era riunita intorno al tavolo per la cena del Ringraziamento, la situazione è degenerata.
Mary, durante la sua consueta preghiera, ha accennato al fatto di essere grata di vivere in quella cittadina e Meemaw ha rincarato la dose, affermando che le si sarebbe spezzato il cuore se avesse dovuto salutare i suoi nipoti. Nonostante avessero un ospite molto speciale, il dottor Sturgis, Mary e George non si sono trattenuti dal litigare a tavola, rovinando quindi la cena a tutti i presenti. Ma a differenza delle altre volte i due non hanno fatto pace rapidamente e hanno continuato a discutere anche dopo. Il litigio è naturalmente degenerato: George per fare un dispetto a sua moglie e per farle capire chi comandava davvero in casa, ha comprato una Fiero. A quel punto la nonna ha saggiamente deciso di accompagnare i suoi nipoti a casa e di farli restare lì per la notte.
Quando Sheldon è tornato a scuola, ha dovuto presentare il progetto a cui aveva lavorato durante la cena del Ringraziamento per il corso di psicologia. Mentre era davanti a tutti e stava per esporre il suo compito, è crollato ed è corso via piangendo dalla classe. Mentre era in auto con Costance, Sheldon ha capito perché per la prima volta aveva espresso i suoi sentimenti. Ha capito che i litigi dei suoi genitori lo avevano sconvolto molto più di quanto potesse immaginare.
Si è anche reso conto che non voleva affatto trasferirsi in Oklahoma perché questo avrebbe mandato totalmente in crisi il suo mondo. La nonna allora per risollevargli il morale ha deciso di portarlo nel negozio che più adorava, Radio Shack.
George è andato all'Università per valutare l'offerta e, nonostante fosse molto tentato di accettare, ha deciso di rifiutare per evitare di ferire la sua famiglia.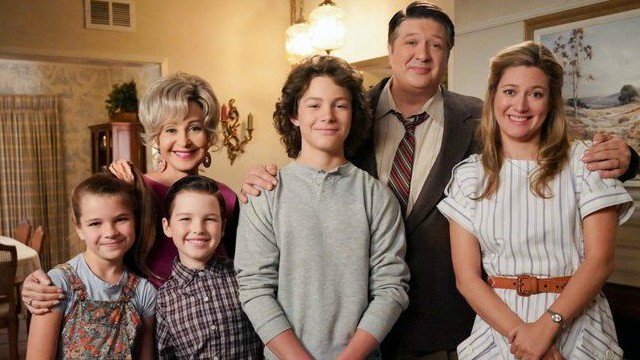 Ha messo sua moglie e i suoi figli prima dei suoi sogni e questo avrà sicuramente ripercussioni sul suo rapporto con loro. Quando ha annunciato che aveva deciso di restare in Texas, tutti hanno gioito. Nessuno però si è reso conto del grande sacrificio che aveva fatto per loro.
Da bambino, non ho mai capito i sacrifici che mio padre ha fatto per la felicità della sua famiglia. Questo mi ha reso poco compassionevole.
Anche questa volta Young Sheldon è riuscita a sorprenderci con un episodio che è riuscito a unire gag divertenti e scene decisamente più drammatiche!
La serie è sicuramente riuscita a fare il salto di qualità, meritando di essere considerata una delle comedy migliori in circolazione (leggi qui quali sono le 5 comedy più apprezzate dello scorso anno). Ormai è chiaro che gli autori non vogliono solo farci ridere e mostrarci le origini delle passioni di Sheldon. La verità è che vogliono farci riflettere anche sui momenti difficili che ha dovuto affrontare durante la sua infanzia e che lo hanno portato a reprimere le sue emozioni. La scena in cui Georgie ha consigliato a Missy di guardare la tv per evitare di ascoltare il litigio dei loro genitori è stata talmente realistica da spezzarmi il cuore.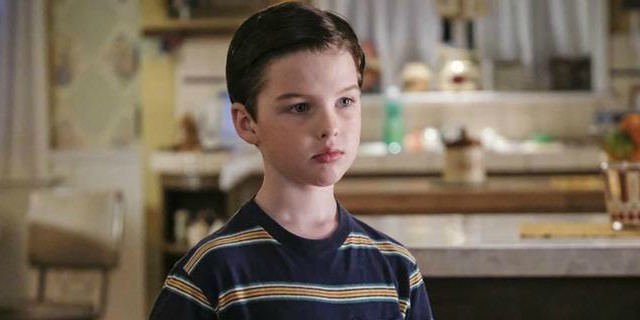 Sheldon in The Big Bang Theory ha spesso raccontato quanto fosse complicato il rapporto tra i suoi genitori e in questa puntata abbiamo capito cosa li ha fatti allontanare. Questa è stata la prima crepa e probabilmente nei prossimi episodi vedremo il matrimonio dei coniugi Cooper sgretolarsi sempre di più. Dubito infatti che George non provi nessun rimorso o risentimento contro quella famiglia che lo ha costretto a rinunciare alla sua grande occasione. Passano quindi in secondo piano tutte le battute di Missy e Georgie e le divertenti stranezze del dottor Sturgis (che è praticamente la versione più anziana di Sheldon).
Sono contenta che Steven Molaro e Chuck Lorre abbiano deciso di dare una tale profondità a questa comedy, allontanandosi così dalla serie madre. Hanno reso in questo modo Young Sheldon un piccolo gioiellino, unico nel panorama di oggi.