Halloween è arrivato a casa Cooper nel nuovo episodio di Young Sheldon dedicato alla festività più terrificante dell'anno (scopri qui 5 serie tv horror da guardare durante questa notte spaventosa). Pare che in questa seconda stagione gli autori abbiano deciso di dare maggiore spazio agli altri personaggi e infatti nel recente episodio il piccolo Sheldon Cooper non è stato il protagonista assoluto. Stavolta la voce di Jim Parsons ha deciso di parlarci di Mary. Abbiamo quindi scoperto una cosa sorprendente riguardo i fedeli americani. Mentre i cattolici italiani più bigotti si scagliano contro questa festa satanica, quelli a stelle e strisce la usano per mostrare ai più piccoli gli effetti di una vita dedita al peccato. Il pastore Jeff nella piccola cittadina di Medford, dove vivono Sheldon e la sua famiglia, realizza ogni anno una casa stregata che ha proprio questo scopo, ma tende a esagerare e a terrorizzare i poveri bambini.
Per questo nel nuovo episodio Seven Deadly Sins and a Small Carl Sagan il pastore ha deciso di chiedere proprio a Mary di occuparsi dell'organizzazione e di dare vita a uno spettacolo più adatto alle famiglie.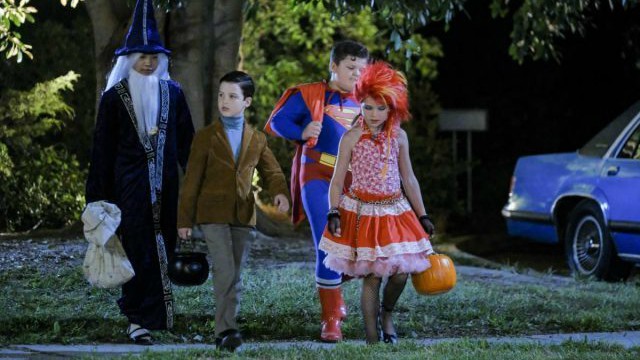 La donna ovviamente ha accettato l'offerta con grande entusiasmo e ha comunicato a cena la grande notizia alla sua famiglia. Mary ha fin da subito elaborato molti progetti per rendere la sua casa stregata indimenticabile ed educativa: il suo obiettivo è quello di far avvicinare più persone possibili a Dio e farli allontanare dalla via del peccato. Per questo ha pensato di rappresentare ognuno dei sette peccati capitali ed è riuscita anche a ottenere da un agente immobiliare la possibilità di usare per la notte di Halloween una delle case in vendita. Si è resa però ben presto conto di aver bisogno di un aiuto e per questo ha deciso di parlare con il professore di teatro del liceo, il signor Lundy. Avevamo già conosciuto questo personaggio interpretato da Jason Alexander nella 1×16 di Young Sheldon (leggi qui la nostra recensione di questa puntata) e adesso è tornato. Devo ammettere che è stato un ritorno molto gradito e che ho trovato questo attore molto azzeccato nei panni del terribile Lucifero.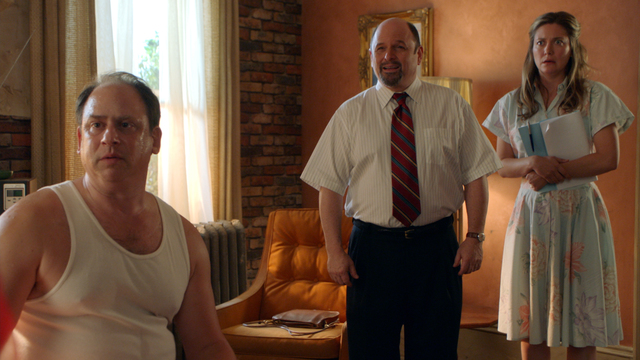 Molto velocemente, però, Mary si è pentita di avergli chiesto aiuto. All'inizio la collaborazione tra i due è stata molto prolifica e stimolante, ma poi il professore ha cominciato a prendere il sopravvento. Si è quindi impossessato del progetto, allontanando Mary dalla direzione dei lavori. Il signor Lundy infatti ha scritto il copione, ha scelto gli attori e ha dato al suo personaggio, Satana, sempre maggiore importanza. Come se non bastasse la visione del professore era completamente diversa da quella di Mary: i suoi monologhi sembravano rendere il peccato appetibile e affascinante.
La donna ha cercato di ribellarsi ma l'uomo si è rifiutato di prendere in considerazione le sue proteste ed è andato avanti per la sua strada.
Durante la tanto attesa festa di Halloween, come volevasi dimostrare, tutti i visitatori hanno preferito la stanza del diavolo e hanno rifiutato di farsi salvare dalla madre di Sheldon. Mentre la donna si disperava perché la sua casa stregata non era riuscita a convertire nessuno, il pastore Jeff invece non era affatto dispiaciuto. Lui era interessato unicamente alle donazione ed era felice che grazie al lavoro di Mary ne avesse ricevute così tante. Ma il timore della nostra protagonista era infondato e infatti nell'ultima scena dell'episodio di Young Sheldon è riuscita con grande gioia a cambiare la vita di qualcuno, pur rovinando involontariamente quella di Georgie.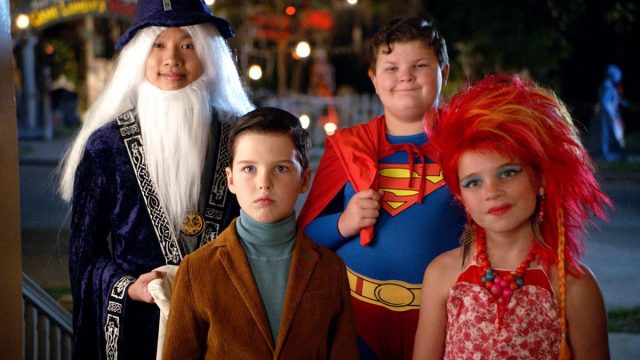 Prima di parlare della conversione di Veronica però dobbiamo fare un passo indietro.
Georgie aveva da poco ottenuto un appuntamento con una delle ragazze più popolari e belle del suo liceo grazie a Sheldon. Il ragazzino aveva infatti dato lezioni di matematica a Veronica e le aveva fatto prendere il suo primo voto alto. Il genio le aveva poi presentato suo fratello e aveva permesso quindi a Georgie di uscire con una bella ragazza durante la notte di Halloween. Così, mentre i piccoli fratelli Cooper andavano a fare dolcetto o scherzetto di casa in casa, Georgie aveva di meglio da fare.
Veronica lo aveva già invitato a casa sua e lui quindi già sognava di trascorrere una bella serata con lei… prima che Mary rovinasse tutto.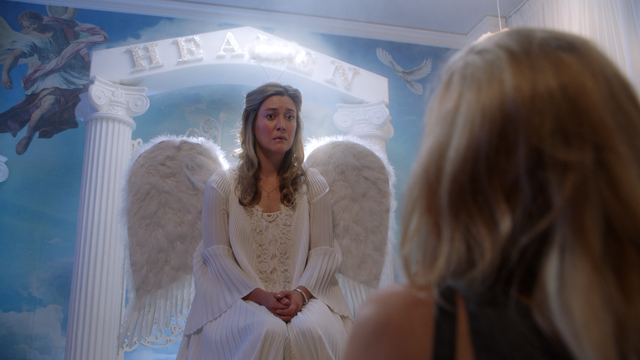 Veronica, molto incuriosita dalla casa stregata allestita dalla chiesa, ha deciso di entrare a dare un'occhiata e, dopo aver scoperto le conseguenze di una vita dedita alla lussuria, ha deciso di correre nella stanza del paradiso per salvare la sua anima.
La paura di mia madre di non aver nessuno da salvare la notte di Halloween si rivelò infondata. La scena sulla lussuria ebbe un forte impatto sulla ragazza di mio fratello che chiese di essere salvata da Gesù. E a quanto pare venne ascoltata. Iniziò a condurre una vita devota a Dio.
Mio fratello, al contrario, dopo quella notte diventò ateo.
È stato molto simpatico questo episodio di Young Sheldon dedicato ad Halloween!
È stato molto carino vedere i piccoli Cooper con i loro costumi: Missy era stupenda e coloratissima nei panni di una giovane Cyndi Lauper, mentre Sheldon era vestito con un abbigliamento decisamente più serio volendo emulare il suo mito Carl Sagan (in italiano tradotto in maniera geniale come Piero Angela). In questo episodio tuttavia il personaggio che ho apprezzato di più è stato quello del pastore che abbiamo visto finalmente in una nuova veste!
Del resto non capita tutti i giorni di imbattersi in un pastore con degli abiti così femminili e frivoli.
Il desiderio di Mary di salvare a tutti i costi i cittadini dal peccato ben si addice al suo carattere ed è quindi ben in linea con questo personaggio. Molti hanno paragonato la giovane Veronica alla bella Penny e non posso certo biasimarli dato che di analogie ce ne sono parecchie. Del resto ricorderete che in The Big Bang Theory, Mary ha tentato di salvare anche la biondina del Nebraska dalla dannazione eterna senza riuscirci. Questo non è stato certo un episodio indimenticabile o che ci ha aiutato a capire qualcosa in più su qualche personaggio, ma ci ha fatto trascorrere 18 minuti in piena spensieratezza. La piccola disavventura di Georgie, la malcelata rabbia di sua madre, il travestimento del prete, ci hanno fatto fare davvero grasse risate.
Questa puntata di Young Sheldon è probabilmente servita a dimostrare che gli autori sono capaci di realizzare scene originali e divertenti anche senza ricorrere alle stranezze di Sheldon.