Attenzione: evitate la lettura se non volete imbattervi in spoiler sulla 1×01 e la 1×02 di The Young Pope. 
Si avvisano i gentili lettori che l'articolo seguente contiene tracce di nicotina. Un fiume di nicotina, in realtà. Perché in The Young Pope si fuma, e tanto. Fuma il Papa, fumano le suore e i cardinali. Fumano tutti, in pratica. La Chiesa Cattolica non ci capisce più nulla e la confusione regna sovrana. Sono stressati, loro. E anche molti di noi hanno bisogno di una sigaretta. Perché The Young Pope è una serie tv stressante, bellissima per questo.
Paolo Sorrentino ha fatto centro, ancora una volta. La storia di Pio XIII segna il suo esordio nel mondo delle serie tv, ma lui sembra farle da una vita. Un ingresso in scena dirompente e coraggioso, uno schiaffo in faccia con guanti di velluto che presenta un prodotto innovativo e cinico, esteticamente raffinato e dalla forza comunicativa estrema. Jude Law sembra Toni Servillo, a momenti. Ed è l'attore migliore che il regista partenopeo potesse scegliere. Pio XIII sembra Frank Underwood, a tratti. Ed è ancora più pericoloso perché, a differenza sua, non sa che cavolo voglia. Per ora.
The Young Pope è un colpo di fulmine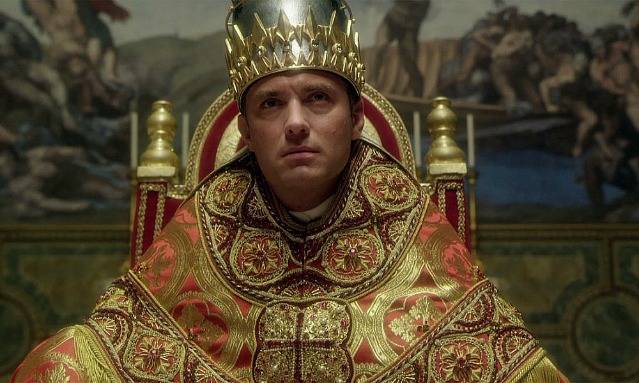 Questa incredibile follia ci ha conquistato dopo un minuto. Un bambino si muove a gattoni su una massa informe di piccole creature e si eleva sul soglio di Pietro con le vesti di un Papa, un giovanissimo Papa. Una creatura incontrollabile, gigante nel suo ego indefinito e piccolo come un essere appena nato che asseconda unicamente le pulsioni di un momento. Lenny Belardo non è Frank Underwood, Pio XIII non ha un piano. Però ha gli stessi occhi del tirannico presidente degli Stati Uniti di House of Cards.
Il giovane Papa è insicuro come un leader spirituale non dovrebbe mai essere. Mette in discussione tutto e tutti, a partire da se stesso. Pio XIII è la massima incarnazione possibile delle contraddizioni di un uomo confuso. Cerca Dio e non lo vede. Oppure sì, sennò si è stancato di cercarlo. Vuole fare un passo in avanti e poi ne fa tre indietro, fino a tornare al Medioevo. Altro che la fantascienza e il Paradiso per gli omosessuali, quelli sono solo sogni. I sogni di Pio XIII. Oppure no, perché i pensieri che si vivono ad occhi chiusi non sempre si concretizzano in una forte volontà. Capita allora che le parole di un leader carismatico indichino la strada verso Dio facendo esplodere la Chiesa Cattolica in mille pezzi. Ma poi si sveglia e del Pastore non resta altro che una pecora incapace di mostrare il proprio volto. Succede quindi che al temporale segua una bellissima giornata di sole. Ma poi si sveglia ed un cielo sereno lasci spazio al diluvio universale, quello definitivo. Quello capace di fare di Pio XIII il più pericoloso dei villain, dopo esser stati incondizionatamente dalla sua parte per quasi due ore. Voiello è un simpaticone, al confronto.
Abbiamo paura di lui, ora. Anche se siamo atei. Sa di voler cambiare la Chiesa Cattolica, ma non ha idea di come voglia cambiarla. Pensava al futuro e si ritrova nel passato remoto. Il più incallito dei conservatori sogna la rivoluzione, ma solo la notte. La parola chiave della prima omelia è invece restaurazione. Perché chi si mostra autoritario spesso non è autorevole. I leader non urlano, mostrano impavidi il volto e indicano una strada. Lui no. Pio XIII è solo e ha paura, più di noi. Probabilmente non sa nemmeno perché abbia deciso di chiamarsi così. Non è Francesco, lui.
Lenny Belardo sa solo una cosa: è uno degli uomini più potenti del mondo. Il più grande errore di valutazione in duemila anni di Chiesa Cattolica ha portato sul soglio di Pietro un bambino molto sensibile. E il potere potrebbe logorarlo, fino a portarlo all'autodistruzione. Pio XIII, la pecora travestita in malo modo da Pastore, ha in mano un preziosissimo giocattolo. E intende farne quello che vuole. Cosa non si sa, forse lo capiremo presto. Oppure continuerà a vagare tra le ombre di Città del Vaticano senza trovare una risposta ai suoi tormenti, trascinando con sé tutti noi.
Il Papa e gli antipapa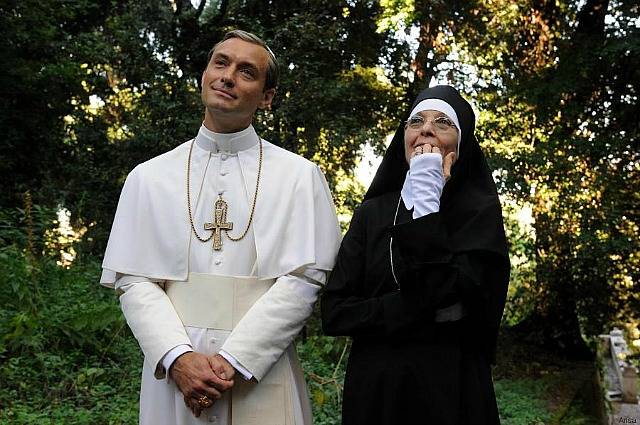 E poi ci sono gli altri. Perché The Young Pope non è solo la storia di Pio XIII, affatto. The Young Pope è anche la storia di una Chiesa che non riesce più ad arginare le evoluzioni di un mondo in perenne cambiamento, incarnata dal cardinal Voiello. Il personaggio interpretato abilmente da Silvio Orlando è un altro uomo dai mille volti da scoprire. Oppure è la storia misteriosa di un microcosmo che ruota intorno alla crescita di Lenny Belardo. Da suor Mary al cardinale Spencer, fino ad arrivare al cardinale Dussolier, il più criptico dei personaggi presentati nei primi due episodi: ognuno di loro ha un mondo da svelare capace di sconvolgerci e regalarci i tasselli imprescindibili per capire meglio il giovane Papa. Li vivremo tra passato e presente, passo dopo passo.
The Young Pope è, soprattutto, la storia di un Papa unico e dei suoi antipapa, altrettanto unici. Da loro a noi, resto del mondo al di fuori della sua anima oscura, tutti saremo antipapa. Oppure papi per proprietà transitiva. Ognuno di noi amerà e odierà Lenny Belardo. Ognuno di noi sognerà il suo declino e tiferà per il suo trionfo. Saremo un po' Pio XIII e un po' Voiello. Conservatori e progressisti. Spaventati ed eccitati. Vogliosi di una boccata d'aria, oppure di una sigaretta. Prima di immergerci ancora nel mondo di The Young Pope. Oppure dopo esserne appena usciti.
Antonio Casu