AVVERTENZA: data la natura strettamente scabrosa di certi temi trattati in The Last Man on Earth, alcune parole peccaminose saranno censurate e sostituite con sostantivi a caso pescati nel vocabolario alla stessa lettera
The Last Man on Earth è la storia di un uomo ma, a guardarla bene, sembra narrare la storia di OGNI uomo
Un giorno sei un fringuello libero, felice e spensierato, un maestoso adolescente di quarant'anni appena; quello dopo invece sei condannato ai lavori forzati per tutta la vita. No, niente catene alle caviglie, a tarparti le ali è un anello al dito.
Un giorno vaghi per l'America lasciando una scia di virile e testosteronica distruzione dietro di te, sguazzando nel tempo libero nella tua personale piscina di Margarita; quello dopo vai al negozio di fai-da-te insieme alla tua (non troppo dolce) metà. E parcheggi anche negli spazi riservati.
Un giorno sei solo una goccia nel mare dell'umanità, piccolo individuo in mezzo a miliardi di altri come te; quello dopo sei l'ultimo essere umano ancora in vita sulla faccia della terra.
No, beh, forse l'ultima cosa non è capitata a tutti, però è successa
al protagonista di questa Serie Tv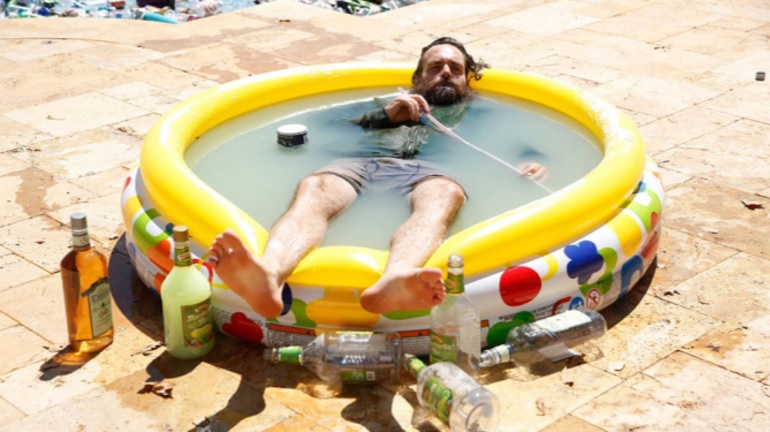 CONTESTUALIZZIAMO UN ATTIMO
Anno 2020, Phil Miller (Will Forte, The Saturday Night Live) è The Last Man on Earth, l'ultimo uomo rimasto vivo sul nostro pianeta dopo una spaventosa epidemia. Vaga per gli USA alla ricerca di altri sopravvissuti, facendo nel frattempo quello che ogni maschio che si rispetti farebbe nel caso si trovasse ad essere l'unico nei paraggi: rubando opere d'arte e cimeli sportivi, rompendo di tutto solo per il gusto di farlo, bevendo l'impossibile e lavandosi molto, molto poco.
Una vita da sogno si penserebbe, perfetta.
La vita del nostro Phil però non è idilliaca. Gli manca qualcosa, sente nel suo cuore (e anche un pochino più in giù) l'assenza di un pezzo fondamentale nel puzzle della propria esistenza. L'architrave su cui si sostiene la struttura dell'anima, e come la sua in fondo anche quella di moltissimi altri uomini.
Manca di giorno, manca soprattutto di notte, quando certi giornaletti non bastano a colmare il vuoto.
Eh sì, ben presto il signor Miller si rende conto di quanto terribilmente gli manchi la fangoterapia.
Non di solo alcool vive l'uomo, senza fangoterapia la permanenza sulla terra è insostenibile per Phil, che dopo aver provato con scarsi risultati un approccio con un manichino del centro commerciale, decide di farla finita.
Proprio in quel momento però una luce appare in fondo al tunnel, e un angelo viene a salvare il nostro eroe. Carol è un angelo forse non bellissimo, con il naso magari sproporzionato e i denti storti, ma con le fattezze di donna, e questo per Phil non è importante, è tutto quello che conta.
Il buon Miller afferra al volo l'ancora lanciatagli dal Signore, convinto che i suoi giorni di astinenza siano finiti. Il problema, però, è che l'angelo di cui sopra è anche una tremenda rompi cognitivismo.
Pur di averla accanto a sé (ma anche sopra, o da altre parti, poi vedano loro) Phil è disposto a soprassedere a ogni difetto, assecondandola in ogni follia da bravo servo della gleba.
Cosa non farebbe l'uomo per un po' di fangoterapia…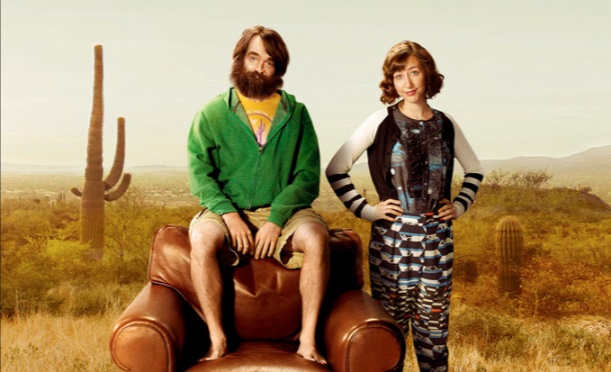 LUI, LEI, L'ALTRA E…
L'esistenza di Phil sembra ormai avviata verso una placida monogamia, se non fosse per l'arrivo a sorpresa di una terza sopravvissuta all'Apocalisse endemica: Melissa.
Melissa conquista subito Phil: è simpatica, intelligente, bionda e molto, molto fangoterapia. L'Adamo del terzo millennio vorrebbe resistere ed essere fedele a sua moglie, ma si trova suo malgrado ad avviare un corteggiamento inconscio. Tenero, per nulla volgare e decisamente maturo.
In pratica regredisce allo stato larvale con la rapidità con cui un impulso nervoso si propaga dal cervello agli arti periferici. Inizia a ragionare solo con l'ausilio del suo clavicembalo. Ci prova spudoratamente, pateticamente, senza ritegno.
Arriva a convincere le due Eva della necessità di dover procreare con entrambe, allo scopo di ripopolare il mondo. Questo dovrebbe valere un Nobel per un qualche cosa, che ne so, tipo la Pace credo, o un Cromosomi XY Award.
A rovinare i suoi piani, però, piomba a grande velocità la scoperta di non essere né l'ultimo essere umano sulla terra (questo già lo sapeva), ma nemmeno l'ultimo uomo…
TIRANDO LE SOMME DI THE LAST MAN ON EARTH
Stop, finiamo qua prima che poi vi racconto tutto e c'è poco gusto a guardarla.
A questo punto mi chiederete: ve la consiglio o non ve la consiglio?
Io direi di sì, perché è una cosa diversa dal solito, è una serie parecchio strana (e se vi piace il genere qua troverete qualcosa che fa per voi) dispone di diverse frecce al proprio arco e non lascia un retrogusto insipido in bocca, anche se c'è qualche lato oscuro da esplorare prima di mettersi alla visione.
Tralasciamo gli aspetti scientifici del tipo "ma se la razza umana è morta improvvisamente pochi mesi fa per un'epidemia, perché non c'è mezzo cadavere per le strade/case?". In fin dei conti è una serie comedy, non deve avere basi sci-fi troppo solide, basta che faccia ridere, o al massimo commuovere.
Ma lo fa? La sensazione è che Will Forte spari le proprie cartucce un po' troppo presto. Le gag del morto di fangoterapia fanno ridere all'inizio, senza dubbio, ma alla lunga stancano (un po' come la storia della fangoterapia per non dire filogenesi).
Il concept stesso è quello di una serie di sketch più lunghi del normale più che di una storia da approfondire e sviscerare nel tempo. Le puntate sono degli shottini seriali da 20 minuti cadauno, e la comicità di riflesso deve essere veloce, immediata e sferzante.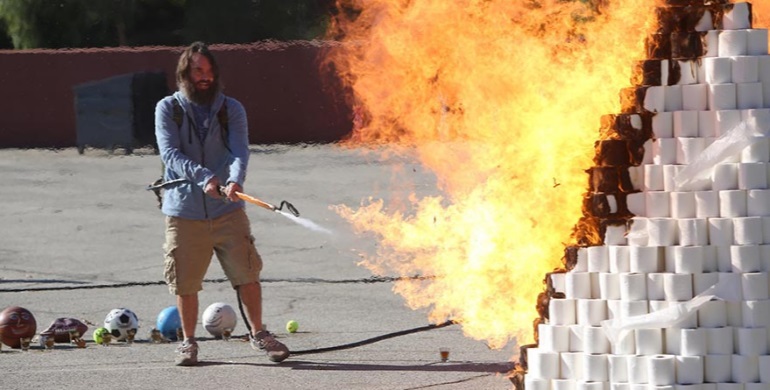 All'inizio ci riesce, ma col passare del tempo The Last Man on Earth fa leggermente più fatica a tenere il ritmo.
L'introduzione di nuovi personaggi prova a dare un filo di verve alle dinamiche dei sopravvissuti, e gli sceneggiatori non a caso dosano le new entry come facevano i fochisti col carbone nei treni dell'800, per cercare di tenere alta la fiamma.

Il limite più grande, personalmente, rimane comunque Phil Miller. Al di là delle battute da osteria e degli stereotipi sull'uomo medio, il protagonista di The Last Man on Earth ha un grosso difetto: esaspera.
Ha gli stessi cambi di umore di un'adolescente incinta e contemporaneamente in pieno ciclo (è proprio vero: gli uomini sono le nuove donne), alternando momenti da subdolo cospiratore machiavellico a reazioni isteriche degne del miglior Kylo Ren; attimi di buon senso e fasi di regressione infantile imbarazzanti.
Essere in empatia con lui è veramente difficile. Prende tutti i lati negativi di personaggi vincenti come Ted Mosby, Barney Stinson o Phil Dunphy e li mescola nel calderone, per poi tuffarsi dentro come Obelix in quello della pozione magica.
Questo per quanto riguarda il personaggio.
Will Forte, invece, non ho ancora capito se è un Tom Cruise brutto o quello che nel 1985 si aspettavano che sarebbe diventato Michael J. Fox trent'anni dopo.
Ma questo è un altro discorso…