Dopo una lunga pausa, The Big Bang Theory è finalmente tornato! Mancano solo due episodi e anche la decima stagione giungerà al termine, ma questo non metterà di certo la parola fine alle avventure dei nostri nerd preferiti. The Big Bang Theory è stato infatti ufficialmente rinnovato per altre due stagioni (leggete qui per saperne di più).
Ma dove eravamo rimasti? Nel diciottesimo episodio, trasmesso qualche settimana fa, Raj si era trasferito nella vecchia stanza di Sheldon perché, avendo rifiutato il denaro del padre, non poteva più permettersi il suo appartamento. All'inizio la sua convivenza con Penny e Leonard non era stata molto tranquilla. Infatti, senza volerlo, aveva causato lo scoppio di una lite tra i due coniugi.
In questo nuovo episodio di The Big Bang Theory la loro convivenza sarà migliorata?
Piccola avvertenza: la recensione potrebbe contenere degli spoiler per chi non ha ancora visto il nuovo episodio. Quindi andate avanti a vostro rischio e pericolo!
A questa domanda il diciannovesimo episodio "The Collaboration Fluctuation" ha ampiamente risposto. Già dalla prima scena, infatti, possiamo vedere che Raj si trova molto bene nella sua nuova sistemazione. Ha fatto amicizia con Penny e con lei fa yoga, parla del suo lavoro, fa shopping. Penny a sua volta ha trovato qualcuno con cui parlare e con cui fare tutte le cose che suo marito non voleva condividere con lei. L'unico che non è affatto contento della situazione che si è creata è Leonard, che si sente il terzo incomodo.
Penny non parla più con lui del suo lavoro, passa tutto il suo tempo con Raj e considera più il parere del ragazzo indiano che il suo. Leonard da un momento all'altro è diventato un estraneo in casa sua. E Raj e Penny si sono trasformati in "due amiche e un paio di Jeans di camicette". O meglio nelle Gemelle Olsen, come le definisce Leonard.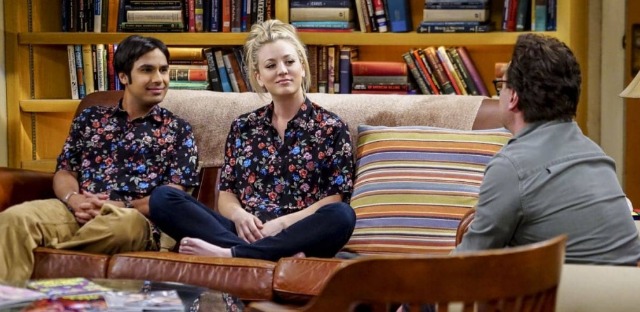 Leonard cerca inizialmente di tollerare la situazione, ma non vi riesce. Si reca allora da Howard e Bernadette per sfogarsi e li accompagna a comprare i pannolini. Per tutto il tragitto, però, non fa altro che lamentarsi e finisce per infastidire anche i coniugi Wolowitz e soprattutto Halley. Alla fine Bernadette gli consiglia di dire a sua moglie come si sente e di rivelarle la sua gelosia. Leonard segue il suo consiglio e cerca di spiegare a Penny quanto sia infastidito non solo dal fatto che gli abbia rubato un amico, ma che lo turbi soprattutto l'essere ignorato in casa sua.
Raj però gli ruba la scena anche in quel momento! Infatti finisce per parlare al posto suo ed esprimere le emozioni di Leonard meglio di come avrebbe fatto lui.
Intanto Sheldon, affascinato dal lavoro di Amy, decide di chiederle di collaborare e unire la biologia e la fisica quantistica per dimostrare cosa ci spinge a fare un gesto inconscio. Fin dall'inizio i due scienziati devono stabilire delle regole per evitare che la loro collaborazione diventi una competizione. Inizialmente Amy rifiuta le regole decise da Sheldon e preferisce stabilirle lei stessa. Tutto sembra procedere bene e i due collaborano entusiasti; ben presto però Sheldon ed Amy si accorgono di essere giunti a un punto morto, ma soprattutto notano che rendono molto di più quando litigano e sono in competizione l'uno con l'altro. Quindi cambiano le regole e decidono di litigare in nome della scienza.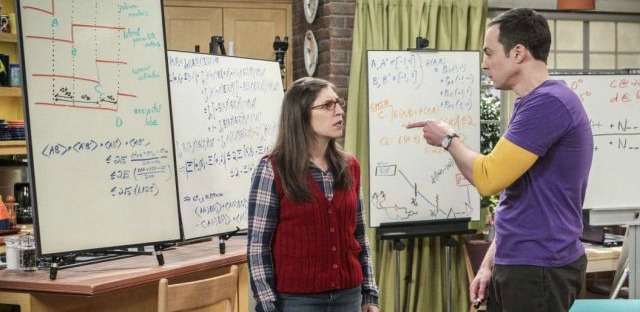 Questo episodio ci ha dimostrato che non basta proporre qualcosa di nuovo per alzare il livello della Serie Tv e farci ridere come un tempo!
Se la strana collaborazione di Amy e Sheldon può in un certo qual modo essere salvata, bocciamo in toto il triangolo Raj – Leonard – Penny. Vedere Sheldon e Amy che lavorano insieme a un progetto scientifico ci ha dato modo prima di tutto di ricordare che originariamente The Big Bang Theory parlava di scienziati. Inoltre ci ha regalato alcune scene esilaranti (a vedere Sheldon che seduce Amy abbiamo riso, ammettiamolo). La chimica tra Amy e Sheldon è la carta vincente dello show, l'unica ragione per cui gli ascolti sono ancora alti.
Poco spazio, purtroppo, è stato dato a Howard e Bernadette: il povero ingegnere ha avuto a stento il tempo di fare qualche battutina delle sue. L'episodio invece si è concentrato sulla nuova coppia di amici composta da Penny e Raj, che si è formata improvvisamente. I due, prima, a stento si scambiavano qualche parola e adesso invece si comportano da BFF. Alla fine questa grande amicizia ci ha regalato solo delle scene demenziali, in cui Raj sembra recitare il ruolo dell'amico gay di Penny. Il personaggio di Raj sembrava essersi evoluto, ma torna sempre a fare gli stessi errori: si immischia nelle relazioni degli altri come un parassita, creando problemi. Credevamo che sarebbe stato divertente vedere Raj come coinquilino di Penny e Leonard e invece siamo rimasti molto delusi.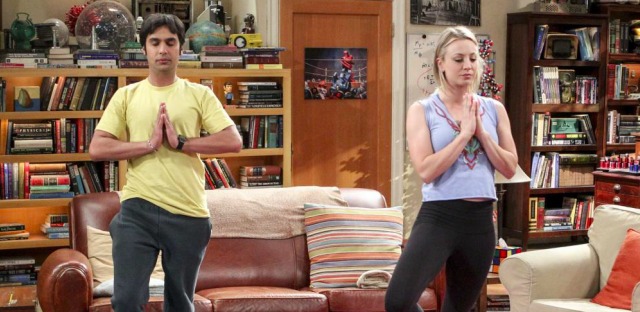 Gli sceneggiatori ci hanno proposto per l'ennesima volta qualcosa di già visto.
Raj si era impicciato già nella relazione di Howard, nella gravidanza di Bernadette e anche nella relazione di Leonard e Penny (quando li aveva costretti a dirsi reciprocamente "ti amo"). Quando Raj avrà finalmente una vita sua? Tra l'altro dopo aver visto questo episodio, mi chiedo tra quanto ci ritroveremo a parlare del coming out di Raj e stavolta seriamente (vi siete persi il nostro scherzo organizzato per il primo aprile? Leggete qui allora!). Inoltre la lite tra Leonard e Penny è rimasta in sospeso e non ha avuto alcun epilogo: Penny presterà maggiore attenzione al marito? Raj si farà da parte? Non lo sappiamo perché l'episodio è finito prima che i due coniugi potessero chiarirsi, lasciandoci l'amaro in bocca.
Tra l'altro sono già diversi episodi che Penny e Leonard non fanno che litigare: che gli sceneggiatori vogliano dirci qualcosa? La coppia portante della sitcom non potrebbe essere più debole e sembra che Penny vada d'accordo con tutti tranne che con il marito. Dato che il titolo dell'ultimo episodio di questa stagione è "The Separation Agitation" temo il peggio. È vero che la loro storyline è ormai diventata noiosa, ma una rottura finirebbe solo per peggiorare la situazione.