Puntata carina, questa 11×06 di The Big Bang Theory. Senza infamia e senza lode, ma carina e con alcuni spunti divertenti. Anche abbastanza riciclati, ma divertenti.
Insomma, puntata decisamente sopra la media di questa stagione che sembra essere abbastanza deludente, ma che, chissà, può sempre riprendersi!
Anche se comunque, non raggiunge il livello della 11×01 di The Big Bang Theory, che è stata esilarante e quasi al livello delle prime stagioni. Servirebbero più puntate così per risollevare le sorti di questa Serie Tv, ma ci possiamo accontentare – per questa volta almeno – di questa 11×06.
L'episodio inizia con gli amici a cena in quella che era la casa di Leonard e Sheldon e ora è di Leonrard e Penny. E stanno discutendo della vasectomia di Howard. Con tanto di battutina su Raj che mangia per il nervoso perché Howard deve fare la vasectomia.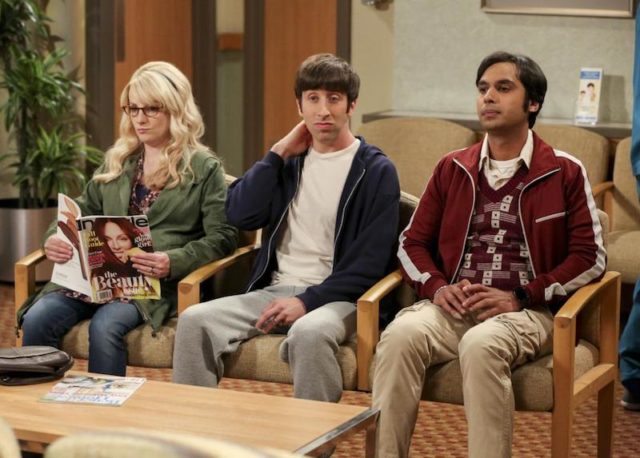 Ammetto che, quando ho visto la scena, ho pensato: oddio no, una puntata incentrata sulla vasectomia di Howard, no. E sono rimasta piuttosto piacevolmente sorpresa, quando ho visto che non si concentrava sull'intervento, ma sul post, con lui che la vasectomia l'ha fatta davvero (cosa rara per una sitcom) e adesso deve sopportarne i postumi.
Carina e divertente la scelta di mettere anche Bernadette a letto, perché si è affaticata troppo e il ginecologo l'ha costretta a stare a riposo. Si sono creati così siparietti simpatici sul fatto che Howard non può camminare e lei non dovrebbe alzarsi.
Il siparietto è complicato dall'arrivo di Penny, passata a vedere come se la cavano gli amici. E non è proprio in quel momento che la bambina deve cominciare a piangere? Ovviamente Penny si offre di aiutarli, ma i coniugi Wolowitz non sembrano molto entusiasti della cosa.
Ed ecco che – per l'ennesima volta in questa stagione – si ritorna sulla maternità e su Penny, accostando le due cose. Onestamente ormai mi aspetto che entro la fine della stagione, Penny rimanga incinta. Stanno rimarcando troppo la cosa perché rimangano solo battute: addirittura la figlia di Howard e Bernadette, Haley, la chiama mamma!
Nel frattempo, seguiamo anche l'altra storyline, quella di Sheldon, che vuole diventare il nuovo Professor Proton. La rete, infatti, ha deciso di riproporre la Serie e lui si sente qualificato perché amava lo show da bambino, show che l'ha spinto a intraprendere lo studio della fisica.
Ma c'è un problema con la sua candidatura: Sheldon non ama i bambini, non li capisce (non li capiva nemmeno quando era lui stesso un bambino!) e quindi prepara un'audizione a limiti della psicopatia. Divertenti le battute su questa questione, anche se, purtroppo, in parte già viste e riviste.
Forse per cercare di dare una svolta alla stagione, hanno deciso di riesumare nientemeno che Will Wheaton e la vecchia rivalità tra i due. Infatti, Sheldon va a bussare alla sua porta per chiedere aiuto per migliorare la sua recitazione per l'audizione e finisce con Will Wheaton che ottiene la parte.
Ovviamente, l'ira di Sheldon – che si ritiene il naturale erede del professor Proton – è enorme, tanto da minacciarlo di togliergli la sua amicizia. Che sia l'inizio di nuove "battaglie" tra i due? Chissà.
Comunque, nel complesso, un 7 pieno a questa puntata di The Big Bang Theory, ironica e tutto sommato ben congeniata, sento proprio di poterglielo dare.