«E' arrivato il momento di cambiare le cose.»
«Sì.»
Si conclude con un'affermazione quel diorama di emozioni che è la prima stagione di Sons of Anarchy.
Lateralmente, laddove "affermazione" nella sua polisemia vuol dire anche "consolidare la propria posizione", Jax Teller ha iniziato un percorso solitario che banalmente inizia con una fine: quella di suo padre.
Quando la morte si tramuta in ricordo, prende vita la retrospettiva di un leader genitore che scompone i termini ritenuti solidi fino a quel momento, e spinge alla rivoluzione interiore.
In Jax ritroviamo l'archetipo dell'essere pensante in quanto senziente, ma che da comune mortale necessita di un catalizzatore che lo incuriosisca e gli permetta di interrogarsi sui fondamenti di cui si circonda; necessita dell'antefatto che istiga la natura conflittuale dell'uomo.
Simile al cavernicolo di Platone, costretto a fissare ombre umanoidi che sanno di surrogato di realtà e che per la prima volta si libera dell'illusione per volgere il suo primo sguardo all'accecante luce del sole, così Jax viene sopraffatto dall'arrogante bagliore della verità.
Il novello Amleto ha per anni lucidato il carrello di una pistola che avrebbe dovuto sparare a salve, ma che senza nemmeno accorgersene ha cominciato a colorare di rosso l'asfalto della corrotta cittadina di Charming.
Ha trascorso una vita a prepararsi per una battaglia che non gli riguarda, e la spiazzante rivelazione risiede ora nelle testimonianze scritte nero su bianco del defunto padre: il racconto di un'ideologia che ha subito troppe digressioni per rimanere pura com'era, decantata già all'origine.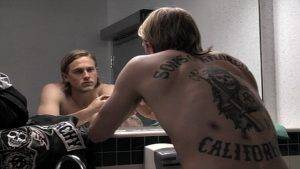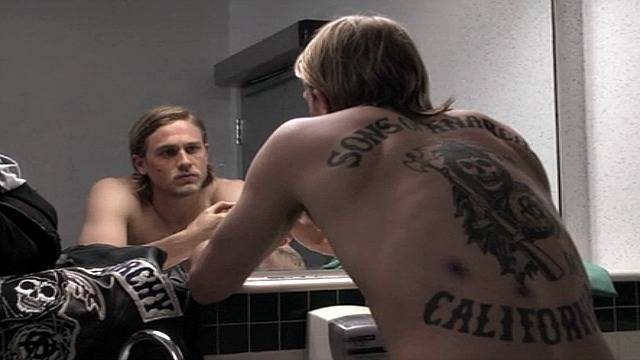 Scopriamo che il "diretto erede al trono" è stato figlio di un mondo che l'ha indotto a rendere i suoi pensieri antistanti alle sue azioni: le abitudini orgiastiche del club (figlie del "senso di vizio" in Sons of Anarchy) e le tendenze lascive combattono la porzione d'animo del ragazzo che è fedele all'amore e nobile di principi.
Questo è causa del fatto che ogni possibile gancio carpito alla fiducia nel genere femminile è stato strappato lentamente, con una quiescenza che gli rendesse quasi impossibile la realizzazione del fatto: gradualmente ha dovuto accettare l'idea che sua madre fosse la consorte del nuovo leader, come gradualmente ha dovuto inglobare il dolore per lo spietato ed egoistico addio dell'unico vero amore riconosciuto in Tara.
La perdita di fiducia nel genere femminile in Jax è determinante, ed in particolar modo il rapporto con sua madre è emblematico nella forma in cui si mostra sotto piccoli dettagli caratterizzanti: tale rapporto somatizza (nella perfetta cura del personaggio plasmato dal genio di Kurt Sutter) in una caratterizzazione freudiana, un imprinting che ha come modello guida Clay, ed accentuato (anche) dai baci sulle labbra che Jax scambia con sua madre, che dalla patina coprente di una semplice abitudine materna lasciano invece trapelare una viscerale forma di scostamento da parte di Jax dall'idea di "figlio"; una forma di complesso edipico solo superbamente accennata.
Il lascito di John Teller muta così nel motore della rivoluzione interiore, finendo per diventare un padre spirituale in sostituzione al padre materiale che non ha avuto occasione di essere: il "fantasma rivelatore" che alimenta presupposti di rivalsa.
È a questo punto che, avvicinandosi al tema amletico, Jax come figura di poeta e filosofo si contrappone a quella di politicante incarnata da Clay.
L'entità filosofica di Jax è l'antitesi conservatrice dell'hinc et nunc rappresentato dal leader materialista e pratico che Clay dimostra essere per necessità di ruolo.
La riflessione di Jax, il suo pensiero rivoluzionario e rivoluzionato, mette tutto in discussione con una coerenza tale da dubitare perfino di sé stesso, nel momento in cui lascia cadere tra le fiamme il quaderno di suo padre in un frangente che rappresenta il bivio raggiunto a velocità siderale; quell'istante, sintomo nella vita di ogni essere umano, è il momento in cui si decide chi essere ("o non essere?").
Quel momento è sfuggente, ci si arriva librando sulla propria vulnerabilità ed atterrando in emergenza, privi del senso di lucidità che ci illudiamo di rinchiudere nella sacca da viaggio.
È a causa di questa difficoltà che Jax prende due decisioni nello stesso momento: nella sua concitazione, la prima è utile a preparare la seconda.
La sosta del quaderno tra le fiamme è una catarsi, l'attimo in cui Jax decide di dimenticare non suo padre bensì il suo fallimento, e che nel lasso immediatamente successivo diventa la certificazione di una scelta.
Con un bagno di fuoco, Jax ripulisce la testimonianza di suo padre dal vinto senso di sconforto e rimpianto, per trasformarla nel manuale di resurrezione e permanenza.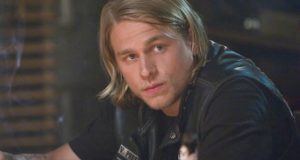 Il concetto di permanenza, e più specificatamente quello di eredità, è diegetico nella prima stagione di Sons of Anarchy.
Questo si addensa ed assume potere decisionale, vivendo come entità che aleggia e si trasmette come particelle nell'aria: da John e Piney, a Jax ed Opie la "trasmissione ereditaria" è palpabile come l'amicizia viscerale che lega entrambe le coppie e che corona nella condivisione di un'ideologia.
Un'analogia (quella tra i due rapporti padre-figlio/figlio-figlio) piazzata in punta di fioretto, in maniera delicata e naturale, e con una disarmante semplicità che commuove.
È il simulacro di John Teller, pilastro portante e narratore diegetico di questa prima stagione, che affina ognuno dei sentimenti visti e sentiti, contrastanti o concordi, all'interno della famiglia dei Samcro nell'universo di Sons of Anarchy.
Un personaggio eternamente assente nella nostra esperienza, ma la cui permanenza non oggettiva è messaggio di libertà: come da mitologia greca, seguendo il mito di Orfeo, John Teller vive ancora perché l'anima è solo prigioniera del corpo.
La morte, in questo senso, non desta timore perché intesa come liberazione, e John è l'esempio lampante di questo agrodolce monito.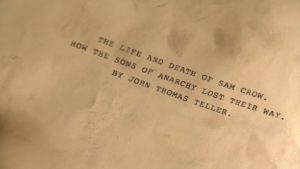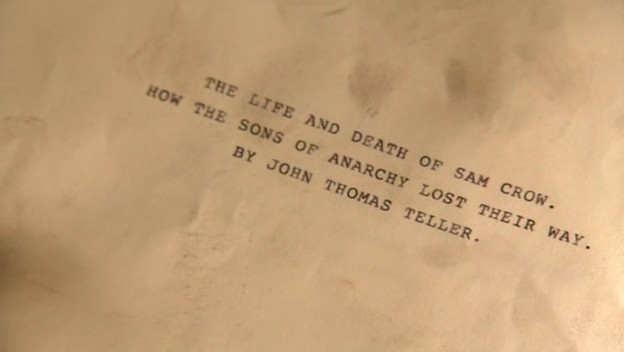 John Teller è il collante della prima stagione di Sons of Anarchy, che col prodromo di questa rivoluzione ha professato attraverso la sua seconda chance, la sua progenie, che "anarchia" significa liberazione del corpo umano dal dominio della proprietà.
Che i Samcro sono una famiglia che ha ragione di esistere grazie all'ordine sociale basato sulla libera associazione degli individui.
John ha ricordato, con la morte, che per non fallire "il vero fuorilegge deve trovare il giusto equilibrio tra la passione del proprio cuore e la ragione della propria mente."