Ora iniziamo a fare sul serio. La 4×03 di How to get away with murder, infatti, fa quello che non hanno fatto le due precedenti puntate, ovvero spinge nella direzione dei flashforward: le azioni e le decisioni prese qui si rifletteranno nel corso della Serie e porteranno all'omicidio di non si sa ancora chi.
Era anche ora che succedesse. Abbiamo, infatti, avuto due puntate che, per quanto davvero ottime, erano puramente di presentazione e di assestamento dopo il disastro della terza stagione.
Ma adesso la storia è, a tutti gli effetti, cominciata e – devo dirlo – sembra cominciata col piede giusto. Speriamo solo che non si perda per strada come la storyline della stagione scorsa, che ha visto morire il coprotagonista di How to get away with murder, ma senza che gli autori avessero il coraggio di darci un colpevole serio.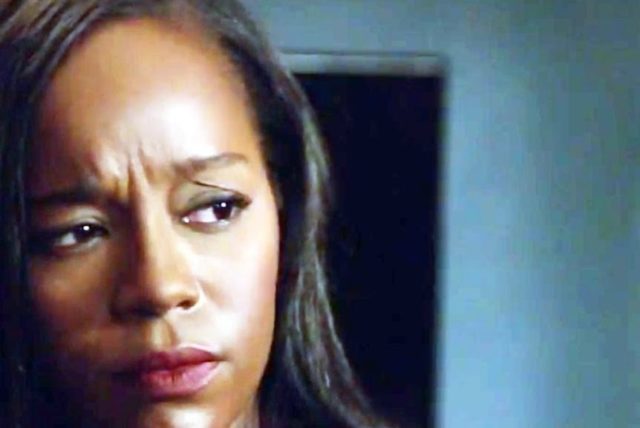 Comunque, ormai è andata e stanno proseguendo per il verso giusto. E la cosa migliore sembra essere l'evoluzione di Michaela, sempre più simile ad Annalise, come c'era stato predetto fin dalla prima stagione. Ma qui l'assimilazione sembra completa, tanto che addirittura lo psicoterapeuta di Annalise la scambia per lei nei flashforward e la vediamo avere un crollo in cui urla: "tutti intorno a me muoiono". Vi ricorda qualcosa?
Ma procediamo con ordine, perché queste qui sono le ultime scene. La 4×03 di How to get away with murder inizia esattamente dal punto in cui era finita la 4×02: ovvero, da Michaela (che già qui si intuisce essere la vera protagonista della puntata, che appunto inizia e finisce con lei) che scappa via da Laurel, la quale le ha chiesto di aiutarla a incastrare suo padre per l'omicidio di Wes.
Michaela le chiede di lasciarla in pace, di lasciar perdere perché – finalmente! – ora che si sono liberati di Annalise, le cose stanno iniziando ad andar bene. E non ha tutti i torti. Chissà, se avesse mantenuto la sua posizione, non si troverebbe in ospedale, con il petto insanguinato e in evidente stato di shock, due mesi dopo gli avvenimenti di questa puntata. E invece si è fatta corrompere da Laurel…
Una Laurel che non si dà per vinta, che fa di tutto per cercare le prove per convincere Michaela, anche supplicare Bonnie di farle fare un tirocinio, anche tornare "strisciando" da Frank, per chiedergli aiuto. Un Frank che non è capace di negargli niente, e che infatti la fa assumere.
E Michaela, mentre cerca di vincere una sfida per aggiudicarsi il posto come miglior tirocinante, viene continuamente distratta da lei e da un Connor che ha deciso di mollare gli studi e di passare il suo tempo in un club per spogliarellisti. Nonostante questo, Michaela la sfida la vince, ma grazie a un'informazione passatagli dalla stessa Laurel. Ed è subito dopo, che decide di aiutare l'amica.
Una decisione che, a livello visuale, viene splendidamente resa mostrandoci una Michaela che esce trionfante dall'ufficio della sua "capa", mentre vediamo flash di quello che succederà molto presto, di quello che causerà.
Questo per quanto riguarda i ragazzi. Annalise, invece, ha deciso di offrirsi come avvocato d'ufficio, in qualche modo per redimersi, per salvare gli oppressi. E questo bisogno si intensifica quando scopriamo che Jasmine Bromelle (la sua ex compagna di cella, che ha difeso nella 4×02) è morta, quasi sicuramente per overdose.
E questo la spinge ad andare dal suo terapista, per non finire in un bar a bere e rischiare di perdere la sua licenza. Dal terapista che l'ha fatta controllare con l'esame delle urine e con cui è arrabbiata, perché si è confidata e aperta e si sente un po' tradita. Come si sente tradita da Nate e Bonnie che, lavorando insieme, sembrano essersi coalizzati contro di lei.
E alla fine, Annalise riesce a risolvere un caso che sembrava impossibile, un caso che sembrava già chiuso, e addirittura getta le basi per una class action perché i difensori d'ufficio sono sottopagati e spesso non hanno il tempo di studiarsi il caso dei clienti…
Insomma, nella 4×03 di How to get away with murder tutti stanno andando avanti, tranne Laurel. Ma è una "pausa" solo temporanea, per riprendere fiato. I casini stanno arrivando.
Passate anche dagli amici di How To Get Away With Murder Italia