# #
"Pensa se uno potesse tornare indietro nel tempo, prendere tutti i momenti neri e dolorosi e rimpiazzarli con qualcosa di meglio!"
Gretchen, Donnie Darko
In quel piccolo capolavoro filmico di Donnie Darko si affronta anche e soprattutto il tema del dolore e della solitudine. Della difficoltà di affrontare "la fine del mondo", il crollo cioè della propria individualità. Gretchen, ragazza dal passato difficile, immagina un'esistenza senza dolore. Un mondo in cui le brutture possono essere rimosse e sostituite da altro. In un altro gioiello cinematografico, Eternal Sunshine of the Spotless Mind, la possibilità di cancellare una relazione amorosa carica di dolore e brutti ricordi diventa realtà. In entrambi i casi ci si rende conto di una cosa. Ci si accorge drammaticamente che l'uomo non è uomo senza il dolore. Non può formarsi, non può maturare. Non può neanche scegliere il bene. E non può (più) amare e trovare giustificazione all'amore (che pure non muore).
Gretchen in Donnie Darko pensa a dei "generatori di memoria infantile", degli occhiali da far indossare ai neonati con all'interno "delle diapositive, e ognuna di queste fotografie è un'immagine piacevole, divertente o quello che i genitori desiderano". Mezzi per preservare il bambino dalle deformità del mondo. Ma come afferma il suo professore: "Non pensate che i neonati potrebbero aver bisogno dell'oscurità? Potrebbe essere una componente del loro naturale sviluppo".
Black Mirror. Episodio 2. Quarta stagione. Marie è una madre apprensiva. Sara la sua amata figlia. La breve scomparsa di quest'ultima getta nel panico la donna. Charlie Brooker mette in scena il desiderio più recondito di ogni madre, ovvero la possibilità di sapere sempre dove si trovi suo figlio e in che stato di salute sia. Dov'è allora la distopia?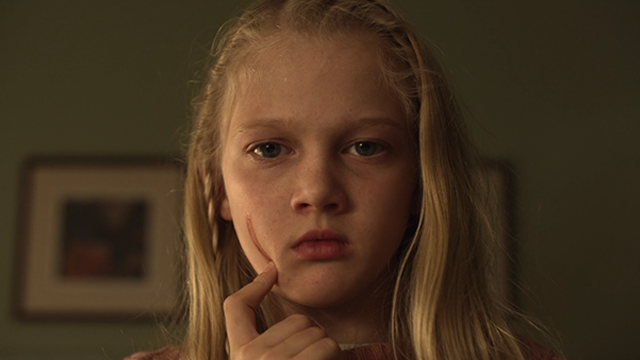 # #
In questa quarta stagione di Black Mirror domina l'uomo. Dominano i suoi problemi, le sue nevrosi, le sue debolezze. Nella prima puntata, come abbiamo visto, Robet Daly è un sociopatico alienante. In questo secondo appuntamento di stagione Marie è una donna corrosa dalle incertezze, dalla sua incapacità (o ritenuta tale) di essere madre. Lo notiamo già nei primissimi minuti quando la donna afferma "Non capisco come mai non ce l'ho fatta. È che non riuscivo più a spingere". Si colpevolizza fin dall'inizio. Sente il peso e la responsabilità di essere una madre single. Di avere una vita nelle sue mani.
Le preoccupazioni naufragano in nevrosi dopo l'incidente del parco, dopo aver perso per pochi minuti quella bimba tanto voluta. Il suo attaccamento diventa morboso, ossessivo, psicotico. Clinico. Ecco dunque che subentra la tecnologia. Brooker sembra ancora una volta ammonirci che la scienza è un mezzo e che il vero problema è l'uomo. Il mezzo digitale diventa così nient'altro che lo strumento al servizio delle debolezze e delle psicosi del suo creatore. L'uomo stesso.
# #
L'eccessivo desiderio di protezione porta Marie a desiderare che la figlia non debba mai soffrire né vedere niente di disturbante
Paradossalmente proprio questo desiderio diventa invece il vero elemento disturbante dell'episodio. L'iniziale perplessità della donna è fugata presto da un semplice episodio: un cane troppo aggressivo che rischia di spaventare la piccola Sara. Marie, come Gretchen in Donnie Darko, sente di voler solo "prendere tutti i momenti neri e dolorosi e rimpiazzarli con qualcosa di meglio!", o quantomeno oscurarli. Come in USS Callister torna ancora il riferimento a Bianco Natale. In questo caso non alla tecnologia dei cookies ma dello Z-Eye, dispositivo che permette di oscurare altre persone considerate fastidiose o inopportune.
In Arkangel sono tutti gli elementi motivo di angoscia per il bambino a essere criptati. Sara cresce in tal modo senza preoccupazioni, senza sapere da cosa guardarsi e per cosa provare paura. Cresce guardata con sospetto dai compagni di scuola. È lei l'altra grande disadattata di questo episodio. In lei maturano molto presto bisogni repressi, desideri istintuali negati dal mezzo tecnologico. Così senza saper distinguere la violenza (scena dello psicologo), Sara non conosce neanche il naturale modo di rapportarsi al prossimo. Desidera qualcosa che non conosce. Sente dentro di sé di essere privata di qualcosa, senza sapere bene di cosa.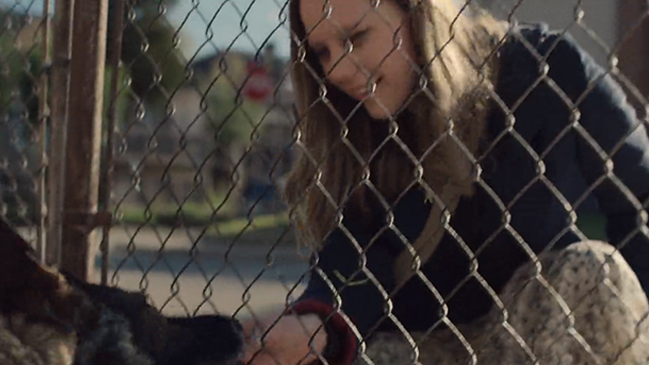 Dopo l'allontanamento del tablet, però, la bimba sembra tornare alla normalità. Sembra aver imparato a rapportarsi alle difficoltà e ai dolori. Persino alla paura. Così quel cane tanto aggressivo si tramuta in un mansueto animale addomesticato a suon di croccantini. L'esperienza paurosa si converte in qualcosa di positivo. Ma non è così semplice. Non si può cancellare un'intera infanzia distorta soltanto col tempo. In lei rimane un disavanzo, un qualcosa di inespresso.
Si tratta di stimoli inappagati che si accrescono e maturano in lei.
Diventano bisogni impellenti che necessitano di essere compensati. Il desiderio di sesso, droga e la violenza che poi dimostrerà non saranno altro che le valvole di sfogo di anni e anni di pulsioni frenate. Anche quel modo pornografico di rapportarsi all'amore non è altro che la prova della sua incapacità di approcciarsi con equilibrio a questo sentimento. In lei c'è il desiderio sessuale più che l'amore, quel piacere che per la prima volta ha visto soddisfatto in un video porno.
Le due grandi, incerte, drammatiche protagoniste di Arkangel si contendono il ruolo primario. Lottano con se stesse e lottano tra loro. Marie torna a essere attrice principale. Anche per lei il tempo non ha prodotto una vera guarigione. Sempre dentro di lei continuano a sovrapporsi gli istintuali desideri di protezione materna. Le preoccupazioni sono distorte, rifratte dalla morbosità patologica della donna. Basta una telefonata mancata a far scattare l'allarme. A indurla a desiderare di nuovo il controllo ossessivo di sua figlia.
Marie diventa il "Fato" (l'Ananke greca, la necessità irreversibile) per Sara. Diventa il suo destino. Nel citato Edipo Re, il drammatico protagonista della tragedia sofoclea è in balia del destino. Afferma orgogliosamente di essere "Figlio della Sorte, e della Sorte felice". Pensa di possedere il suo destino, di potersi imporre su di lui. Con un disvelamento progressivo scoprirà invece l'ironia tragica della sua sorte. L'essere sposo di sua madre e uccisore del padre.
Edipo non può scegliere. Non sa di commettere un'"amartia", una colpa. Non sceglie. È vittima oltre che colpevole.
Così Sara diventa vittima di sua madre. Di una donna che sceglie al posto suo. Che la fa abortire a sua insaputa. Che la spia e prende le decisioni al posto suo (allontanando da lei il ragazzo). Nel dramma moderno di Black Mirror colpa e colpevole si identificano ma hanno due volti. Sara però ne è "portatrice sana", come Edipo. Perché, pur continuando a sbagliare e arrivando fino alla violenza inaudita e inaspettata (per lo spettatore) nei confronti della madre, non sa di farlo. Come accade a Edipo, Sara è vittima di chi ha scelto per lei. Di chi l'ha privata dell'aggressività a piccole dosi, del rapporto sano col sesso, del piacere. Anche un semplice litigio appare incomprensibile per la ragazza. Escludendo perciò le forme, accettabili, di sfogo di pulsioni naturali, Marie ha permesso l'emergere dirompente di altre, ben più gravi.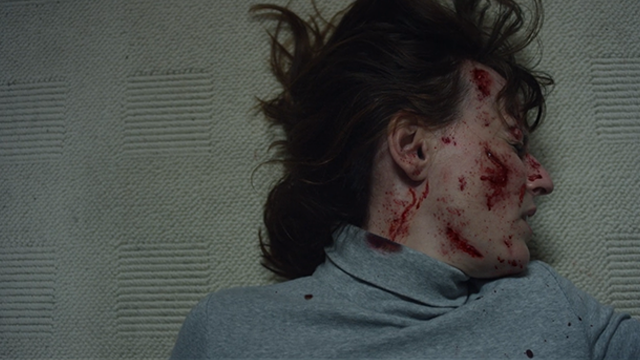 Sara come Edipo sceglie l'allontanamento. Sceglie di andarsene, di compiere le sue scelte. Di sottrarsi al "destino". Edipo ce la farà. Di Sara non è dato saperlo. Black Mirror torna qui all'originalità della tematica che era stato il vero problema del primo episodio. Nello stesso tempo però si registra una certa piattezza nella trattazione di alcune parti. Si potevano forse approfondire maggiormente le conseguenze delle privazioni sensoriali della bambina. Ancora una volta, insomma, anche in questo episodio rimaniamo con l'amaro in bocca. Sappiamo che si poteva dare di più. Che Black Mirror è più di questo: è angoscia e attualità e l'una non esiste senza l'altra. È iperbole. È grido disperato. È l'uomo e la contraddizione della sua esistenza.