Marvel's Agents of S.H.I.E.L.D torna sui nostri schermi, e lo fa davvero in grande stile. Dopo una solidissima quarta stagione, suddivisa in tre archi narrativi diversi ma ben integrati fra loro (Ghost Rider, Life Model Decoy, Agents of Hydra), la quinta annata della Serie stravolge nuovamente le carte in tavola, portando i propri protagonisti nello spazio.
Nei suoi cinque anni di vita Agents of S.H.I.E.L.D è stato in grado di stupirci, crescendo di episodio in episodio, sino a divenire una delle Serie più interessanti dell'universo televisivo targato Marvel. Riuscirà nuovamente a superarsi? Scopriamolo insieme!
Nonostante siano andati in onda solo cinque episodi, la carne al fuoco è davvero tanta (e succulenta). Cerchiamo quindi di tirare le fila di quello che abbiamo visto sinora.
Un futuro spaziale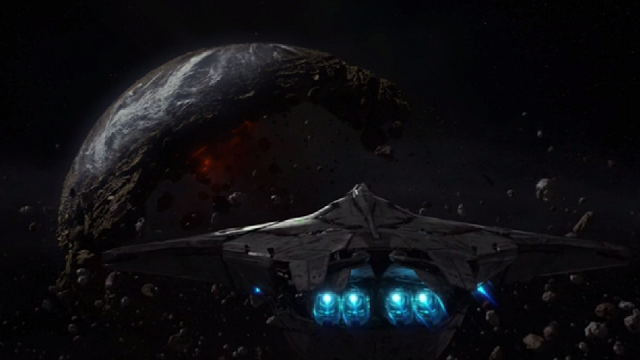 La quarta stagione si era chiusa con un interessante cliffhanger: gli agenti dello S.H.I.E.L.D rapiti mentre si trovano in una tavola calda prima, e Phil Coulson nello spazio dopo. La première si concentra interamente sul riempire la finestra temporale che separa i due avvenimenti.
Scopriamo dunque che i nostri sono stati catapultati in una stazione orbitante nello spazio (attraverso uno dei cari vecchi monoliti), detta il Faro, dove le condizioni di vita degli esseri umani sono terribili. A dominare questo luogo oscuro sono gli alieni Kree (vecchia conoscenza di Agents of S.H.I.E.L.D), comandati dal mellifluo Kasius (Dominic Rains), i quali dispongono a loro piacimento delle vite dei terrestri, costringendo gli umani a vivere come mercanti al livello più basso della stazione.
Non passa molto tempo, poi, che veniamo messi a conoscenza di un piccolo, ma fondamentale, particolare: la squadra è finita nel futuro (il 2091). Un futuro nel quale la terra è stata distrutta e ora non è altro che un ammasso di detriti. Su quali siano state le cause della devastazione le idee sono poco chiare, in quanto i dominatori hanno eliminato tutte le fonti a disposizione degli esseri umani.
L'arrivo dello S.H.I.E.L.D nel futuro non è però casuale. Gli agenti vengono infatti informati di una profezia, tramandata da tempo dai cosiddetti "true believers", che li annuncia come salvatori dell'intera razza umana (come vi abbiamo riferito in questo articolo).
Vecchi protagonisti e nuovi personaggi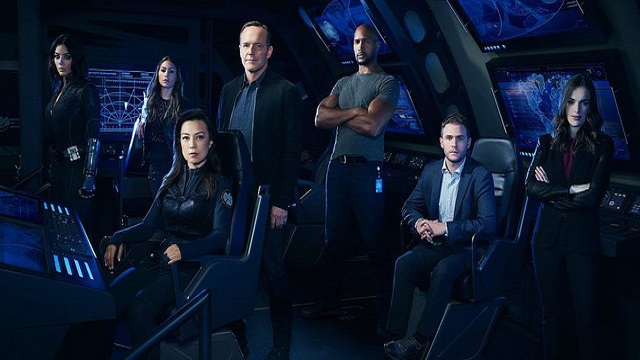 In questo contesto sconvolgente i nostri protagonisti cercano di muoversi con discrezione, aiutati, e allo stesso tempo osteggiati, da nuovi personaggi.
Troviamo allora Coulson (Clark Gregg), May (Ming-Na Wen), Mack (Henry Simmons) e Yo-Yo (Natalia Cordova-Buckley) che per confondersi nella nuova realtà, senza destare sospetti sulla loro provenienza, si ritrovano a lavorare, in condizioni di semi-schiavitù, per il meschino Grill (Pruitt Taylor Vince). In questo ambito gli agenti scoprono, aiutati da una nuova alleata, Tess (Eve Harlow), come sulla terra vi sia un avamposto dei true believers che vive nascosto agli occhi dei Kree e con i quali vogliono entrare in contatto per avere chiarimenti sulla situazione.
Il personaggio forse più interessante del nuovo lotto è Deke (Jeff Ward), furfante dalla parlantina molto sciolta e dalle intenzioni poco chiare. Nei primi quattro episodi fa in tempo ad aiutare, tradire e soccorrere nuovamente i nostri eroi. Un po' pirata, un po' signore, questo personaggio sarà sicuramente centrale per lo svolgimento della trama (e per gli amanti delle ship: che sia giunto il momento per Daisy di sostituire Lincoln?).
Un filone particolare è, poi, quello legato a Jemma Simmons (Elizabeth Henstridge), scelta dal governatore Kree come sua servitrice personale. La vicenda legata a Simmons ci permette di dare uno sguardo più approfondito alle ricche condizioni di vita dei privilegiati di questa realtà.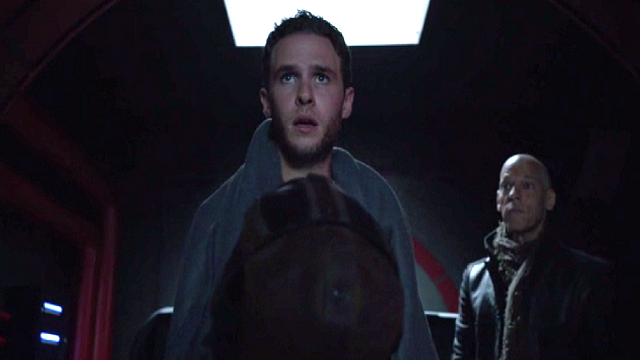 Assente, sino agli ultimi secondi di 05×04, è invece Fitz (Iain De Caestecker). Alla sua sorte (non è stato spedito nel futuro insieme ai compagni) è dedicato tutto il quinto episodio:  rimasto nel passato, con l'aiuto del rientrante Hunter (Nick Blood), riesce a risalire a colui che ha rapito e teletrasportato i compagni, l'alieno Enoch. Essere proveniente dal futuro, l'extraterrestre è impossibilitato a interferire con gli avvenimenti terrestri a meno che questi non rischino di portare all'estinzione della razza umana.
A spingere Enoch a inviare gli agenti nel 2091 sono state le previsioni, la profezia di cui si diceva sopra, di una bambina inumana, detta la Veggente, in grado di mostrare il futuro attraverso i propri disegni (anche qui Agents of S.H.I.E.L.D pesca dal proprio passato, dal momento che la bambina è la figlia di Charles Hinton, inumano visto nella terza stagione). Ed è proprio uno di questi disegni che convince l'alieno ad aiutare Fitz a raggiungere gli amici. Posto in una camera criogenica lo scienziato scozzese si addormenta nel 2017 per risvegliarsi direttamente catapultato nel futuro.
Gli inumani e la distruttrice di mondi
Neanche la situazione di Daisy (Chloe Bennet) è al momento delle migliori. Dopo aver scoperto, attraverso Deke, di essere lei stessa la responsabile della devastazione della terra (è la "Distruttrice di Mondi") viene tradita e consegnata a Kasius. Quest'ultimo si dimostra molto interessato al potere della ragazza, ben conscio anche lui della profezia che la vede ritornare per salvare il mondo (spaventato da questa credenza ha fatto in modo di far sparire ogni riferimento a essa).
Un ruolo chiave, in questa stagione, paiono dover ricoprire gli inumani, utilizzati dal comandante come ulteriore fonte di arricchimento. Vediamo infatti dei giochi gladitorii nei quali i potenziati si esibiscono per il divertimento del loro padrone (i vincitori vengono poi venduti al miglior offerente). Grazie a uno di questi, in grado di leggere il pensiero, viene rivelato a Daisy il piano di Kasius di far esplodere l'intera stazione una volta arricchitosi abbastanza da potersene andare.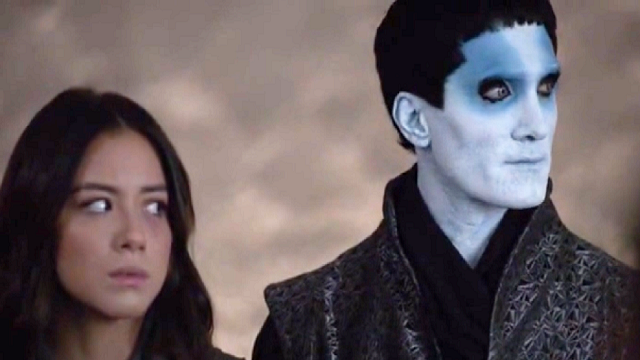 Cosa aspettarci?
Le premesse di questa quinta stagione sono davvero delle migliori. Agents of S.H.I.E.L.D dimostra, ancora una volta, di saper alzare l'asticella andando a scegliere un setting particolarissimo (e realizzato molto bene) che fornisce un ottimo trampolino di lancio per una storyline davvero intrigante e totalmente diversa da quelle che l'hanno preceduta. Forte ormai di cinque anni di programmazione e 100 episodi all'attivo, la Serie pone le fondamenta di un nuovo capitolo che, pur attingendo a piene mani dal proprio passato (i Kree, gli inumani, il monolite, ecc..), si getta senza paura verso il futuro.
Interessante notare, poi, come quelli che nelle prima stagione parevano essere solo dei comprimari, Fitz e Simmons, siano personaggi cresciuti talmente tanto da essere ormai i veri e propri pilastri sui quali si regge l'intera Serie. Lo avreste mai detto? Io no di certo!
I primi cinque episodi della nuova stagione ci lasciano tanti interrogativi ancora irrisolti: quale piano avranno escogitato Fitz ed Enoch per portare i compagni fuori dal Faro? Che cosa si aspettano i "true believers" dalla squadra di Coulson? Deke si dimostrerà un buon alleato o finirà per tradire nuovamente i nostri eroi? A tutto questo avremo risposta nel 2018. Nel frattempo…
Attenti alle tavole calde!