La scorsa settimana Agents of S.H.I.E.L.D. ci aveva lasciati con un grande dilemma: con chi è in contatto il generale Hale? Proprio alla risoluzione questo, e di molti altri interrogativi, è dedicata 5×15. Un episodio necessario, non particolarmente scoppiettante, ma ricco di spunti interessanti.
Nella prima parte di puntata, attraverso alcuni flashback, veniamo a conoscenza del passato di Hale e di sua figlia Ruby. Molto gustosa la parte delle giovinezza della donna, che ci dà modo di vedere la "Accademia dell'Hydra" e riporta sullo schermo alcuni volti noti. Interessante notare come venga costruita, tramite il parallelo con Ruby, la figura di Hale come quella di una donna delusa, più volte relegata dai propri superiori in ruoli a lei poco congeniali – come quello di madre surrogato. Arrivata al punto in cui è lei stessa a decidere del proprio destino, non appare disposta a scendere ad alcun compromesso. Uno spunto interessante che aiuta a dare più profondità a un villain del quale finora si era capito poco.
L'episodio poi ci regala altre due scene speculari, quelle dei colloqui tra Hale e Talbot (Adrian Pasdar)- felice di rivederlo – prima, e Coulson dopo. Per quanto la dinamica delle due scene – risveglio, colazione, incontro con Ruby e colloquio – sia la medesima, entrambi gli incontri sono particolarmente rivelatori. Se da quello con Talbot scopriamo che Hale ha bisogno di un vecchio macchinario Hydra, da quello con Coulson otteniamo anche di più – la rivelazione su quale sia la minaccia che tanto teme, e chi siano i suoi misteriosi alleati.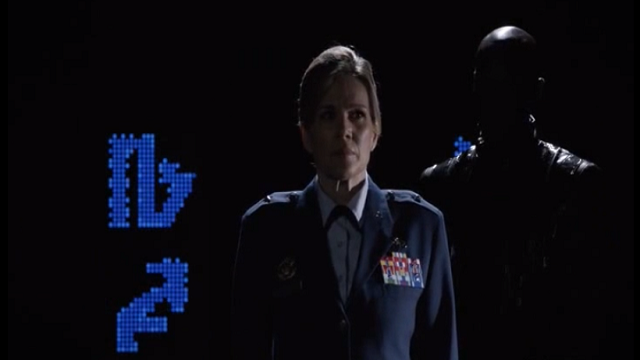 A spiccare è la personalità forte del generale, talmente convinta di stare dalla parte giusta da non voler sentire ragioni. Il rapporto che si sviluppa con Coulson è emblematico. La donna pretende infatti fiducia dal leader degli Agents of S.H.I.E.L.D. ma nel momento in cui è questi a chiedergliela si rifiuta categoricamente di concedergliela.
Tra le file dei pochi agenti S.H.I.E.L.D. rimasti si cerca di capire che fine abbia fatto Coulson. Anche qui le cose si fanno interessanti, in quanto le azioni di Fitz hanno lasciato un grosso segno su Daisy – e non stentiamo a crederlo.
Il dialogo/scontro tra Daisy e Fitz – entrambi convinti delle proprie ragioni – è molto ben costruito. Col pretesto del gesto compiuto dallo scienziato i due danno sfogo alla propria ira repressa, mai pienamente esternata. Uno spunto che sottolinea quanto tutti siano pronti a sacrificare se stessi e gli altri per quello che ritengono il bene superiore, un sacrificio che non rimane però meno doloroso per chi lo subisce. Poche battute – e qualche botta – che mostrano gli attriti interni a un team che avrebbe bisogno più che mai di unità.
Un confronto che ha il risultato di caricare sempre più la povera Daisy, che pare diretta verso il proprio destino di "distruttrice di mondi".
Un episodio interessante quello di questa settimana. Agents of S.H.I.E.L.D. continua la sua costruzione in vista di uno scontro finale intergalattico, mettendo a posto tutte le proprie tessere. A risaltare sono le due personalità di Hale, la sua durezza e il suo desiderio di rivalsa, e di Daisy, sempre più arrabbiata col mondo. All'orizzonte ci aspetta uno scontro con Ruby, e sarà interessante vedere chi prevarrà e come.
In appendice abbiamo poi l'ennesima prova della forza dell'amore tra Fitz e Simmons. Senza dubbio una delle storie più belle delle Serie Tv.
"Do you see what this means? […] No Fitz, it means that you and I are invincible!"
Con queste parole vi lascio, e vi do appuntamento alla prossima settimana!
Un saluto agli amici di Agents of SHIELD ITALIA!