Continua il viaggio spaziale di Agents of S.H.I.E.L.D., con una puntata ricchissima di avvenimenti.
Anche questa settimana la struttura dell'episodio è bipartita. Da un lato abbiamo Coulson, Daisy, May e Fitz-Simmons sulla superficie terrestre intenti ad affrontare le conseguenze degli avvenimenti con cui si era concluso lo scorso appuntamento. Dall'altro Mack, Yo- Yo e Flint impegnati a capeggiare la rivolta degli esseri umani all'interno del Faro. Vediamo dunque quali sono stati gli spunti più interessanti di questa 5×09.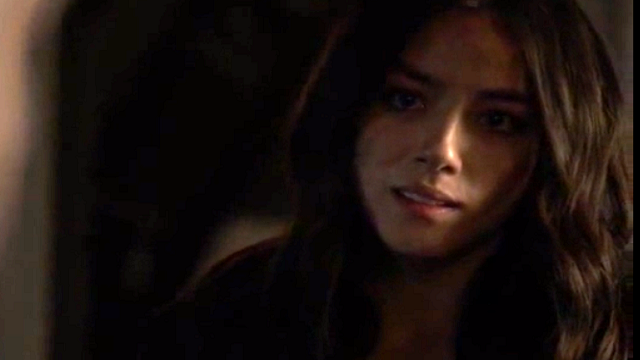 Il primo punto impossibile da tralasciare è di sicuro quello che riguarda la situazione di Daisy. Dopo essere sfuggita al tentativo di assassinio da parte di Voss e dei suoi compagni, la ragazza si ritrova infatti a chiedersi se non sia meglio abbandonare l'identità di Quake e rimanere solo Daisy Johnson, agente dello S.H.I.E.L.D. Che sia giunto il momento di appendere i guanti da super-eroina al chiodo? Riuscirà Daisy a rinunciare a ciò che la rende speciale per il bene del pianeta? Non ci è dato saperlo, ma i dubbi che si sono insinuati nel cuore della ragazza gettano le basi per interessanti sviluppi futuri.
In seconda battuta riceviamo la conferma di ciò che in 5×08 avevamo solo potuto intuire – gli agenti si trovano davvero intrappolati in un loop temporale. A rendersi conto di questo inghippo non è altri che la magica coppia di Fitz e Simmons, i quali capiscono di trovarsi di fronte a una tecnologia che solo loro potrebbero avere creato.
Una piccola riflessione va fatta su May, che appare quasi addolcita dalla forte esperienza, pur non ancora vissuta, con Robin. In pochi secondi si ha l'impressione di trovarsi davanti a un personaggio diverso.
"It's time to remind the humans i'm not their enemy… I am their God"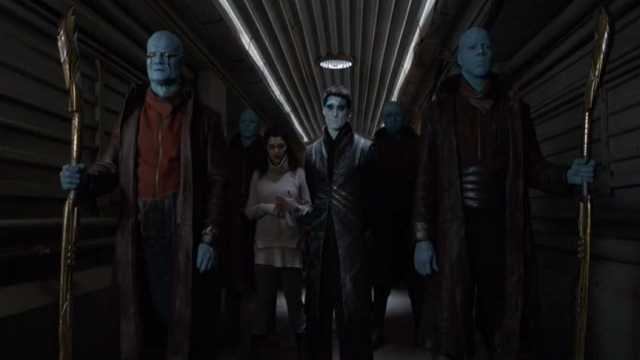 Nel Faro intanto continua a risplendere il trio formato da Mack, Yo-Yo e Flint. La coppia, e il giovane inumano, si è ormai affermata come leader degli esseri umani, e li ritroviamo intenti a guidare una rivolta nei confronti di Kasius.
Ecco quindi che il tiranno azzurro, non certo noto per la sua sportività, decide di contrattaccare in maniera feroce. Servendosi di una vecchia conoscenza come intermediario, minaccia gli umani di polverizzare il loro livello nel caso in cui non gli venga consegnato il trio a capo della ribellione.
Fa piacere osservare come i due personaggi che maggiormente avevano sofferto durante i primi episodi della stagione siano invece divenuti fulcro della narrazione. La loro storyline, oltre a vederli nel ruolo di leader una volta tanto, è anche importante perché permette ai due di confrontarsi con un tema difficile come quello genitoriale. Il rapporto con il giovane Flint è ormai ben saldo, e c'è da stare sicuri che la cosa porterà a tensioni all'interno del team riunito.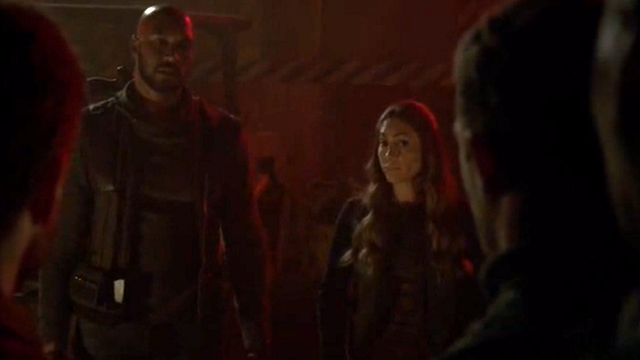 La parte più action dell'episodio di Agents of S.H.I.E.L.D. è dedicata al secondo scontro tra Daisy e Sinara. La scena è molto ben realizzata e si arricchisce delle possibilità che il set a gravità 0 le offre. Fondamentale in questo contesto è, poi, il buon Deke che continua di settimana in settimana il proprio percorso di redenzione.
Questa settimana Agents of S.H.I.E.L.D. ci regala una puntata in grado di consolidare gli spunti offerti dalla scorsa e di fornirne di nuovi e interessanti – in particolare la scena finale con Kasius crea un certo hype. Come si diceva, mai come in questa parte di stagione Mack e Yo-Yo risaltano, costituendo un tandem vincente al centro di vicende in gradi di metterne in risalto le loro qualità di leader.
L'appuntamento è come sempre alla prossima recensione, nel frattempo non abbeveratevi del sangue dell'eterno!