# #
Cerchiamo di fare subito ordine. A me quella roba delle stelline e i votini dati ai film e alle serie è sempre stata parecchio sulle scatole. Limitare il proprio parere a un giudizio espresso in faccine, o altre robe che finiscono in –ine, è svilente quando si ha voglia di capire. Questo preambolo per dirvi che no, in questo articolo non leggerete 2/5, 3/10000000, ❻/⓴ o altre cose del genere, ma che si preferisce parlare, creare uno spazio di confronto sulla qualità, sul significato, sulla godibilità di una serie tv che sta godendo di un così grande successo.  Sì, perché Quantico, per ora, è un successo. I punti di forza e quelli deboli della serie erano già tutti abbastanza evidenti nel pilot. Il pilot funge sempre un po' da biglietto da visita: se colpisce, la serie avrà un certo numero di spettatori, se non colpisce, ne avrà indubbiamente meno. Vero è che ridurre tutto all'efficacia o meno del pilot sarebbe un atteggiamento la cui miopia può competere con quella di Milhouse. Differentemente dal caso Wayward Pines, per quanto riguarda Quantico, le cinque puntate seguenti sembrano confermare le impressioni avute già nella prima. Inoltre, girano nel web ben due accuse di "plagio".
# #
Doveva essere un documentario: A quanto pare, tra la fine degli anni '90 e l'inizio dei 2000, la casa di produzione The Mark Gordon Company aveva in progetto di girare un documentario il cui titolo sarebbe stato Quantico: The Making of an FBI Agent (più o meno così: video). Che la realtà sia un pelino diversa dalla fiction è una scoperta che fa quasi invidia a quella dell'acqua calda. Il punto non è questo, ma che a una certa, a quanto pare, Mr Gordon molla i registi e ciao ciao progetto sulle reclute dell'FBI. Peccato che una quindicina di anni dopo ne esce una serie tv, ovviamente prodotta da casa di produzione di Mark Gordon: la nostra Quantico, appunto. Via una denuncia lunga poco meno dell'Odissea.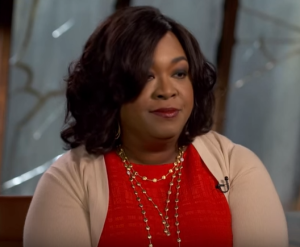 # #
Shondata senza Shonda: Altra storia che mette in fibrillazione il web è questa similarità con le serie di Shonda Rhimes. A parte che Shonda sa sempre come far parlare di sé, cerchiamo di capire cos'è il problema (al di là del logo di ShondaLand che va bene tutto ma il padiglione del Kazakistan era meno pacchiano!). Il capo d'accusa è il seguente: l'emittente televisiva di Quantico (ABC) è anche l'emittente delle serie della nostra Shonda e pare che la serie in questione sia intrisa dei caratteri tipici delle serie firmate Rhimes (l'incontro casuale tra Alex e Ryan e il loro ritrovarsi poi, guancia a guancia, in accademia, ricorderebbe l'incontro tra Meredith e Dereck in Grey's Anatomy; lo sviluppo dell'intreccio fitto di flashback richiama How To Get Away With Murder e blablabla). Solo tre considerazioncine: 1. Non che queste svolte da melò e questo preciso uso del flashback siano appannaggio di Shonda Rhimes, ragazzi: la storia del cinema si basa su stratagemmi simili. 2. Shonda è un'autrice e come tale la sua impronta, la sua marca, DEVE avere un'evidenza forte. E chapeau se ci riesce tanto bene da "plasmare" un network, da creare un format televisivo efficace. 3. Non ritengo sia un problema, e qui si torna sempre al pilot di Wayward Pines, o costituisca per forza un limite, il riutilizzo di un già visto, di un già usato (anche perché, nel 2015 è difficile essere originali), ciò che conta è l'uso sapiente di queste cose.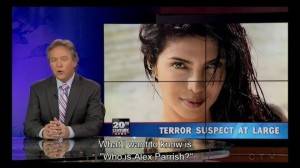 Il problema di Quantico era e è un altro: mette a dura prova la sospensione dell'incredulità dello spettatore. Stiamo parlando di serie tv, certo, di fiction e lo si deduce dalla parola stessa che con la realtà c'è ben poco da spartire. Resta il fatto che c'è una sorta di patto tacito tra autore e spettatore, rotto il quale la magia è finita. E Quantico non rispetta bene questo patto. Il patto è: renderò credibile, seppur nel mondo dell'incredibile, quel che ti mostro. Creerò una fisica e una logica interna al mio nuovo mondo e tu, spettatore, eviterai di applicare al mondo che vedi, le leggi del mondo che abiti. Il punto è che quando una storia non è credibile, non è credibile e qui non si tratta più dell'americanata o dei bonazzi e delle bonazze che affollano l'Accademia. La formula di base per tenere avvinto lo spettatore è quella di spostare, in ogni puntata, il sospetto su un personaggio (o più d'uno; in God, 1×06 l'accusa cade sulle due gemelle musulmane, ma, tranquilli: fare di loro delle attentatrici sarebbe troppo politicamente scorretto) diverso. Grazie alle informazioni che sono state date allo spettatore precedentemente, egli è portato ogni volta a diffidare fortemente del sospettato, ma immancabilmente questo risulta essere il più innocente degli innocenti. Per vero, questa formula, finora ha funzionato e si è rivelata efficace nel tenere avvinto lo spettatore a una verità sempre in bilico, ma riutilizzarla per ogni personaggio (perché questa sembra la strada intrapresa) potrebbe rivelarsi nocivo per il successo della serie, che comunque è godibile nel suo grande dinamismo.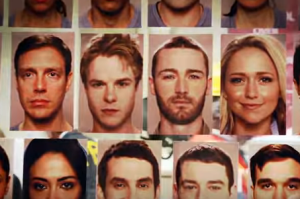 Quantico è e resta una serie godibile, ma ci piacerebbe provasse ad essere qualcosina in più di quanto è stata finora.
Elisa Belotti