L'annuncio dell'addio dalla Serie Televisiva Quantico, arriva proprio grazie ad un tweet postato sul famoso social network in questi giorni. Yasmine Al Massri, l'attrice libanese che interpreta le gemelle Nimah e Raina Amin, ha comunicato che non ritornerà per la terza stagione che andrà in onda il prossimo anno, ringraziando anche i fan che l'hanno seguita in quest'avventura.
Thank u 4 ur love & support from all around z world that made Nima & Reina 1 of z fans favorite characters on #quantico time to say ???❤️ pic.twitter.com/tM66wnbWx7
— yasmine al massri (@jazmasri) 9 giugno 2017
La notizia della fine di questa collaborazione fra l'attrice e la Serie prodotta dall'ABC arriva come un fulmine a ciel sereno e, continuando a leggere le risposte che Al Massri da alle innumerevoli domande poste dai fan – alcuni ipotizzando anche una possibile rottura nell'amicizia fra lei e l'attrice protagonista, Priyanka Chopra -, si arriva al tweet che tutti noi stavamo aspettando; la sua dipartita dalla Serie Tv era già prevista?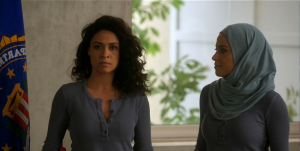 A quanto pare la comunicazione della sua separazione da Quantico le è arrivata tramite il nuovo show runner, il quale ha preso il posto di Joshua Safran, e sicuramente notizie più ufficiali verranno rese note nel corso delle prossime settimane. Ad ogni modo, questo è un chiaro segnale dei cambiamenti che stanno avvenendo all'interno della casa di produzione della Serie Tv.
Come gli appassionati della Serie sapranno, le gemelle Nimah e Raina Amin facevano parte della squadra originale dalla prima stagione e la loro presenza all'interno di Quantico era fondamentale. Quest'addio improvviso fa ipotizzare, dunque, che la nuova stagione – la quale sarà composta solo da 13 episodi – sarà incentrata sul personaggio interpretato da Chopra, ovvero Alex Parrish e che sarà possibile rivedere dei vecchi visi conosciuti, come Ryan Booth e Owen Hall interpretati rispettivamente da Jake McLaughlin e Blair Underwood, entrambi personaggi molto vicini alla protagonista.