La quinta puntata della prima stagione di Game of Thrones è andata in onda il 15 maggio del 2011. Primavera, quindi, e anche bella inoltrata. La stagione del risveglio dei sensi e dei conseguenti sbalzi ormonali, aiutati dalla comparsa delle prime gonne corte corte o delle prime magliette attillate attillate ad altezza addominali (a seconda dei gusti).
Ecco, ai protagonisti del Trono di Spade non c'è bisogno di mostrare nulla per far scattare l'ingrifamento. Avevamo avuto avvisaglie della depravazione già nelle prime puntate, ma i dubbi vengono spazzati via da un mix di nudo, sesso, allusioni da vecchietto allupato rivolto alla cameriera del bar e metafore che nemmeno nei peggiori postriboli di Caracas.
Un coacervo di volgarità e blasfemie che negli ultimi tempi ho sentito dire solo da me stesso, al fischio finale di Italia-Svezia.
Va beh, stiamo scivolando nel triste, e l'obbligo preciso di questa rubrica è quello di far views sul sito ridere, far ridere. Buttiamoci a capofitto dentro la 1×05 di Game of Thrones, con lo stesso entusiasmo di Theon con la timida Ros. Che poi, già il fatto che la scena VM 18 più VM 18 dell'episodio abbia come protagonista Theon, di per sé fa già un po' sorridere.
Maliziosetti.
LE PAGELLE DELLA 1X05 DI GAME OF THRONES
RODEOPOLI – VOTO 3
Tutto il mondo è paese, e anche ad Approdo del Re gli scandali sportivi sono all'ordine del giorno.
Ned solleva dei dubbi sulla curiosa coincidenza che ha voluto contrapporre, al sorteggio per il Torneo del Primo Cavaliere, uno che ancora girava con la P appiccicata sul fondoschiena del cavallo (Ser Hugh) alla più letale macchina da morte dei Sette Regni (la Montagna); sotto ai dubbi però non trova nulla, e allora fa spallucce e continua per la sua strada.
Complotti, sempre complotti, irriducibilmente complotti. Il Cavaliere di Fiori ha usato una puledra in calore per distrarre lo stallone della Montagna, mentre quest'ultimo ha decisamente bisogno di un ripasso di anatomia equina per continuare a praticare le castrazioni.
Per Clegane, comunque, la vendetta è un piatto che andrà servito freddo.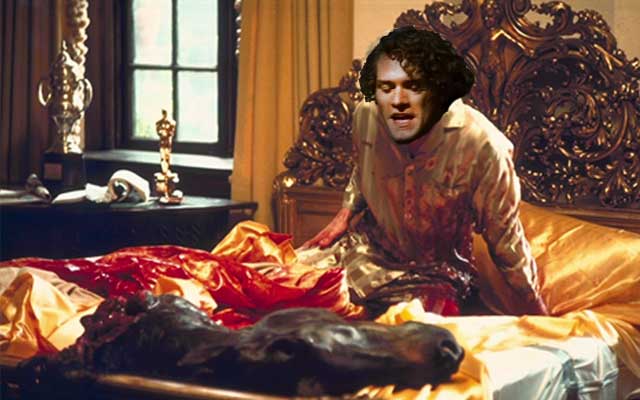 Le rivelazioni sconvolgenti non sono finite. Eddard scopre che Arryn è stato assassinato, che Jorah Mormont è la spia dei Targaryen e che il Re è un idiota incapace.
No, scusate contrordine, erano finite.
Intanto, il Primo Cavaliere (o dovremmo iniziare a chiamarlo Ex) continua a coltivare con profitto le sue amicizie, sfanculando anche l'unica persona non Stark che gli voleva bene in tutta la fortezza rossa.
A tal proposito, sarà presto in edicola il primo fascicolo de l'attesissimo "Fatti odiare da tutti in 5 settimane con Game of Thrones".
Nel  Dvd, lezione preziosa su "Come indagare sulle avventure extraconiugali del tuo migliore amico", più alcuni contenuti extra come "Uccidi il cane di tua figlia" e "Le rose sono troppo mainstream, porta a casa un figlio bastardo a tua moglie".
Da non perdere!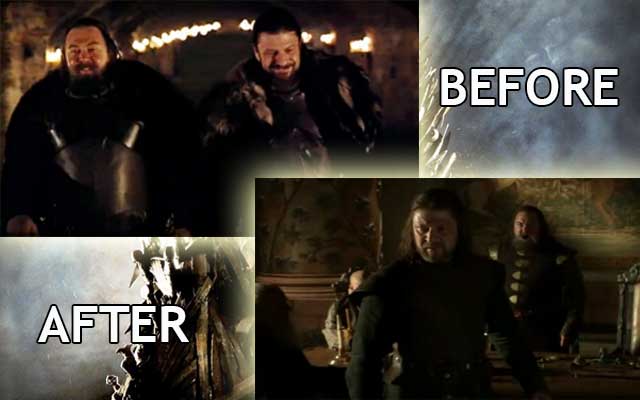 OGNI VOLTA CHE MI UBRIACHERÒ DIRÒ CHE È UN ORDINE DEL MIO RE – VOTO 13,5°
ARYA HA DECISAMENTE BISOGNO DI QUALCHE COETANEO – VOTO 2
RAGAZZI MOOLTO GIOVANI, CADAVERI ANCORA CALDI… MA AD APPRODO LA CARA VECCHIA MISSIONARIA NIENTE? – VOTO 69
LÀ SUI MONTI CON ANNETTE – VOTO 6
Dopo averlo catturato, Cat porta Tyrion da sua sorella. E già questa di per sé mi sembra una punizione eccessivamente esemplare.
La vedova Arryn alloggia in un superattico in cima alla montagna più impervia di tutto il continente, uno di quei posti talmente inaccessibili che nemmeno un call center della Tim riuscirebbe a raggiungere.
Durante il viaggio facciamo la conoscenza di Bronn, un uomo che possiede dei sani principi morali. Solo che li ha dimenticati nell'altra armatura. In ogni caso, ha bene in testa quali sono le sue 3 priorità della vita: uccidere e portare a casa bei soldoni. C'è davvero bisogno di scrivere la prima?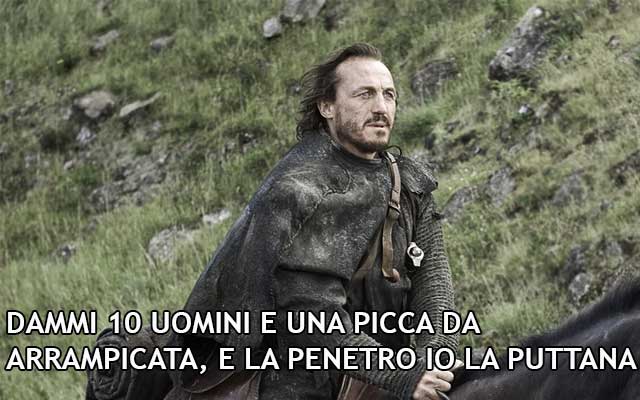 Che finezza.
Una volta arrivati al Grand'Hotel dell'Aquila, a Tyrion viene assegnata la suite presidenziale. Ottima vista, giusto qualche spiffero ma 5 stelle sicure su TripAdvisor.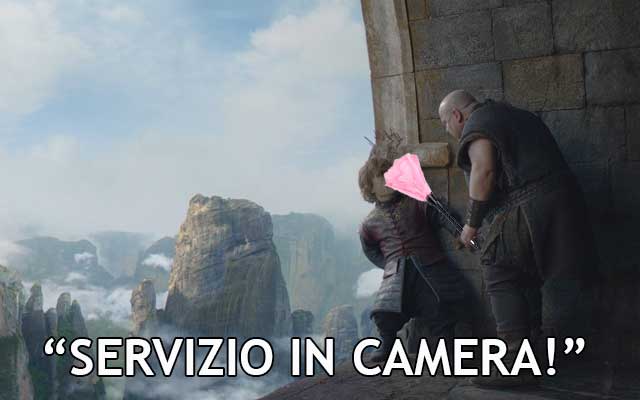 LYSA ARRYN È UNA MAMMINA PANCINA – VOTO 6,5 (AL NETTO DELLE NANNE)
ROBYN ARRYN È COMUNQUE PIÙ MATURO DI VISERYS – VOTO 60 (MESI)
PER ESCLUSIONE CATELYN È LAUREATA AL CLASSICO – VOTO 10
MODERN FAMILY – VOTO 4
A Grande Inverno, Bran è costretto a fare i compiti mentre tutti gli altri si divertono. Poi ci si lamenta che è perennemente scazzato. La colpa del suo caratteraccio è comunque dei genitori, sempre via per lavoro e che lo lasciano da solo in balia di un vecchio pedante e un'anziana capace di raccontare storie che nemmeno nei sogni più malati di Dario Argento.
Theon gli si mette davanti a fare ricreazione in cortile, e poi il bastardo sarebbe Jon. Non c'è che dire in ogni caso, il ragazzo fa sempre centro. Pure con l'arco e le frecce.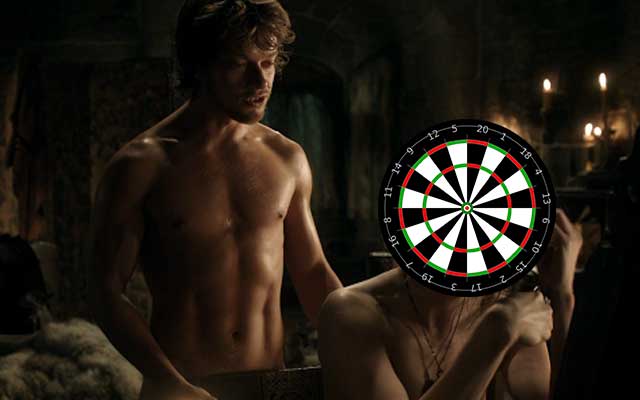 Tenetevela da parte questa, tornerà utile più avanti in questa folle corsa chiamata Game of Thrones.
Problemi in famiglia anche a Sud, dove il mondo va decisamente al contrario.
Robert si confida con sua moglie davanti ad un bicchiere di vino perché il suo migliore amico lo ha lasciato.
Va meglio al fratellino Renly, in altre faccende affaccendato. Lui e Loras parlano di come quest'ultimo sia bravo a maneggiare la spada. Il giovane Baratheon è un po' un San Tommaso, se non vede non crede…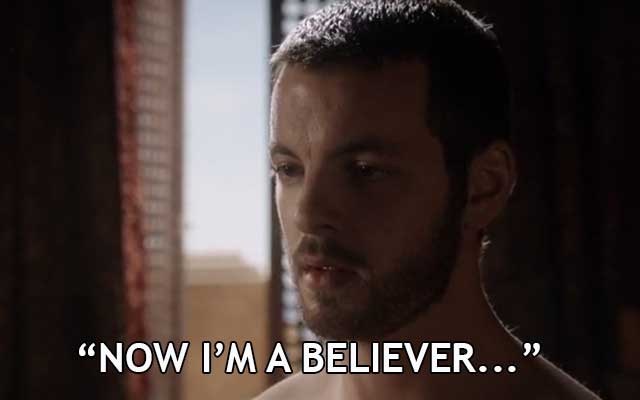 Non tutti vivono però momenti di gioia. Jaime Lannister ce l'ha a morte con Ned per il rapimento di Tyrion e, date le sue dimissioni da Primo Cavaliere, lo considera solo un signore di Molto Molto Lontano.
Beh, almeno in questo hanno qualcosa in comune.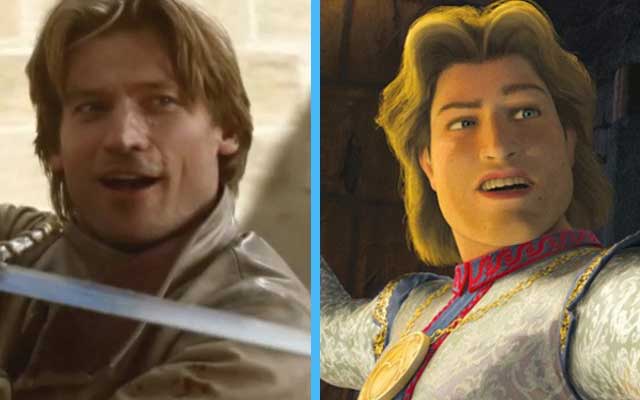 GLI STARK NON HANNO FORTUNA CON LE GAMBE – VOTO 77
LE SOTTILI METAFORE DI DITOCORTO – VOTO 3
La citazione della settimana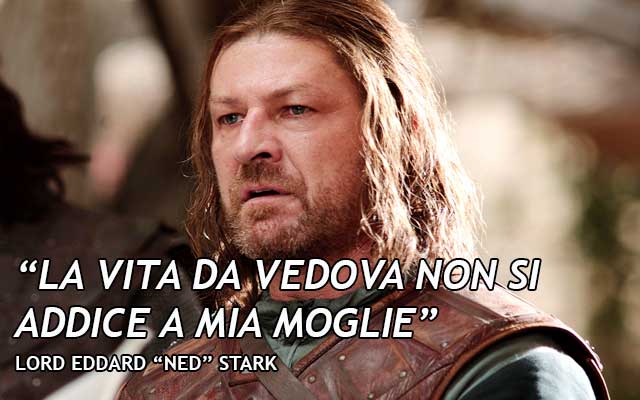 Le previsioni del Gufo con Tre Occhi
Dopo ogni episodio elargiremo profezie sui destini dei protagonisti di Game of Thrones. I quali potranno tranquillamente risponderci, se sono capaci di scrivere sulla tastiera con una mano sola…
"Renly e Loras sembrano una bella coppia. Una svolta gay che sicuramente caratterizzerà questa serie"
"Theon ha tutte le armi per essere uno dei Sex Symbol di Game of Thrones"
"La morte di Tyrion sarà la scintilla che farà scoppiare la guerra. Sicuro."