# #
Over the Garden Wall è un gioiellino inaspettato e immeritatamente sconosciuto. Una fiaba per adulti che fa della simbologia il suo cavallo di battaglia. Firmata Cartoon Network, e vincitrice di un Emmy Awards nel 2015 come miglior prodotto d'animazione, è una miniserie che va assolutamente vista. Over the Garden Wall è un viaggio sconosciuto e pericoloso, dai toni cupi e inquietanti. Patrick Mchale, autore della Serie, racconta di due bambini, Wirt e Greg, i quali, per motivi sconosciuti, si ritrovano persi a vagare in una foresta dopo aver smarrito la via di casa.
# #
I due fratelli, affiancati da un uccellino azzurro di nome Beatrice che gli farà da guida e da un vecchio taglialegna che darà loro dei consigli, si trovano dispersi alla deriva in una foresta sconosciuta e pericolosa. Un luogo saturo di mistero e incanto. Tale foresta viene chiamata "ignoto" ed è minacciata e governata da una creatura indefinita chiamata "Bestia", dalla quale tutti quanti metteranno in guardia i nostri eroi. I fratelli, sotto consiglio di Beatrice, tenteranno di raggiungere una tale Adelaide che, secondo l'uccellino, dovrebbe aiutarli a ritrovare la via di casa.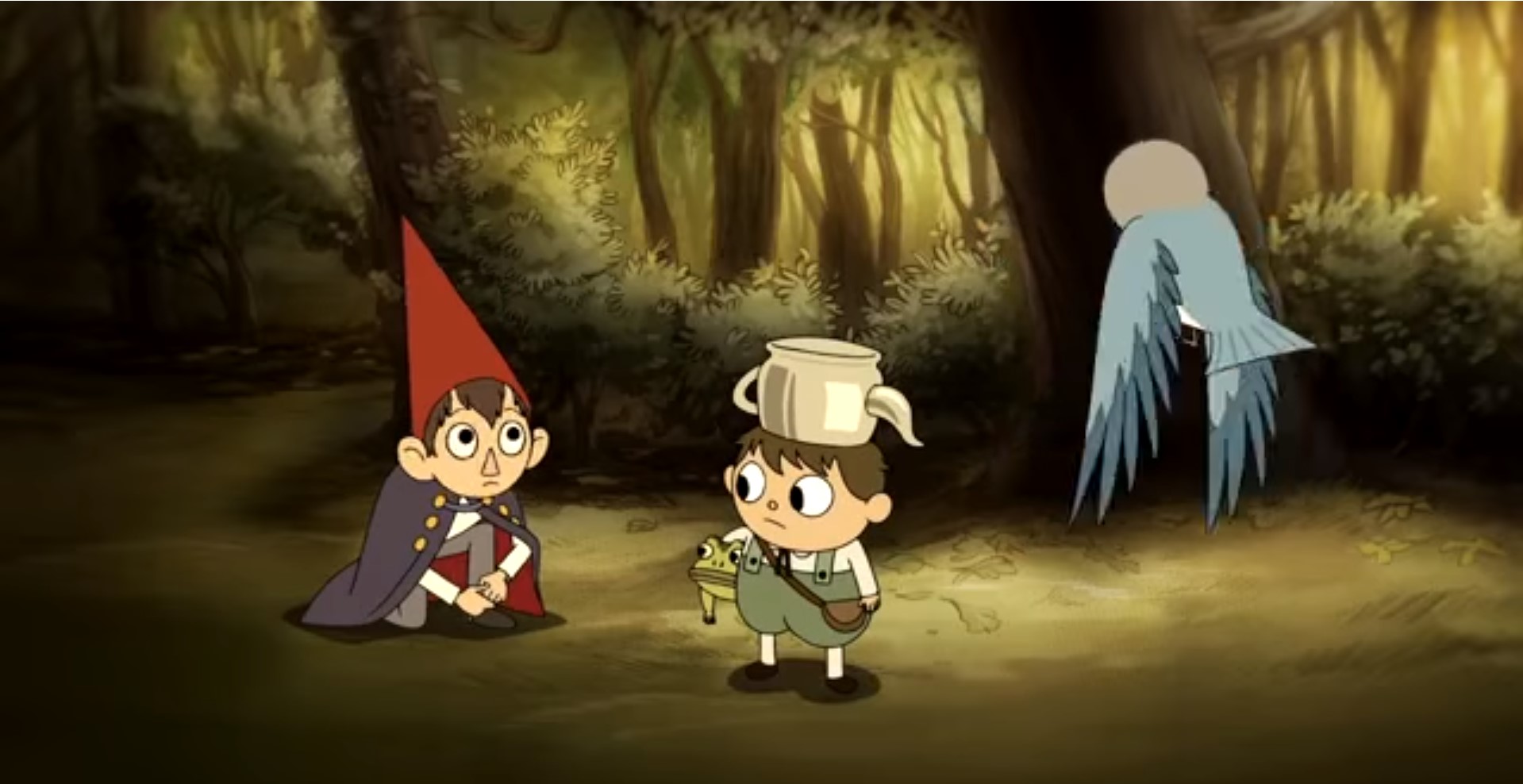 # #
Una strana guida nell'oscurità
I due protagonisti sono stravaganti e ben caratterizzati. Greg è il fratellino minore, il quale vive ogni situazione come una gioiosa avventura senza capire che spesso la sua leggerezza e spensieratezza potrebbe metterli nei guai. Wirt essendo il fratello maggiore è più pragmatico ma è anche egocentrico e non sopporta la compagnia. Salta subito all'occhio il loro abbigliamento il quale è inusuale, ma che simbolicamente avrà un ruolo narrativo importante nella storia.
Beatrice è la loro guida, un uccellino azzurro che dice di essere una ragazza trasformata dalla Bestia, la quale afferma che trovare Adelaide è l'unico modo per tornare umana e salvare i due ragazzi. Beatrice è probabilmente il personaggio più interessante e strutturato della Serie, compare all'improvviso e rappresenta un faro nell'oscurità. Non si è a conoscenza del suo reale scopo ma aiuterà Wirt e Greg in ogni loro disavventura. Beatrice è un simbolo molto forte in tutta la Serie.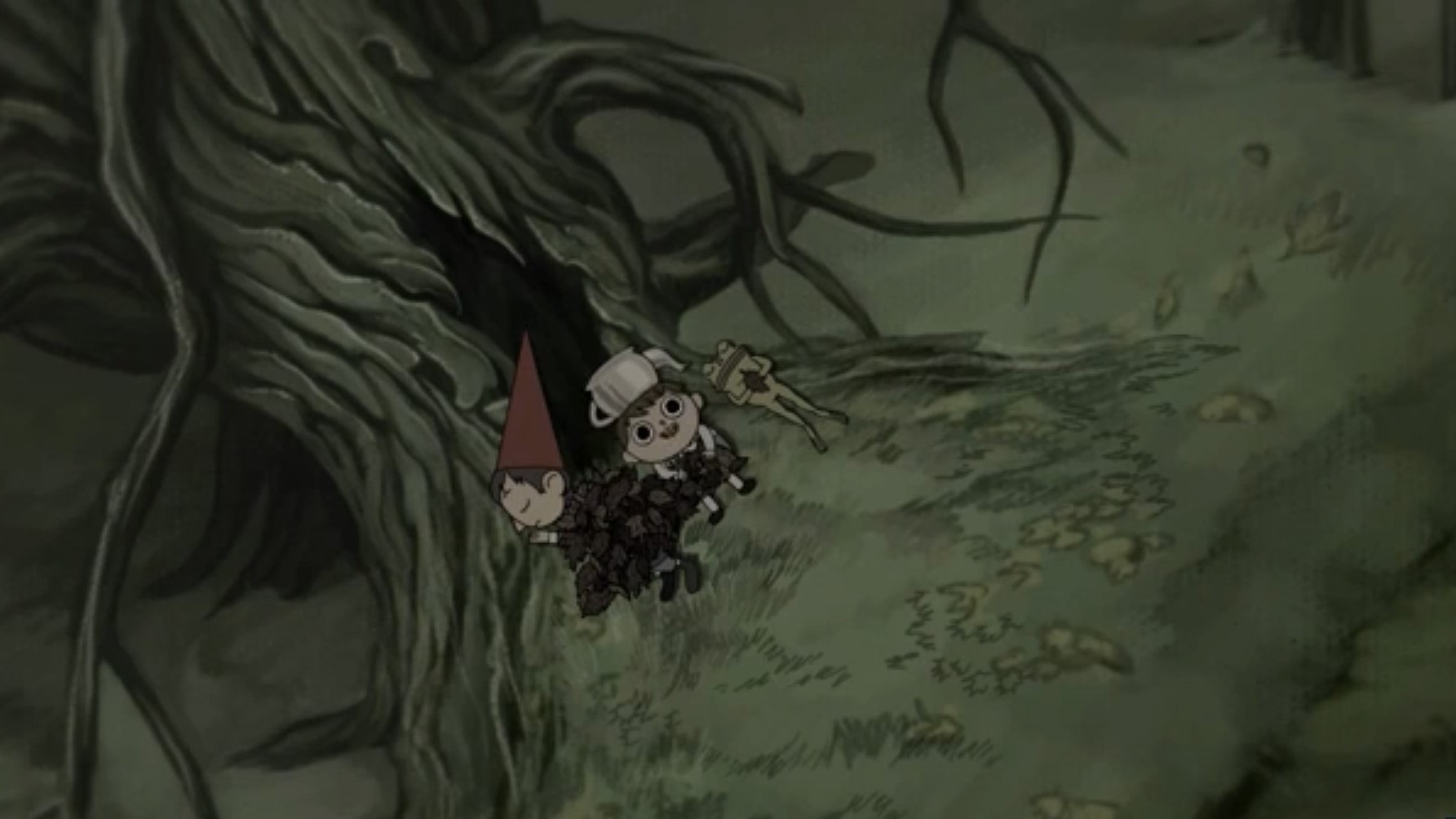 Parlando di simboli, in Over the Garden Wall ogni cosa valorizza il simbolismo: dai più generici agenti atmosferici alle più complesse caratterizzazioni dei personaggi e dei paesaggi. Ogni aspetto in Over the Garden Wall è studiato e sussurra allo spettatore dei messaggi ben più profondi; totalmente contrastanti rispetto al tono leggero della narrazione, con il quale si maschera una fiaba ben più complessa e profonda rispetto a un prodotto per bambini. Lo si intuisce già dai toni cupi e inquietanti della fiaba e dalle sue ambientazioni che hanno ben poco di allegro e spensierato. Lo spettatore percepisce un senso di disagio dall'inizio alla fine senza riuscirne a capire fino in fondo le motivazioni.
Cos'è davvero la foresta dei misteri?
Ogni episodio seppur molto breve va osservato con estrema attenzione per cogliere dei dettagli che consentiranno di capire meglio la storia fino al suo epilogo, del tutto inaspettato. Nulla è lasciato al caso in Over the Garden Wall. I personaggi hanno tutti un ruolo ben preciso e narrativamente ben inserito nel plot. Il taglialegna rappresenta l'altra faccia della medaglia di Beatrice, il quale dispensa consigli ma si mostra da subito come una presenza sinistra e poco rassicurante.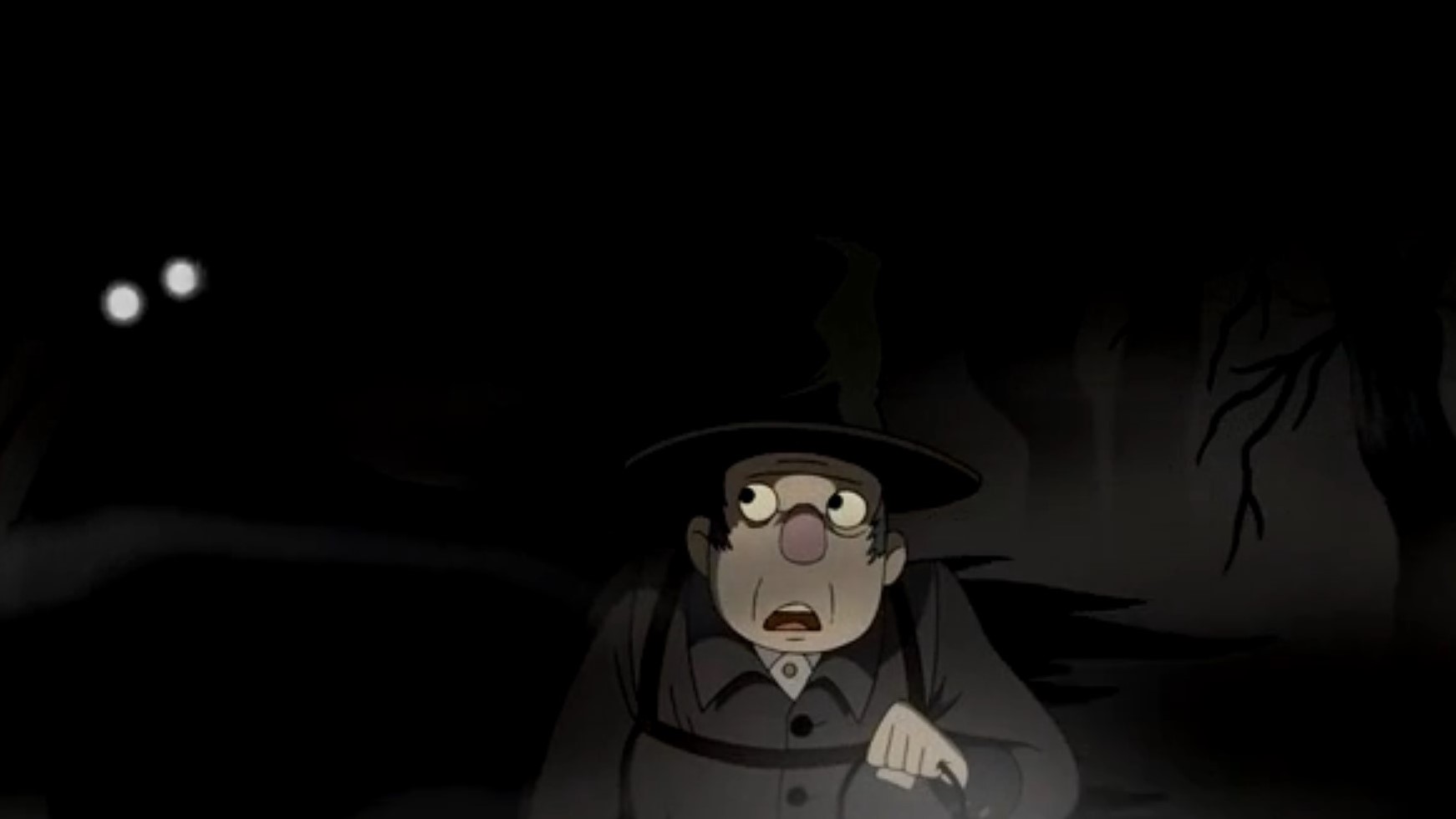 Un personaggio che non darà pace ai nostri due protagonisti. Tuttavia un altro punto a favore della Serie, oltre alla sua estrema e marcata profondità, riguarda proprio la trama. Nulla è prevedibile o superficiale nella narrazione, riuscendo a tenere incollato lo spettatore fino al suo epilogo. Un epilogo che svelerà la natura del viaggio, di tutti i suoi personaggi e della foresta dei misteri.
L'ignoto
In Over the Garden Wall abbiamo anche riferimenti al Caronte o alle perle della mitologia greca. Riferimenti ben nascosti ad un occhio meno attento. Un apoteosi di simbolismi e richiami, il tutto mascherato da un racconto per bambini. L'ignoto non è solo il nome della foresta ma tutto ciò che riguarda il viaggio dei due fratelli. Ignote sono le persone che incontreranno, le situazioni che vivranno ma sopratutto il loro reale scopo in quella foresta. Una foresta che ospita creature fiabesche ed eccentrici esseri umani.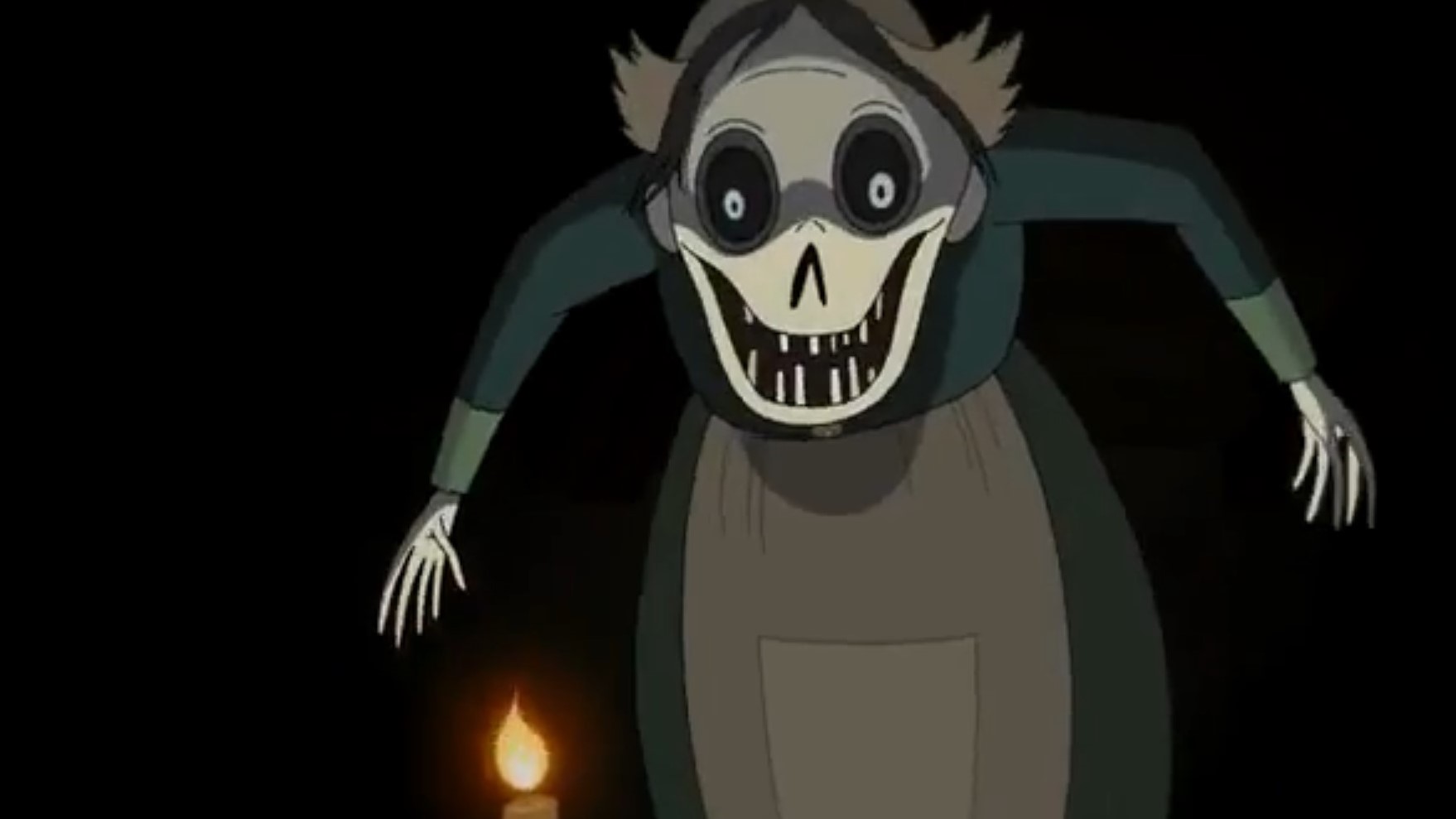 L'animazione è ben curata e in alcuni tratti contiene degli evidenti richiami allo Studio Ghibli. Afferra e stupisce la narrazione guidata da una rana che suona un pianoforte con una colonna sonora di sottofondo tutt'altro che adatta ad una classica fiaba. I toni si faranno sempre più cupi man mano che lo spettatore si avvicinerà al finale e scoprirà la reale identità della Bestia.
I due fratelli devono correre per tornare a casa prima che lei li afferri, nel caso in cui venissero presi da questa creatura spaventosa la via del ritorno sarà per sempre perduta. È una sensazione fredda, agghiacciante, che subirà un progressivo processo di intensificazione visibile anche nelle ambientazioni paesaggistiche e non solo riguardo i personaggi che incontreranno.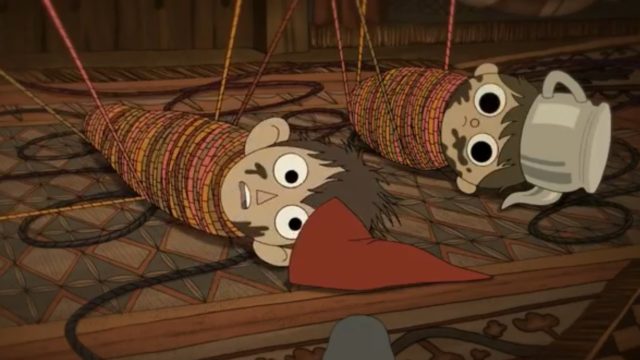 Un piccolo capolavoro da vedere più volte
Il doppiaggio italiano è curato dal fumettista Sio nei panni del fratello maggiore mentre Cristina D'Avena presta la voce a Beatrice. Sebbene siano due personalità di spicco, si consiglia la visione in lingua originale, poiché non essendo doppiatori di professione, il risultato si sente ed è nettamente peggiore. Sopratutto per quanto riguarda i due protagonisti Wirt e Greg.
Over the Garden Wall è una perla animata che non ha nulla da invidiare a molte produzioni contemporanee e più conosciute, ma anzi si difende a spada tratta occupando un posto di grande rilievo. Un prodotto che incanta, commuove e stupisce.
Sebbene non sia particolarmente longeva, ogni puntata rappresenta un mondo a se stante che è consigliabile vedere con la giusta attenzione. La miniserie di Patrick Mchale rappresenta il prodotto che aspettavamo da tempo.
Un'opera leggera ma allo stesso tempo accattivante, che tratta un tema semplice ma con estrema ricercatezza, rendendo il prodotto molto più complesso di quel che potrebbe apparire in superficie. Over the Garden Wall è una Serie adatta a tutti, grandi e piccoli, una fiaba fantastica che colpisce nel segno e regala emozioni.