Outlander ci narra una storia antica come il tempo. Unisce l'amor cortese al fascino della magia di un mondo passato che non può fare a meno di trascinarci in un turbinio di emozioni e sogni.
Possiamo prenderci in giro quanto vogliamo: possiamo convincerci di guardarlo per la bellissima fotografia, per i costumi, la musica, per l'ambientazione storica, ma in fin dei conti l'essenza di Outlander è l'amore sotto ciascuna delle sue forme. E noi che lo guardiamo siamo delle romantiche senza speranza che hanno imparato a guardare il mondo con il cinico realismo di Claire, conservando gelosamente l'animo ingenuo e sognatore di Jamie.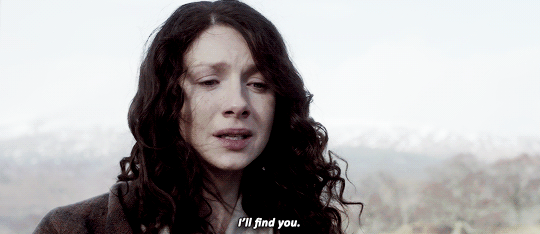 L'amore impossibile, pericoloso, quello vero in grado di sfondare le barriere del tempo e dello spazio ci tiene legate allo schermo settimana per settimana in questo lungo autunno che sta iniziando. In fin dei conti ciascuna di noi ha sempre desiderato un amore come quello di Outlander, un amore in grado di distruggerci e di segnare inevitabilmente la nostra anima fino alla fine dei nostri giorni.
Questo desiderio ha radici ataviche che affondano all'inizio dei tempi, quando l'uomo era ancora giovane e l'amore un po' meno complicato.
In fin dei conti il legame tra Jamie e Claire è il più semplice che si sia mai visto su uno schermo. Un uomo e una donna si incontrano, si conoscono, si piacciono e alla fine si innamorano. Niente di più semplice, se non fosse per i duecento anni di distanza, un marito e una Scozia in piena rivoluzione.
Tuttavia se si tolgono tutte le varie complicazioni esterne, Jamie e Claire cambiano il volto della relazione tipo di tutte le Serie Tv cui siamo abituati.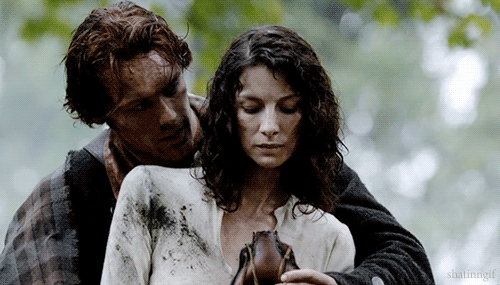 In un mondo in cui l'amore fa paura, Jamie e Claire non ne hanno e si lasciano andare al loro sentimento a prescindere da tutto il resto del mondo e dalle complicazioni di cui sono circondati. Ma l'amore senza difficoltà non è vero amore probabilmente, e improvvisamente la vita ci costringe a renderci conto che quell'amore che sognavamo da ragazzine non potrà mai renderci felici.
L'amore che ti prende l'anima, la carne e le ossa, che ti tormenta e ti affascina è una condanna a vita, e Jamie e Claire l'hanno dovuto imparare a caro prezzo.
Le loro anime si sono appartenute fin dal primo momento, fin da quando Claire posò gli occhi su quel ragazzo dai capelli rossi con una spalla lussata. Si sono sposati, si sono amati e sono diventati un'unica cosa, un unico corpo, un'unica anima.
E poi giunse quel giorno a Culloden.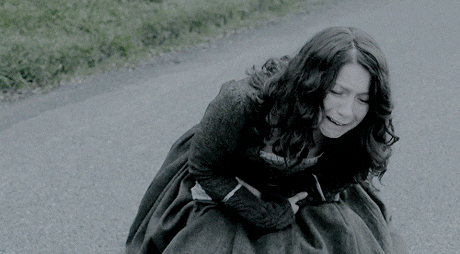 Forse avevano sempre saputo che la loro felicità aveva una data di scadenza. Claire ben sapeva quale sarebbe stato il destino dell'uomo che aveva imparato ad amare, sapeva che il lieto fine non faceva parte dell'equazione, eppure si è lasciata andare lo stesso, eppure ha avuto comunque il coraggio di vivere quell'amore impossibile per avere almeno un assaggio di una felicità che non conosce eguali.
Quell'unica anima è stata alla fine amputata, ma in quel punto certe volte prude ancora, a volte brucia come l'inferno e come un bambino che si gratta la ferita al ginocchio, così anche Jamie e Claire continuano imperterriti a non voler dimenticare, a riaprire una ferita che non può e non deve cicatrizzarsi mai.
Andare avanti sarebbe tanto più semplice, e in fin dei conti lo sappiamo tutti. Ma come si può dimenticare la vera felicità una volta che la si è provata?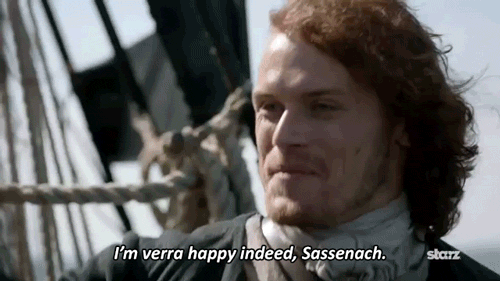 Si parla spesso di treni che passano un'unica volta nella vita, e non devi perderteli mai perché te ne pentiresti fino alla fine dei tuoi giorni. Ma come si fa quando il treno tu lo perdi per colpa di qualcun altro?
Improvvisamente corpo, anima e ossa si coalizzano contro la tua mente e tutto ciò che sarebbe saggio fare per la tua sopravvivenza passa inevitabilmente in secondo piano. Crogiolarsi nel proprio dolore appare l'unica cosa in grado di mantenere vivo il ricordo, e nel ricordo quel passato che ci è stato portato via è ancora vivo, pulsante e pieno di felicità.
Sembra paradossale ma è proprio attraverso quella ferita che possiamo vedere ancora il nostro sorriso, come un portale su un tempo che è stato e che non può più essere.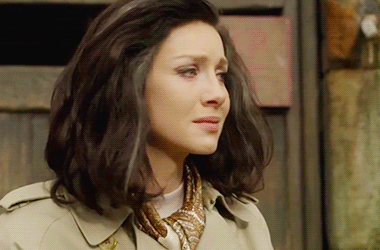 Outlander è la storia perfetta per tutti coloro che hanno vissuto un grande amore per poi vederselo strappare via dal fato e dal beffardo ghigno della vita. Per tutti coloro che ogni tanto sentono ancora quel profumo, per coloro che ancora si voltano in cerca di uno sguardo tra la folla, per coloro che vagano con gli occhi dipinti di quel sorriso triste di chi ha conosciuto l'amore e ancora lo sente bruciare laddove un tempo la vita pulsava di felicità.
Il XXI secolo ha dato il suo ultimo saluto alla favola.
Abbiamo sostituito la scarpetta di cristallo con un paio di Doctor Martens e abbiamo imparato ad affidarci al cinico realismo di Game of Thrones, Orange is the new Black o Sons of Anarchy. Eppure in questo cimitero di eroi, Outlander infrange l'oscurità come la luna piena in una piovosa notte d'autunno, regalandoci un'ultimo varco su un mondo in cui c'è ancora qualcuno con il coraggio di amare "per sempre".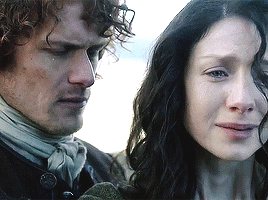 "It has always been forever  for me, Sassenach"
Passate anche dagli amici di Everything Outlanderღ