Con una settima stagione conclusasi poco più di due mesi fa, Orange Is the New Black continua a mancarci infinitamente.
Il tempo passa e la convinzione che nessuna serie altrettanto autentica possa sostituire il suo posto nel nostro cuore continua a farsi sempre più concreta.
Accade però una qualcosa di totalmente inaspettato, una foto.
A proporci un'immagine apparentemente anonima ma in realtà piena di molti significati è Neri Kyle Tannenbaum produttrice di Orange Is the New Black, che pubblica una foto, per alcuni versi sconvolgente, sul suo profilo Instagram.
Di cosa stiamo parlando? Giudicate voi stessi: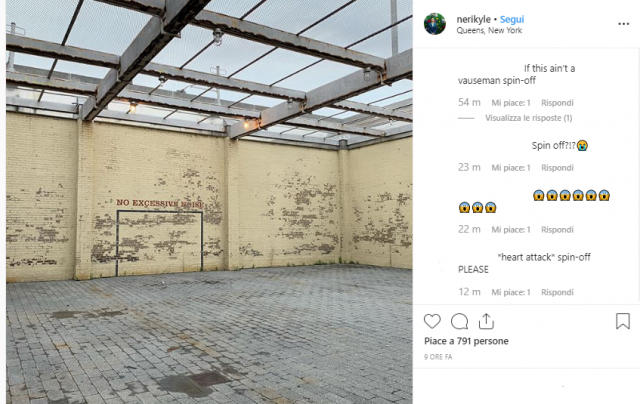 Quello che vediamo in questa fotografia non è un cortile qualsiasi, ma bensì il luogo dove le ragazze di Litchfield hanno trascorso per anni la loro ora d'aria.
Tra risse, vendette e a volte anche qualche risata, le detenute di Orange Is the New Black hanno vissuto alcuni tra i momenti più brutti e più belli della loro detenzione proprio qui.
Quella che potrebbe essere interpretata come un'immagine di rito, di addio, si arricchisce di una valenza del tutto differente se si fa attenzione alla didascalia che la accompagna: 'Again.'
'Again': di nuovo, ancora una volta (..qui su questo set?)
Cosa vorrà farci intuire Neri Tannenbaum con questa fotografia ma soprattutto questa didascalia che ci hanno lasciato tutt'altro che indifferenti?
Impossibile non pensare a uno spin off!
D'altronde chi di voi non vorrebbe rivedere le ragazze di Orange nuovamente sui propri schermi?
Queste protagoniste hanno lasciato un segno così profondo nei nostri cuori che penso che nessun fan esiterebbe nell'affermare di voler vedere nuove loro avventure.
Tra i commenti più gettonati, in molti riferiscono di voler vedere uno spin off incentrato sul rapporto tra Piper Chapman e Alex Vause. Come vivranno la loro relazione le nostre Vauseman ora che sono lontane l'una dall'altra?
Molte altre persone invece rispondono al post della Tannenbaum ammettendo che preferirebbero vedere uno spin off che si concentri sul futuro di tutte le protagoniste della serie.
Per quanto queste possano considerarsi congetture e speculazioni poco certe, quel che invece è sicuro è che qualcosa di probabilmente molto bello sta accadendo e questa foto ne è la prova.