Con sette straordinarie stagioni Orange Is the New Black (ma c'è aria di spin-off) ha rivoluzionato i linguaggi della serialità in maniera indelebile. Proponendo una rappresentazione sopra le righe della vita in carcere e dirottando l'attenzione del pubblico su tematiche urgenti ma spesso trascurate dai media, oltre che su un necessario discorso sull'importanza dell'inclusività in televisione. Lo show ideato da Jenji Kohan e ispirato a una storia vera (che abbiamo raccontato proprio qui), ha narrato le vicende di Piper Chapman e delle altre detenute del carcere di Litchfield mescolando il registro della leggerezza a quello della profondità senza mai cadere in una fotografia macchiettistica o irrispettosa. Anche nelle sue battute più politicamente scorrette.
Tuttavia, complice la necessità di attenersi alla fraseologia della fiction e a storie che, per conquistare il pubblico, hanno prestato il fianco a colpi di scena e contesti ben poco realistici, la serie Netflix ha spesso proposto scenari e situazioni che con il mondo degli istituti penitenziari hanno davvero poco a che fare.
Dalle docce in compagnia all'incredibile pulizia di celle e bagni, ecco le 5 cose apparse in Orange Is the New Black che, se mai vi capitasse di finire dietro le sbarre, sicuramente non ritrovereste.
1. Rapporti stretti e scambi di regali tra detenute e guardie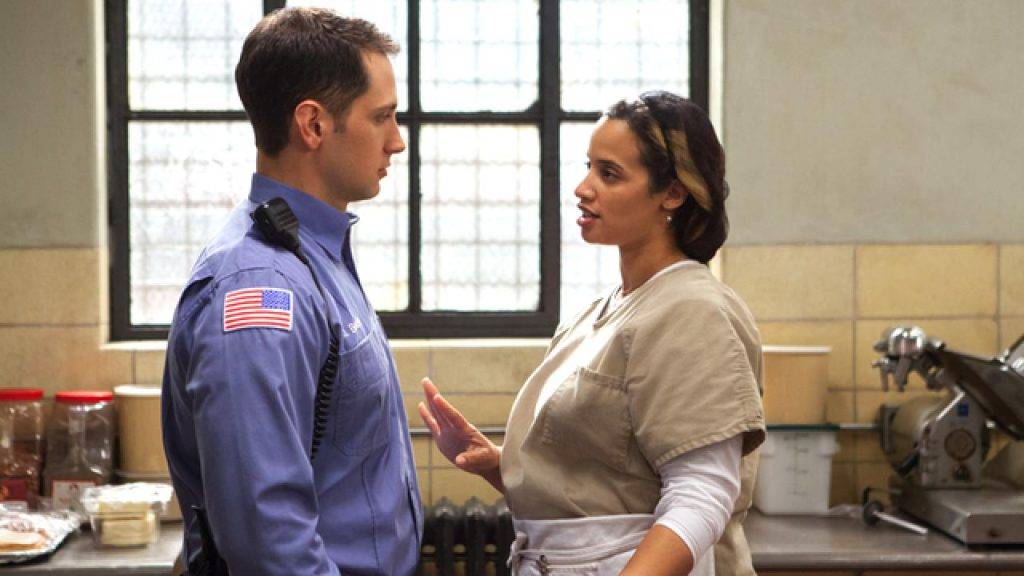 Nel corso della dramedy, abbiamo visto nascere rapporti insolitamente confidenziali tra guardie e detenute. Ecco, per quanto discutibili o meno, in un carcere questo genere di relazioni non sono contemplate. Sì, la confidenza può esserci ma non si spinge mai fino al punto in cui, per fare un esempio eclatante, le recluse arrivano a ricevere regali come accade per Piper e le sue compagne. La scena in cui Joe Caputo dona a Taystee un orologio può averci scaldato il cuore ma è bene non dimenticare che, nella normalità, non accadrebbe nemmeno per miracolo.