Sex Education ritorna più forte di prima! L'arrivo della sua seconda stagione travolge You e porta la serie con protagonista Emma Mackey al numero uno della classifica di TvTime con il 15,67%. You scende al n. 2 mentre entra in classifica la sesta stagione di Grace e Frankie al terzo posto, che completa la nostra top 3. Nel frattempo, altre serie Netflix come The Witcher e Spinning Out fanno capolino all'interno della classifica, posizionandosi rispettivamente al settimo e decimo posto.
Al di fuori degli originali Netflix, durante questi mesi, come abbiamo analizzato dai dati c'è crescente fervore per Titans, che sale al n. 4, Brooklyn Nine-Nine (quinto posto), e nonostante la cancellazione totalmente contestata dai fan anche Anne with an E resta in classifica nella top 10 della settimana che va dal 13 al 19 gennaio. Per non parlare di Friends, che dopo 25 anni rimane sempre lì fissa tra le serie più binge watchate.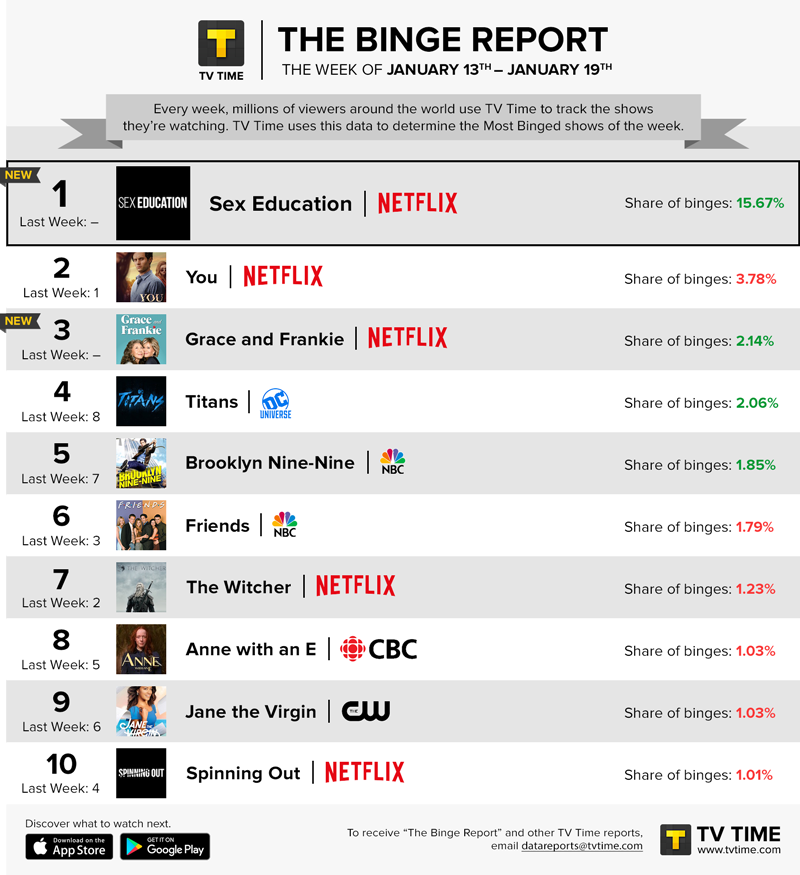 Questa classifica potrebbe essere nuovamente stravolta la prossima settimana. L'imminente uscita di Chilling Adventures of Sabrina su Netflix prevista per oggi potrebbe rompere gli equilibri. Non solo, Sex Education 2 che momentaneamente si trova al primo posto gode di un altro primato. Nonostante tutte le incredibili serie tv che hanno debuttato nel 2019, Sex Education è al primo posto come serie più vista di tutta la scorsa stagione televisiva.
Come riportato dal sito, la metodologia per stilare questa lista settimanale del Binge Report è la seguente: possono entrare in classifica soltanto le serie tv contenenti quattro o più episodi che vengono guardati e tracciati nella nostra app TvTime in un determinato giorno.
Questa classifica mostra come nonostante le numerose piattaforme in attività, Netflix detenga sempre il primato: per adesso, da due settimane. Anzi, non solo il primato ma in questo caso il colosso di Los Gatos si aggiudica l'intero podio. Un gran punto di forza quello del servizio streaming: i contenuti originali nel corso degli anni hanno aumentato la loro qualità, ottenendo questi risultati.
Fonte: TvTime