Una nuova serie ha la "chiave" del cuore dei bingers! Con il 4,45% delle sessioni di binge registrate su TvTime la serie Netflix fantasy-horror, Locke & Key, sale al n. 1 e batte Sex Education che arriva fino al secondo posto. La presenza di Netflix rimane forte questa settimana, dato anche l'uscita per San Valentino della quinta stagione di Le Ragazze del Centralino (che si piazza al numero 3). Mentre gli amati originali comeChilling Adventures of Sabrina e BoJack Horseman si piazzano al sesto e nono posto mantenendosi nella top 10 per un'altra settimana.
Nel frattempo, Vikings di History Channel sale al n. 4 dopo la prima della sua sesta e ultima stagione e la commedia della NBC, Brooklyn Nine-Nine (n. 7), si muove lentamente verso l'alto con la sua ultima settima stagione. A chiudere la classifica, ma non per l'importanza: Friends, sempre presente nella top 10 al quinto posto. You in netto calo dopo le due settimane consecutive sul podio e The Good Place con la sua ultima stagione.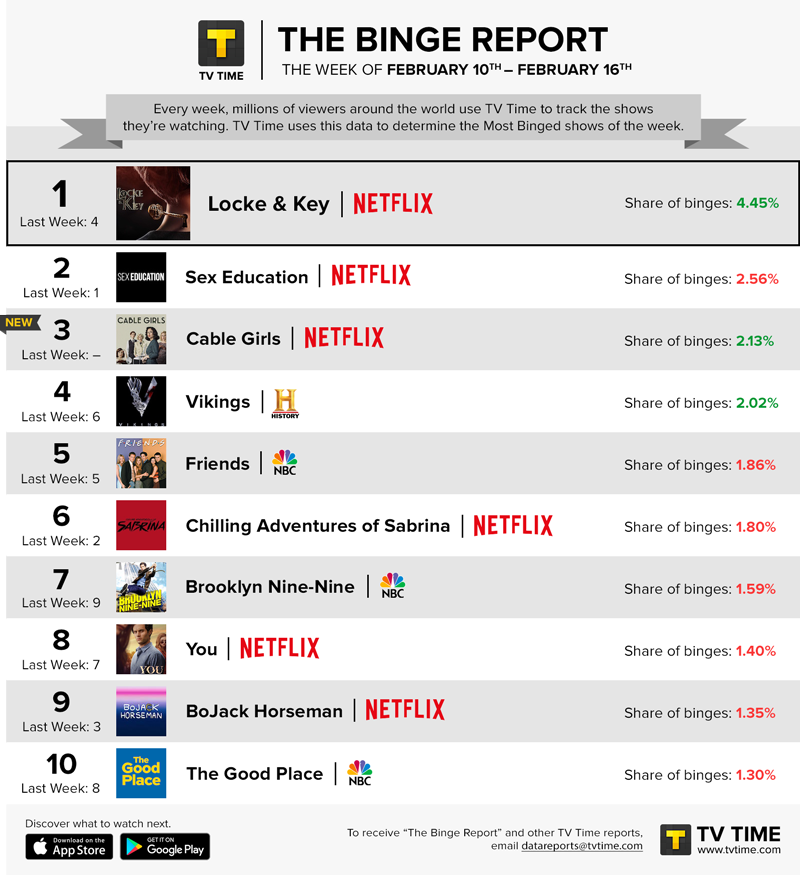 Piccola curiosità: lo sapevate che a differenza di altri originali spagnoli di Netflix come Elite e La Casa de Papel, Cable Girls non ha ancora raggiunto il numero 1 del report di TvTime? Ci riuscirà la prossima settimana? Con l'uscita di Hunters all'orizzonte, una serie di Amazon Prime Video ce la farà a entrare in classifica? Lo scopriremo venerdì prossimo!
Molte novità attendono noi binge watcher accaniti, un esempio? La quinta stagione di Better Call Saul che non facciamo veramente nessuna fatica a immaginare al primo posto. Tra l'altro, la scorsa settimana Locke & Key non aveva ottenuto così tanta fiducia tanto da piazzarsi solo al quarto posto, menomale che abbiamo dato a questa serie una seconda possibilità!
Come riportato dal sito, che troverete in basso, la classifica si basa su una determinata metodologia. Per stilare questa lista settimanale del Binge Report è la seguente: possono entrare in classifica soltanto le serie tv contenenti quattro o più episodi che vengono guardati e tracciati nella nostra app TvTime in un determinato giorno.
Fonte: TvTime