La terza parte di Chilling Adventures of Sabrina è avvincente e per questo vola al n. 1 con il 6,17% delle sessioni di binge watching di TvTime. L'ex leader della classifica, Sex Education, cade al n. 2. I grandi finali di stagione già annunciati come BoJack Horseman e The Good Place prendono posto in classifica rispettivamente al terzo e settimo posto. Nel frattempo, altri beniamini della NBC come Friends (al numero 5) e Brooklyn Nine-Nine (al sesto posto) continuano a prosperare in questo 2020. Mentre i favoriti di Netflix come You e Lucifer rimangono sempre presenti nel repertorio dei bingers alla quarta decima posizione.
Brooklyn Nine-Nine scalerà le classifiche con la sua premiere della settima stagione? O nuove uscite come Locke & Key e Katy Keene rivoluzioneranno la top 10? Tutto sarà svelato venerdì prossimo! Ma intanto possiamo svelarvi alcune piccole curiosità: diversi personaggi del "binge report" di questa settimana hanno scalato la lista dei "Top Characters" di TV Time per gennaio 2020. Basandosi sui voti, i primi sei personaggi della lista includono personaggi di: Sex Education, You, e Sabrina.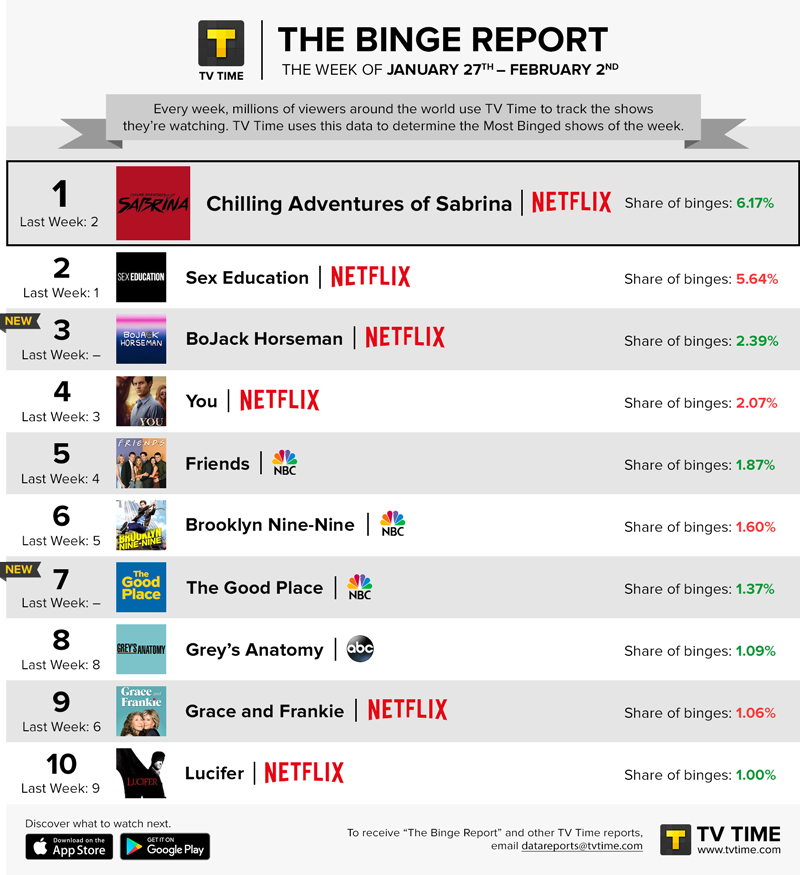 Anche questa volta in classifica possiamo notare una supremazia Netflix e questa è l'occasione giusta per dirvi che questo mese è pieno di serie tv che verranno trasmesse. Questo ci lascia pensare solo una cosa: la classifica del binge watching impazzirà nei prossimi mesi. E a noi va bene così perché la competizione è sempre aperta!
Come riportato dal sito, che troverete in basso, le serie vengono scelte in base a una precisa metodologia. Per stilare questa lista settimanale del Binge Report è la seguente: possono entrare in classifica soltanto le serie tv contenenti quattro o più episodi che vengono guardati e tracciati nella nostra app TvTime in un determinato giorno.
Fonte: TvTime