Sex Education di Netflix mantiene il primo posto per la seconda settimana di fila nella classifica di TvTime. Tuttavia, la serie potrebbe presto rischiare di perdere il titolo. La "strega capo" di Netflix fa un forte ingresso con la parte 3 di Chilling Adventures of Sabrina e guadagna il secondo posto. La seconda stagione del thriller psicologico, You, trova la sua posizione più bassa rispetto le precedenti al n. 3, mentre la serie comica Grace and Frankie rimane costante al sesto posto.
Al di fuori delle nuove uscite, le amate commedie dei network trionfano con Friends che sale al n. 4, How I Met Your Mother (n. 10) che torna nella top 10, e Brooklyn Nine-Nine sale di grado al quinto posto. Inoltre, Grey's Anatomy e Lucifer si fissano all'ottavo e al nono posto dimostrando ancora una volta di essere i preferiti dai fan della TV.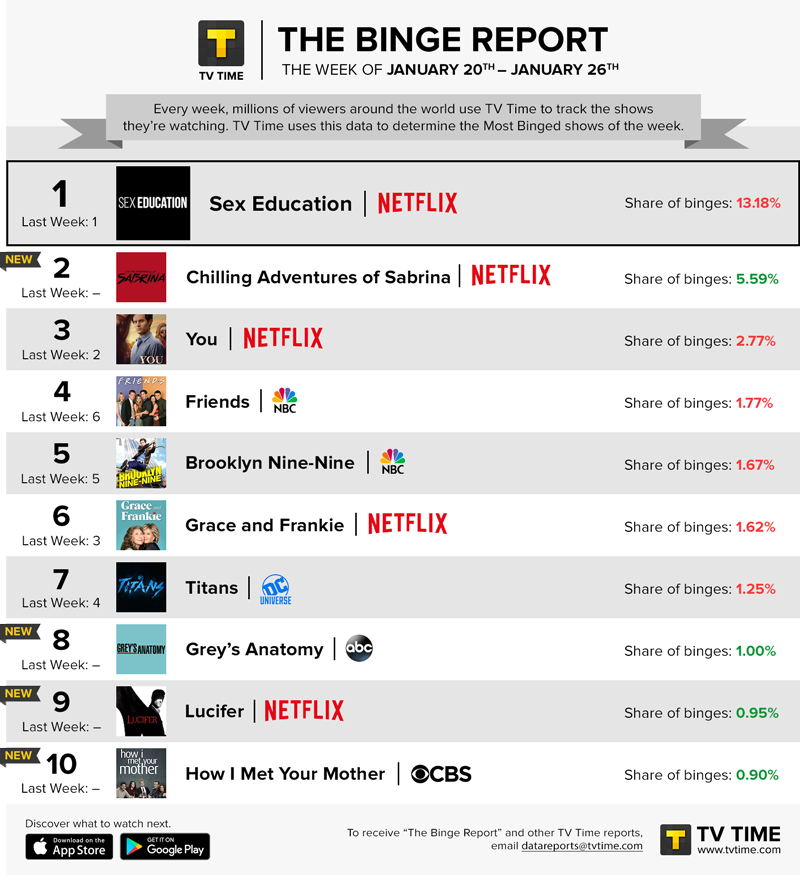 Gli episodi finali di BoJack Horseman e The Good Place sono alle porte! Una delle due serie entrerà a far parte di Binge Report? Potremmo scoprirlo venerdì prossimo! Inoltre, lo sapevate che Sabrina è la strega preferita degli utenti di TV Time? Questo si evince dall'analisi dei voti dei personaggi del 2019, Keirnan Shipka come "Sabrina Spellman" si aggiudica il primo posto nella categoria di streghe TV. Shipka è anche attualmente il 45° personaggio più votato per il talento in TvTime!
Come riportato dal sito, che troverete in basso, la metodologia per stilare questa lista settimanale del Binge Report è la seguente: possono entrare in classifica soltanto le serie tv contenenti quattro o più episodi che vengono guardati e tracciati nella nostra app TvTime in un determinato giorno.
Voi avete già binge-watchato l'ultima parte di Chilling Adventures of Sabrina? Dite che avrebbe meritato il primo posto in luogo di Sex Education? Non perdetevi le uscite di questo weekend su Netflix che potranno ribaltare il risultato!
Fonte: TvTime