Non è il tipo di reunion che ci aspettavamo, ma l'incontro tra Matthew McConaughey e Woody Harrelson ci emoziona comunque un po'. I due attori di True Detective, amici di lunga data, si sono infatti ritrovati insieme in un luogo paradisiaco e ancora ignoto. A diffondere la notizia sui social è stato lo stesso McConaughey, il quale ha condiviso lo schermo con Harrelson già parecchie volte.
I numerosi commenti sotto la foto dei due amici, infatti, si dividono tra gli elogi alla serie tv HBO e alle richieste di una nuova collaborazione tra i due. In passato gli attori hanno ribadito quanto lavorare insieme sia stato emozionante e, soprattutto, stimolante. In particolar modo McConaughey ha dichiarato:
Il motivo per il quale io e Woody siamo amici è che riusciamo a catturare l'uno la frequenza dell'altro.
D'altra parte, anche il collega si è più volte espresso circa il condividere il set con l'amico fidato. "Ho amato come ha reso il personaggio (di Rustin Cohle). Non immaginerei nessun altro capace di interpretare meglio quella parte. Era semplicemente fenomenale."
I due compagni hanno lavorato insieme nel film del 1998 The Newton Boys e nelle commedie EDTv e Surfer, Dude. Indubbiamente i ruoli dei detective Cohle e Hart sono diventati delle icone, e tutt'oggi sono incredibilmente amati dal pubblico.
La prima stagione di True Detective, d'altronde, continua a essere definita la migliore dell'intero show.
E nonostante siano trascorsi cinque anni dalla performance di McConaughey e Harrelson, i fan chiedono a gran voce il ritorno del formidabile duo. Non si sa molto sulla località degli attori ma, stando alle recenti dichiarazioni di Woody rilasciate durante un'intervista al The Ellen DeGeneres Show, è probabile che i due amici siano in vacanza insieme. L'attore di Benvenuti a Zombieland, infatti, ha dichiarato di essere solito fare dei "Tour dell'amicizia", recandosi dai suoi amici per bere e divertirsi in compagnia.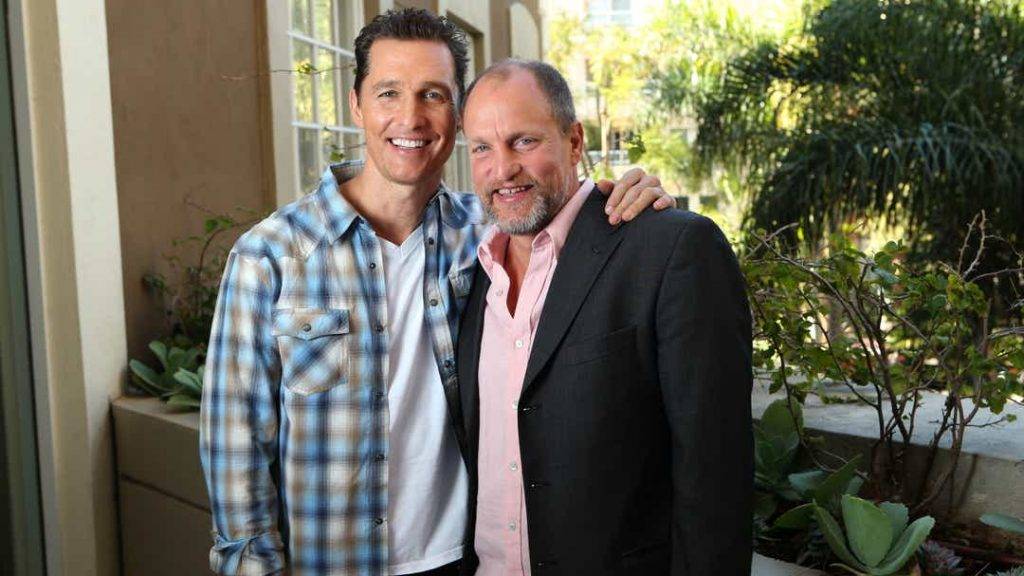 Questa inaspettata foto riflette un'amicizia solida e viva, persino a distanza di anni. True Detective rappresenta indubbiamente la loro performance televisiva migliore e dopo questo scatto sono molti i fan che sperano di rivederli ancora insieme sul set. E non possiamo di certo biasimarli.