L'ottava stagione di The Walking Dead arriverà  a ottobre con l'aggiunta di alcuni personaggi al cast principale. Tuttavia, ci saranno anche dei personaggi che compariranno molto meno (di alcuni ve ne avevamo parlato in questo articolo), almeno nella prima parte della stagione, a causa di motivi lavorativi e personali.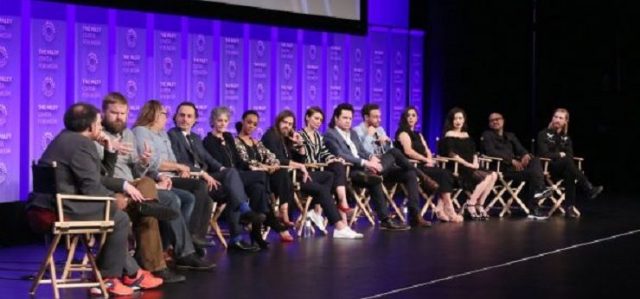 Cominciamo a parlare degli attori che vedremo meno spesso:
l'attrice che interpreta Rosita, Christan Serratos, è da poco diventata mamma (come le sue colleghe Alanna Masterson e Sonequa Martin, le quali nella Serie interpretavo rispttivamente Tara e Sasha), per questo motivo si prenderà un periodo lontano dal set;
un altro attore molto amato, entrato nel cast fisso dalla settima stagione, è Jeffrey Dean Morgan che nella Serie Tv interpreta lo spietato Negan. La presenza dell'attore è stata ridotta per impegni lavorativi, in quanto impegnato sul set del film Rampage;
infine, Danai Gurira, interprete di Michonne, è stata scelta per prendere parte a due film di prossima uscita, cioè Black Panther e Avengers: Infinity War. Nel finale della settima stagione abbiamo visto Michonne ferita, ma non gravemente. Probabilmente non dovremo preoccuparci di non rivederla più.
Ben tre attori sono invece stati promossi al cast fisso dell'ottava stagione:
Katelyn Nacon, la giovane attrice che ha dato vita al personaggio di Enid. Potremmo quindi vedere come evolverà la love story tra lei e Carl;
Steven Ogg, nella Serie è Simon, il fedele e terribile aiutante di Negan;
infine, vedremo tornare come regular anche Pollyanna Mclntosh. Quest'ultima interpreta Jadis, capo della comunità della discarica, contro la quale Rick e i suoi, quasi sicuramente, si scontreranno nella nuova stagione.
The Walking Dead tornerà a ottobre con un'ottava stagione piena di azione e, a quanto dice Ross Marquand (Aaron), sarà la stagione migliore di sempre!