Lo showrunner di The Umbrella Academy, Steve Blackman, ha rilasciato un'esaustiva intervista a Entertainment Weekly in cui spiega il suo approccio alla prima stagione.
ATTENZIONE: SPOILER SULL' INTERA STAGIONE
L'intervista si apre con alcune dichiarazioni riguardo il finale di The Umbrella Academy:
È un finale terribile. Quello che volevo davvero era trovare un buon cliffhanger. Ho anche pensato che fosse troppo facile per questa famiglia riunirsi in otto giorni e salvare il mondo. Doveva essere più complicato di così. Volevo un finale dove si riunissero come una famiglia, ma non raggiunsero l'obiettivo più grande, che era quello di salvare il mondo. Se avremo una seconda stagione, vedremo come finirà.
Riguardo alla complessità del personaggio di Vanya, interpretato da Ellen Page, ha dichiarato: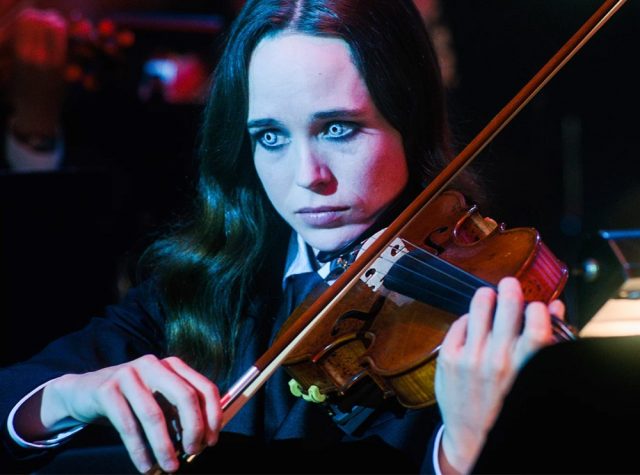 Ne ho parlato da subito con Ellen. Abbiamo deciso di giocarci tutto dall'inizio alla fine. Ellen ha fatto delle scelte, sia creative che di recitazione, che mostrano la mutazione di Vanya dal primo all'ultimo episodio. Il modo in cui inizia a truccarsi e a curare i suoi capelli durante la relazione con Leonard Peabody, quando lei inizia a sentire di avere maggior controllo sulla propria vita. Fino alla fine dei giochi, quando viene sovrastata da abilità che non sapeva nemmeno di possedere. Quindi abbiamo parlato molto con Ellen sul modo di interpretare una metamorfosi nel vero senso della parola, passando dalla luce al buio o dal buio alla luce, qualunque sia il modo in cui la vedi.
Per quanto riguarda il Sir Reginald Hargreeves sono ancora molte le cose da svelare:
C'è dell'altro su Hargreeves, non è solo un cattivo. C'è molto di più in questo personaggio, e lo scopriremo se otterremo più stagioni. Per quanto riguarda Vanya, lui l'ha frenata, drogata, le ha detto che non era nessuno e ciò è divenuto una profezia che si è auto avverata. Lei ha vissuto credendo di non essere speciale, e questo è stato molto dannoso. Alla fine, aprirsi l'ha travolta.
Blackman ha poi parlato della particolarità degli episodi 6 e 7:
Voglio che la serie venga vista con fiducia dagli spettatori, ma in un mondo in cui esiste un ragazzo come Five, esiste anche un paradosso in cui si può tornare indietro e resettare un giorno. Questo viene mostrato in The Day That Was e The Day That Was not.

Ho pensato che fosse un modo davvero bello per mostrare come ognuna delle nostre azioni ha delle conseguenze. Per quanto minori possano sembrare le scelte, avere un'altra possibilità, girare a sinistra anziché a destra, dire qualcosa di diverso, potrebbe cambiare il corso della tua vita. Ad esempio, Luther e Allison non sapranno mai che quel bacio è accaduto. Potrebbe essere tortuoso per il pubblico, ma spero che lo prendano per ciò che vale.

È divertente raccontare storie che mostrano allo spettatore che è proprio questo il mondo in cui vivono questi personaggi. Non è stato fatto per confondere il pubblico. Racconta semplicemente una bella storia su ciò che Five sta attraversando, sul fatto che torna al giorno precedente per poter dire: "non ce ne andremo in giro da soli, oggi ci riuniremo come famiglia e faremo le cose nel modo giusto". E questo cambia tutti i momenti che hanno avuto insieme. Potrebbero essere i miei episodi preferiti. Erano difficili da scrivere e da tirare fuori, ma sono davvero orgoglioso di questi due episodi.
Ma la sua scena preferita si trova in un altro episodio, una delle più belle di The Umbrella Academy, quella di Klaus nell'aldilà
Volevo mantenere la maglietta di Klaus a colori, il che era costoso perché dovevamo farlo in ogni fotogramma. Ma volevo che sembrasse un fumetto, con un po' di colore su uno sfondo bianco. La mia scena preferita nell'intero show penso sia quella in cui Hargreeves rade Klaus. È solo un momento meraviglioso in cui può parlare con suo padre morto, e il fatto che lo stia radendo lo rende strano e inquietante.
Per finire alcune considerazioni su Ben, il fratello fantasma, che si rivela grazie a Klaus proprio nel finale di stagione, mostrando esplicitamente i suoi poteri per la prima volta:
Era molto importante chiudere il cerchio e aver visto con Ben che è ancora, stranamente, con loro. È per questo che si sono separati in principio, perché la sua morte li ha fatti a pezzi. Adesso, alla fine della prima stagione, possono vedere Ben e capisci che è la loro maggiore riconciliazione. Ora devono solo riuscire a salvare il mondo!