La collaborazione tra Ryan Murphy e Netflix era attesa già da molti anni e finalmente è diventata realtà dopo aver siglato un accordo monetario da capogiro (leggi qui per saperne di più). Per chi non lo sapesse lui è il genio che ha creato alcune delle serie più seguite e premiate degli ultimi anni come Glee, American Horror Story e American Crime Story. L'uomo che è sempre stato legato alla FX ha deciso di creare una serie tv per il grande colosso dello streaming intitolata The Politician. L'hype era già alle stelle ma da quando abbiamo visto il trailer, che è stato rilasciato ieri, non vediamo davvero l'ora di iniziare questa serie.
Il trailer di The Politician, la serie con Gwyneth Paltrow e Jessica Lange, è infatti una vera bomba!
Guardando le prime immagini della serie possiamo riconoscere la firma di Ryan Murphy: saltano all'occhio le ottime prove recitative, la presenza di molte grandi star, un'ottima fotografia e quella spruzzatina di trash che non guasta mai. È interessante spendere due parole inoltre sull'attore protagonista di The Politician, Ben Platt. Se a noi italiani il suo nome non dice niente, non è lo stesso per gli americani. L'attore, dopo aver vinto un Tony Award grazie al musical di successo Dear Evan Hansen, è diventato l'uomo del momento negli Stati Uniti. Con questa nuova serie vuole dimostrare di essere in grado di calarsi anche in un ruolo completamente diverso da quello che lo ha reso celebre.
Ben Platt interpreterà infatti Payton Hobart, un ricco abitante di Santa Barbara con aspirazioni politiche.
Dall'età di sette anni Payton è convinto che diventerà il prossimo Presidente degli Stati Uniti d'America, ma prima deve essere eletto presidente del corpo studentesco e assicurarsi un posto ad Harvard. Per rimanere sulla strada del successo, il ragazzo dovrà superare in astuzia i suoi spietati e competitivi compagni di classe senza sacrificare la sua moralità e la sua immagine perfettamente costruita. L'obiettivo di questa serie sarà quello di mostrare quello che ci vuole per riuscire in politica attraverso una perfetta satira tagliente.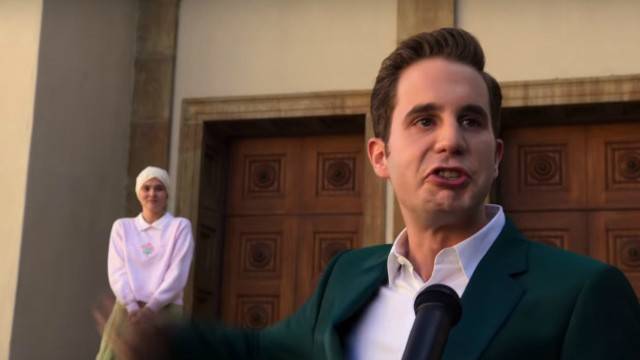 Pare inoltre che la serie presenterà dei numeri musicali in cui vedremo cimentarsi Ben Platt, Gwyneth Paltrow, Jessica Lange e il resto del cast. Nel nuovo show Netflix accanto a queste tre grandi star reciteranno anche Zoey Deutch, Lucy Boynton e Laura Dreyfuss e noi non vediamo l'ora di vedere questo straordinario cast all'opera!
Per fortuna non dovremo attendere molto perché The Politician sarà rilasciata da Netflix il 27 settembre!