Giancarlo Esposito ama interpretare personaggi che devono essere odiati, i villain insomma. È apparso nell'episodio finale della prima stagione di The Mandalorian, la serie tv ambientata nel mondo di Star Wars che sta conquistando il pubblico sempre più. La serie è disponibile sul nuovo servizio streaming Disney+, e il primo episodio sarà trasmesso anche su Italia1.
A proposito del recente rilascio della nuova piattaforma streaming, ti ricordiamo che con un abbonamento annuale di 69,99€ si ha la possibilità di guardare i contenuti di Disney+ fino a un massimo di quattro schermi contemporaneamente.
Si tratta di quasi 6 euro al mese per usufruire della visione di film, serie tv, documentari e tanto altro.
Giancarlo Esposito interpreta Moff Gideon, ed è apparso sulla scena con la sua spada laser dalla lama nera, chiamata Darksaber. Questa spada laser, apparsa per la prima volta in Star Wars: The Clone Wars, è stata creata più di mille anni prima da un Mandaloriano chiamato Tarre Vizsla, il primo Mandaloriano diventato Cavaliere Jedi. Dopo la sua morte, la Darksaber è stata conservata nel tempio Jedi fino a quando la casata Vizsla si è intrufolata nel tempio e si impossessò della spada.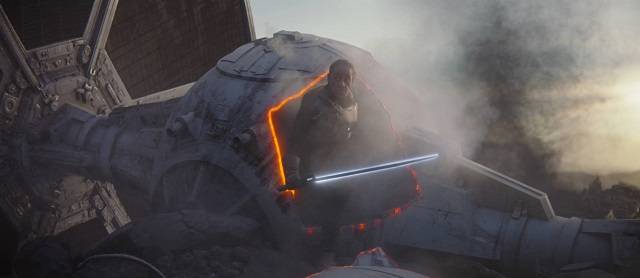 Da qui iniziano guerre e combattimenti che portano la Darksaber nelle mani di Bo-Katan, che diventa la nuova leader di Mandalore. Bo-Katan è stata l'ultima persona di cui si ha conoscenza a possedere la spada. Fino a quando non vediamo comparire Moff Gideon con la Darksaber tra le sue mani in The Mandalorian. Come è finita tra le sue mani non ci è dato saperlo ad ora, ma siamo sicuri che interpreterà un ruolo importante nella seconda stagione. Esposito ha affermato che avrà modo di usare parecchio quella spada, e che alcune scene già girate «saranno davvero entusiasmanti» per i fan. Alla domanda sulle sue abilità nell'usare la spada laser, Esposito ha riposto:
Sono abbastanza bravo. Sto migliorando. Ma bisogna rispettare il suo potere, la sua energia. È lunga, amico. Mi sono colpito da solo già tre volte. Mi colpisco in testa, e penso 'Oh mio Dio, che faccio?' e inizio a ridere. Le persone mi guardano, vogliono che io sia un esperto già da subito, perché io sono il cazzuto. Ma sai cosa? Ci vuole pratica. Ci sono le spade lunghe e quelle corte. E indovina? Posso dirlo? Sì posso, posso dirlo. Dico quello che sto pensando, e non è spoiler, bla bla bla. Lo dico. Ho rotto tre di quelle ragazzacce.
Ha rotto ben tre spade laser, indizio che ci fa capire che ci saranno molte scene dove userà la spada, come lui stesso ha anticipato. La seconda stagione dovrebbe arrivare in autunno di quest'anno, sempre salvo cambi di programma dovuti al covid-19.