Mai dire che la NBC si arrende facilmente. Dopo due precedenti (fallimentari) tentativi, il network americano sta provando per la terza volta ad adattare The IT Crowd per il pubblico statunitense.
La serie originale è andata in onda in Inghilterra su Channel 4 dal 2006 al 2010, per tornare con una puntata speciale di un'ora nel 2013. Nella serie troviamo Chris O'Dowd nei panni di Roy, un tecnico pigro che cerca disperatamente di non lavorare; Richard Ayoade nei panni di Moss, un brillante tecnico IT privo di abilità sociali e Katherine Parkinson nei panni di Jen Barber, il capo del reparto IT che sa molto poco dei computer. The IT Crowd ha ottenuto in brevissimo tempo un grande successo ed è considerata una serie televisiva di culto.
A confermare la produzione del remake americano è stato proprio l'ideatore della Serie Graham Linehan, che lo scorso dicembre ha scritto su Twitter:
NBC Developing 'IT Crowd' Remake With Original Series Creator Graham Linehan (EXCLUSIVE) https://t.co/gFmj7pCrr0

— Variety (@Variety) 15 dicembre 2017
Lo scrittore ha quindi già messo le mani avanti, dati i due precedenti tentativi falliti di adattare la Serie Tv per il pubblico americano. Il primo tentativo risale al 2007 e vedeva Richard Ayoade reinterpretare il ruolo di Moss assieme a Joel McHale e Jessica St.Clair. Ecco una clip che mette a confronto le due versioni.
Il pilot però non fu all'altezza dell'originale e un secondo tentativo venne fatto nel 2014 da Bill Lawrence (ideatore di Scrubs), ma ancora una volta non si ottenne il via libera dal broadcaster. Cosa ci fa pensare quindi che la terza volta potrebbe essere quella buona? Innanzitutto vedrà Linehan in persona come scrittore, il che potrebbe essere ciò che mancava allo show.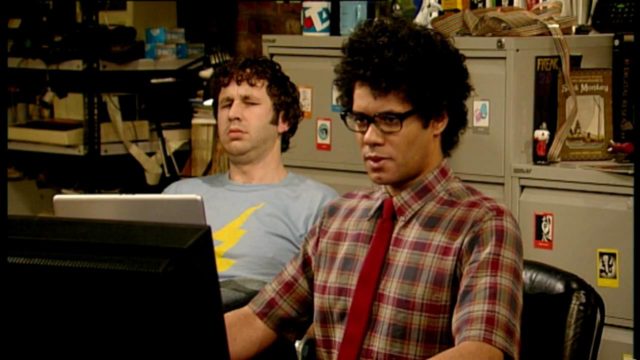 Linehan, come ha spiegato ai conduttori Dave Cohen e James Cary, terrà conto durante la scrittura del diverso humour americano, dettaglio non banale che era stato tralasciato nelle precedenti trasposizioni. Essendosi ispirato a Seinfeld e Cheers, lo scrittore ha inoltre deciso che il remake sarà meno assurdo e surreale, con personaggi più realistici e con i piedi per terra. Linehan ha anche rivelato che la premessa è stata leggermente modificata per tenere conto di come la tecnologia è progredita. "Sono passati dieci anni da quando l'abbiamo scritto per la prima volta.", spiega l'ideatore della Serie, "Oggigiorno gente come Jen ha una conoscenza istintiva di come alcune cose funzionano".
Non è ancora stata fissata una data di uscita definita per il remake, ma sembra plausibile che il pilot venga messo in onda verso la fine di quest'anno. Tuttavia, a seconda di quanto impiegheranno la NBC e Linehan a produrre questo terzo tentativo potrebbe essere necessario più tempo perché lo show raggiunga gli schermi. Il cast invece non è ancora stato annunciato ma è molto probabile che i protagonisti saranno tutti attori americani.
La NBC punta quindi decisa a trasformare IT Crowd nel prossimo The Office. Soltanto il tempo ci saprà dire se la NBC riuscirà finalmente esportare con successo The IT Crowd in America. Dita incrociate quindi per Linehan.