Attenzione! Potreste imbattervi in alcuni spoiler sul finale della terza stagione di The Handmaid's Tale.
In The Handmaid's Tale abbiamo visto compiersi atrocità di ogni tipo, in numero e grado così elevati e sempre in aumento nel corso delle stagioni da renderci quasi insensibili alle prime violenze a cui abbiamo assistito. La parola chiave è quasi. Perché l'orribile natura di quegli atti a cui abbiamo assistito all'inizio della serie non sono meno gravi – né tanto meno minimamente giustificabili – rispetto a ciò che è avvenuto in seguito. Ciò che è successo è che quei primi esempi sono stati messi in ombra dall'escalation di crudeltà e ignobiltà che si è dipanata col passare degli episodi.
Eppure The Handmaid's Tale ha trovato il modo di riportare alla mente ciò che forse si era perso di vista, ciò che quasi non ricordavamo quasi più perché, dopo tutto quel che è successo dopo, chi ci pensava più? Al confronto sembrava acqua di rose. Con gli episodi conclusivi della terza stagione, con la resa dei conti che è infine arrivata per i Waterford, ci sono stati rielencati tutti i crimini di cui i due sposi si sono macchiati. La doccia fredda è stata particolarmente d'effetto per quanto riguarda Serena Joy.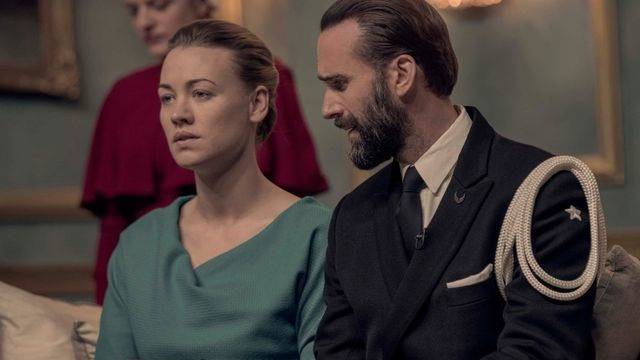 Se infatti il Comandante Waterford ha continuato a darci motivi su motivi per farsi odiare, Serena Joy ha mantenuto un'andatura costantemente altalenante, confondendo lo spettatore che non sa più dove andrà a parare. Eppure, la sua evoluzione è stata evidente. Ed è per questo che quando è stata arrestata, con tutte le "buone azioni" che aveva accumulato, è stato quasi uno shock. Il suo ruolo fondamentale nella liberazione di Baby Nichole e l'arresto di suo marito ci avevano quasi fatto dimenticare le sue antiche malefatte. Quasi.
A non dimenticarle è sicuramente l'interprete di Serena Joy, Yvonne Strahovski. Durante un'intervista l'attrice ha infatti messo in chiaro come si sente nei confronti del suo personaggio:
Non mi dispiace per lei. Se non teniamo conto dell'attaccamento che provo nei confronti di Serena Joy in quanto persona che la interpreta, penso davvero che se lo sia meritato e che sia esattamente dove dovrebbe essere.