The Handmaid's Tale tornerà per la terza stagione il 5 giugno con nuovi episodi. A farcelo sapere è la stessa Hulu (emittente della serie). La serie che è andata in onda a parte dal 2017 ha avuto le sue due premiere per le rispettive due stagioni aprile. Quest'anno, evidentemente bloccata dall'arrivo dell'inverno gelido di Game of Thrones (che arriverà il 14 aprile), è stata spostata a "June" (capito il giochetto?).
Questo però (sfortunatamente) porterà la terza stagione di The Handmaid's Tale fuori dal concorso per le nomination agli Emmy Awards 2019. Si da il caso che la data di scadenza per essere considerati nominati è il 1° giugno. Gli ultimi sei episodi della seconda stagione potranno, in teorie, essere nominati in qualche categoria individuale ma non potrà essere considerata per la Miglior serie Drammatica anche se gli episodi andarono in onda tra il 1° giugno 2018 e il 31 maggio 2019.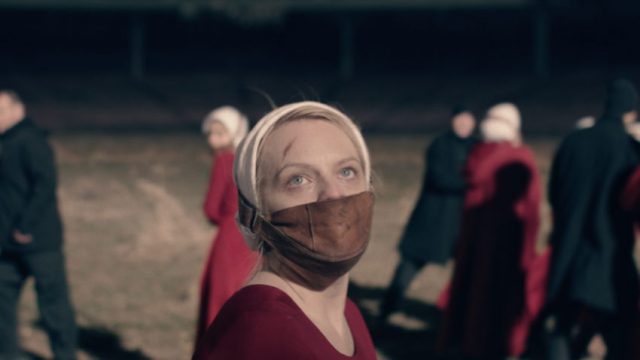 La terza stagione di The Handmaid's Tale è pronta a seguire June in una nuova vita in cui è libera da Fred, se non del tutto libera da Gilead. Nel finale della seconda stagione, June è riuscita a fuggire lasciando la giovane figlia Holly a Serena che vive ancora da qualche parte nella regione. Elisabeth Moss ha dichiarato in precedenza a The Hollywood Reporter:
"Sta per combattere per salvare tutti i figli di Gilead. È una battaglia più grande di lei e Hannah, riguarda i figli e specialmente le figlie di Galaad e lotta per la propria vita. Vedere la rete di Martha e il comandante le ha aperto gli occhi. Non è più sola lei ha un esercito e combatterà. Le prime due stagioni hanno reso June ancora più ribelle e in questa terza stagione la vedremo combattere per quello in cui crede"
Non ci resta che iniziare il conto alla rovescia!