The Good Doctor è sicuramente una serie tv che ha conquistato il pubblico, sia americano che estero. Già nota a molti, è arrivata in Italia nell'estate 2018 con la prima stagione.
Il successo ottenuto anche in questo caso non è stato indifferente per una produzione datata settembre 2017. Nel nostro Paese la seconda stagione è arrivata su Rai 2 a marzo 2019, e sembra che la terza debba cominciare a essere trasmessa dal prossimo 14 febbraio.
La buona notizia è che non c'è l'intenzione di fermarsi. The Good Doctor è stata infatti rinnovata per una quarta stagione, in maniera anticipata rispetto all'effettiva messa in onda.
Stando alla programmazione americana, i prossimi episodi della terza stagione di The Good Doctor dovrebbero uscire il prossimo 17 e 24 febbraio. Quindi perché rinnovare la serie in anticipo? A rispondere è stata Karey Burke della ABC. Dice infatti:
The Good Doctor è diventato una pietra miliare del lunedì sera ed è una di quelle serie speciali che affrontano senza timore il tema dell'inclusività. La narrazione ragionata di David Shore, combinata con un cast incredibile guidato dalla performance stratificata di Freddie Highmore nei panni del Dr. Shaun Murphy, è ciò che ha reso questa serie un successo eccezionale nelle ultime tre stagioni, e sono entusiasta di poter vedere dove ci porteranno dopo.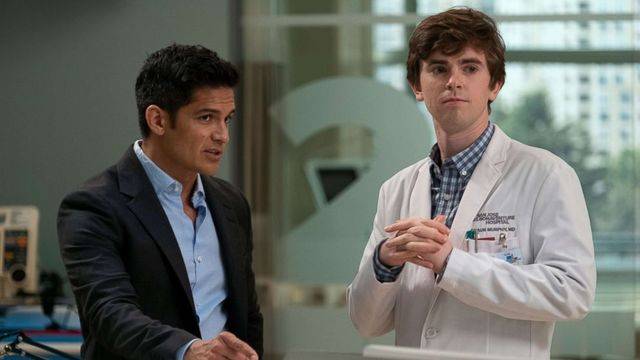 Da spettatori e fan sfegatati non possiamo che essere entusiasti della notizia. È interessante continuare a seguire le vicende di Shaun Murphy e assistere alla sua continua evoluzione, stagione dopo stagione. Da questo punto di vista, l'interpretazione di Freddie Highmore è decisamente impeccabile.
Questo ruolo ha di certo dato a Highmore una grande notorietà, ma i più attenti sanno bene che non è la sua prima volta nel mondo delle serie tv. Lo ritroviamo infatti in Bates Motel nei panni di Norman Bates. Non solo: fin da bambino ha intrapreso la carriera nel cinema, come ci ricorda il film Neverland – Un sogno per la vita del 2004.
Noi continuiamo ad augurargli di procedere così, e chissà che non si senta parlare presto di un ulteriore rinnovo per The Good Doctor.