La serie televisiva basata su Sabrina la strega teeneger: The Chilling Adventures of Sabrina ha finalmente una protagonista. Sarà Kiernan Shipka nel ruolo di Sabrina Spellman. Il progetto di una Serie Tv ispirata alla giovane strega si è ingrandita a macchia d'olio. prima doveva essere la The CW ad occuparsene (come per la Serie Riverdale, universo dell'Archie Comics di cui fa parte anche Sabrina); poi è subentrata Netflix. Sono stati ordinate due stagioni da venti episodi, e dopo il concept art pubblicato giorni fa adesso abbiamo una protagonista.
Archie Comics ha annunciato che Netflix ha scelto Kiernan Shipka (già vista in Mad Men) nel ruolo di Sabrina Spellman. La nuova Serie Tv è basato sulla graphic novel di Archie Comics: The Chilling Adventures of Sabrina. Il produttore esecutivo di Sabrina e lo showrunner di Riverdale, Roberto Aguirre-Sacasa, hanno parlato del casting di Shipka:
Siamo tutti così grandi fan del lavoro di Kiernan che quando abbiamo iniziato a parlare di chi potesse essere questa nuova incarnazione di Sabrina, il suo nome era nella lista dei desideri di tutti. Questa è una versione più oscura e macabra di Sabrina, e siamo incredibilmente entusiasti di vedere Kiernan rendere questo suo personaggio iconico.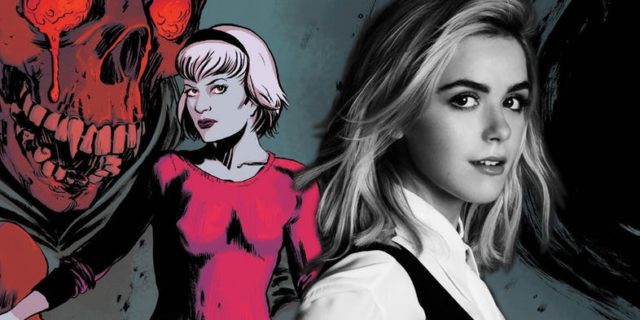 Ma le sorprese non sono finite qui, perché la Serie Tv potrebbe arrivare già nel tardo 2018. Supponendo che Riverdale venga rinnovata per una terza stagione, la sua messa in onda verrà programmata in autunno. The Chilling Adventure of Sabrina potrebbe arrivare subito dopo. Potrebbe essere troppo presto per pensare che la Serie Tv possa pronta per partire entro ottobre, ma potrebbe trovarsi in una situazione in cui potrà debuttare alla fine del 2018 mentre Riverdale è in pausa invernale. Dato che questo è uno spin-off di Riverdale, vedere quanto strettamente le due serie sono intrecciate sarà qualcosa da tenere d'occhio.
Aspettiamo con ansia ulteriori informazioni riguardo la messa in onda, nel frattempo Kiernan Shipka  nel ruolo di Sabrina ci piace tantissimo!