È da un po' che in "The Big Bang Theory" manca qualcosa e che la sitcom si trascina senza idee (leggete qui cosa non ha funzionato nella decima stagione). Sembra dunque che Chuck Lorre abbia deciso che per risollevare le sorti della sua creatura e destare l'interesse degli spettatori servisse una grande novità.
Pare infatti che negli ultimi due episodi della decima stagione di "The Big Bang Theory", che saranno trasmessi nelle prossime settimane, Raj farà coming out e comincerà ad uscire con Stuart.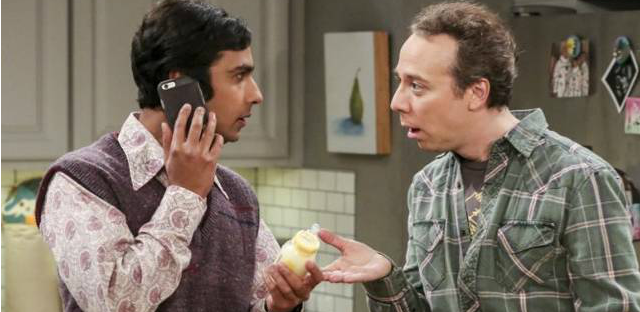 Nella Serie Tv si sono spesso fatti cenni alla presunta omosessualità di Raj: il ragazzo ha sempre negato di essere gay ed è uscito con molte ragazze. Ha finito però per sabotare le sue stesse relazioni molte volte senza alcun motivo. Che lo abbia fatto proprio perché quelle ragazze erano solo una copertura?
Kunal Nayyar ha detto la sua su questa faccenda, parlando in particolar modo della crescita che Raj ha avuto in questa stagione:
"Raj sta capendo molto di sè, da quando ha deciso di rendersi indipendente dal padre. Ha riflettuto molto sulle sue passate relazioni e si è accorto che non lo rendevano felice. Raj è sempre stato gay, ma adesso è arrivato il momento di ammetterlo a se stesso."
Per il momento sembra che Raj non dirà nulla ai suoi amici e terrà per sè questa novità. Deciderà però di uscire con Stuart, con cui da un po' di tempo è davvero in sintonia. Del resto entrambi sono disperati, respinti dalle donne e al verde: come fanno a non essere anime gemelle?
A questa notizia il fandom di The Big Bang Theory si è spaccato in due! C'è chi esulta, avendo da sempre sperato che Raj e Stuart finissero insieme. Altri invece temono che questo cambiamento avvenga troppo velocemente e che per aumentare gli ascolti si finisca per stravolgere il personaggio di Raj. Per questo Chuck Lorre in persona ha voluto rassicurare i fan con un post sulla sua pagina Facebook:
Ci siamo sempre divertiti a scherzare sulla presunta omosessualità di Raj, ma abbiamo sempre avuto in mente di fargli fare coming out. Abbiamo atteso il momento giusto e crediamo proprio che ora i tempi siano maturi. Grazie a questa svolta avremo nuove situazioni molto buffe e divertenti e daremo nuova linfa allo show. Kunal è stato straordinario: è partito dalle nostre indicazioni e ha realizzato una scena delicata, ma molto bella, in cui Raj prende finalmente coscienza di sè e della sua omosessualità. Noi siamo soddisfatti e siamo sicuri che lo sarete anche voi.
Da tempo si vociferava che due personaggi di The Big Bang Theory fossero gay e ora finalmente le voci sono state confermate.
Cliccate sulla pagina 2 per vedere le prime foto dei prossimi episodi di "The Big Bang Theory" in cui Raj e Stuart escono insieme e il promo dell'episodio "The Recollection Dissipation" in cui Raj farà coming out.