Alle innumerevoli trasposizioni cinematografiche e televisive dei capolavori di Agatha Christie, la BBC aggiunge la propria produzione originale con The ABC Murders. La miniserie composta da tre episodi sarà disponibile su Amazon Prime Video dal 1 febbraio, e per solleticare la curiosità ne è stato recentemente messo online un nuovo trailer.
The ABC Murders è incentrata sull'indagine che vede protagonista un serial killer che sfrutta la rete ferroviaria britannica per perpetrare i propri crimini. Sarà compito del detective Poirot districare il caso, ma la risoluzione non sarà priva di intoppi. Infatti, l'omicida metterà in discussione ogni aspetto della vita privata e professionale dell'investigatore, facendone vacillare la credibilità.
Il cast della serie vanta nomi di tutto rispetto. In primis, quello del premio Oscar John Malkovich, che al momento è impegnato nelle riprese della seconda stagione di The Young Pope. Seguono Rupert Grint, il quale si è recentemente convertito alla tv, Tara Fitzgerald (che i fan de Il Trono di Spade riconosceranno), e Andrew Buchan.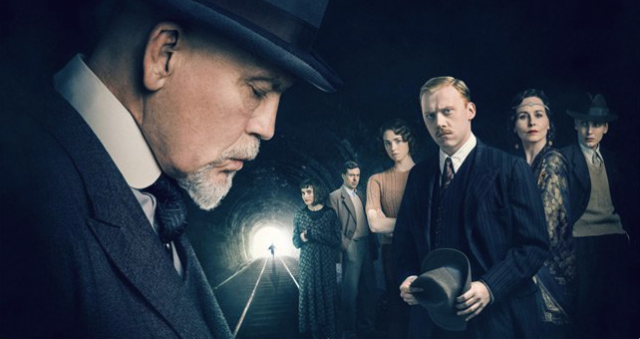 Gli interpreti non sono l'unica garanzia di The ABC Murders. Il trailer ci offre uno solo scorcio della serie, ma anche da quei due minuti soltanto di immagini si può ben sperare in una produzione accurata, con una particolare attenzione per la fotografia. Del resto, stiamo pur sempre parlando di un prodotto targato BBC: c'era da aspettarselo. Perciò, quale miglior opportunità da cogliere per allargare il proprio catalogo e imporsi sul podio delle piattaforme streaming?
In effetti è da qualche tempo che Amazon Prime Video cerca di farsi strada in questo settore, sgomitando tra i grandi colossi. E finora i risultati sono più che buoni: American Gods e l'ormai giunto al termine Mozart in the jungle piazzano la piattaforma in concorrenza diretta con Netflix, che però si tiene ancora stretta il primato dello streaming.
Se Amazon riuscirà o meno a fare il salto di qualità, lo sapremo solo a febbraio. Fino ad allora, godetevi il trailer!