Il TGIT (Thank God It's Thursday) sta per tornare. Le Serie di successo create da Shonda Rhimes, Grey's Anatomy, Scandal e How to Get Away with Murder, stanno per tornare. Proprio per l'occasione la ABC ha rilasciato il video promo tramite il quale possiamo vedere alcune scene delle nostre Serie preferite.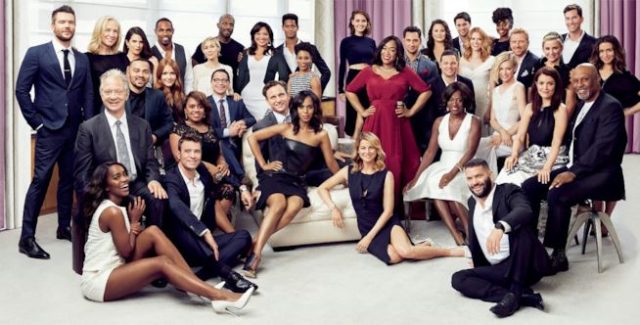 Prima di lasciarvi al video, che troverete alla fine di questo articolo, facciamo il punto della situazione per tutte e tre le Serie del TGIT. Da questo punto in poi potrebbero esserci spoiler per chi non è in pari con la programmazione americana.
Cominciamo con How to Get Away with Murder. La terza stagione si era conclusa con la scoperta del possibile assassino di Wes, una persona molto vicina a Laurel. Inoltre, Laurel – che ha scoperto di essere rimasta incinta del ragazzo – vuole vendicarsi di Charles Mahoney, convinta sia lui l'assassino, con l'aiuto di Michaela e Asher. Abbiamo lasciato Annalise affranta dalla perdita di colui che per lei era come un figlio, Asher e Michaela si sono detti "ti amo" e, infine Connor e Oliver si sposeranno. (Se volete vedere il promo della quarta stagione, cliccate qui).
Adesso è il turno di Grey's Anatomy. Nella tredicesima stagione di questa Serie Tv abbiamo scoperto che la sorella di Owen è ancora viva e sta per essere portate nel Grey Sloan Memorial Hospital. Quando la notizia ha raggiunto Nathan, impegnato con Meredith, quest'ultima ha spinto l'uomo ad andare dall'ex promessa sposa. La Bailey ha capito che la Minnik più che fare del bene all'ospedale stava facendo del male, proprio per questo ha deciso di licenziarla riassegnando il posto vacante al dottor Webber. Il licenziamento influenzerà anche la vita di Arizona, la quale aveva una relazione con la Minnik. Inoltre, abbiamo visto il riavvicinamento di Amelia e Owen e l'avvicinamento di Jackson e Maggie, lasciando poca speranza di un lieto fine del ragazzo con April.
Infine, parliamo di Scandal. Abbiamo scoperto chi c'era davvero dietro l'omicidio del neo eletto presidente Vargas; abbiamo visto un'Olivia molto più forte e a capo del B13, dopo averlo strappato dalle mani del padre. Inoltre, abbiamo visto un riavvicinamento tra Quinn, Abby, Huck e Charlie.
Grey's Anatomy e How to Get Away with Murder torneranno il 28 settembre, mentre Scandal tornerà dal 5 ottobre. Nell'attesa che ritorni il TGIT, ecco il promo!