Il 2019 è iniziato con una serie di buone notizie. La più succosa è la data di Stranger Things che arriverà il 4 luglio 2019, tra 183 giorni. Potrebbe sembrare una lunga attesa, ma per fortuna le brave persone di Netflix hanno anche rilasciato un nuovo teaser pieno di indizi per tenerci occupati fino ad allora. E come ogni cosa Netflix che si rispetti questo video è pieno di indizi e noi li andremo a vedere insieme.
L'ultimo teaser ci ha rivelato i titoli degli episodi. Il nuovo, invece, potrebbe sembrare solo un video di sessanta secondi con immagini ricche suspense ma prive di significato. Ma guardando più da vicino scopriremo che ci sono in realtà alcuni nuovi indizi. Ecco il video e sotto cercheremo di spiegarvi gli indizi.
Il nuovo teaser inizia come una tranquilla notte di Capodanno dalla città di Hawkins nel 1985. Questa trasmissione è sponsorizzata da Starcourt Mall, che sarà anche un episodio della terza stagione. Ma noi sappiamo bene cos'è perché ne abbiamo già parlato in un articolo qui. Tornando al teaser: esattamente al secondo 11 (eh), la trasmissione si interrompe e vediamo un testo dal terminale del computer. Metti in pausa a 14 secondi vediamo apparire un messaggio segreto: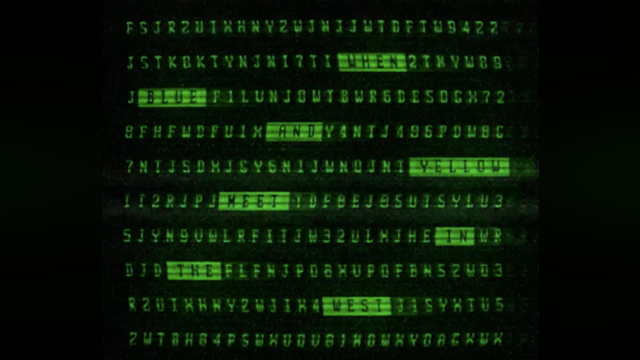 Il messaggio dice "quando il blu e il giallo si incontrano nell'ovest". Potrebbe sembrare privo di significato, ma questa non è una frase a caso. Tornando a ottobre è stato pubblicato un libro sul dietro le quinte di Stranger Things. Nascoste in quel libro c'erano alcune righe in codice che la comunità Reddit tradusse rapidamente. Ecco cosa dicevano: Pagina 22: the week is long; Pagina 62: the silver cat feeds; Pagina 79: when blue and yellow meet; Pagina 80: in the west; Pagina 172: a trip to china sounds nice; Pagina 209: if you tread lightly.
È presente di nuovo la frase segreta trovata nel teaser. Un indizio che ha avuto modo di essere sotto il nostro naso anche durante il teaser di luglio.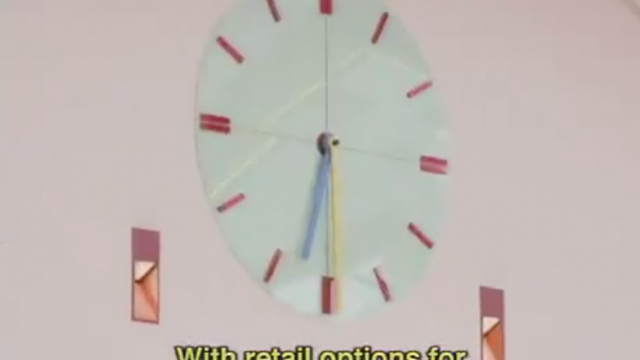 Su Reddit hanno teorizzato che forse questo orologio è legato all'identificazione del codice. Se immaginate un quadrante come una bussola l'ovest è sulla sinistra. Alcuni pensano che le 9:45 sia il momento cruciale, mentre altri sostengono le 8:44. Ma dato che siamo in Stranger Things, forse ci troviamo nel Sottosopra e l'orologio capovolto segna le 3:15. I più folli utilizzano questi numeri per vedere a quali versetti della Bibbia corrispondono. Reddit è un mondo folle. Una cosa è certa: blu e giallo sono i colori delle magliette di Eleven e Mike nel poster della terza stagione. Ma non solo si tengono pure per mano. Se non è un indizio questo!
Il prossimo indizio emerge intorno ai 25 secondi. Abbiamo davanti un altro schermo con un testo che inizia così: "Welcome to Lynx Corp". Un secondo dopo qualcuno esegue un programma chiamato "SilverCatFeeds.exe". Anche questo era uno dei messaggi in codice morse contenuti nel libro dietro le quinte. Lynx Corp è anche qualcosa che abbiamo visto prima. Delle persone hanno avvistato un camion sul set di Stranger Things con il logo Lynx Corp.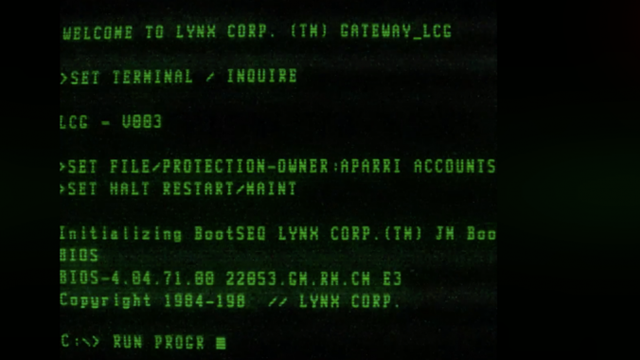 Questi indizi non sono pochi ed è assurdo pensare che Netflix sia riuscita a racchiudere così tanto in così poco tempo. Staremo a vedere cosa ci riserva il prossimo!